Meet the 2020 Interns!
by John Jeavons and the Interns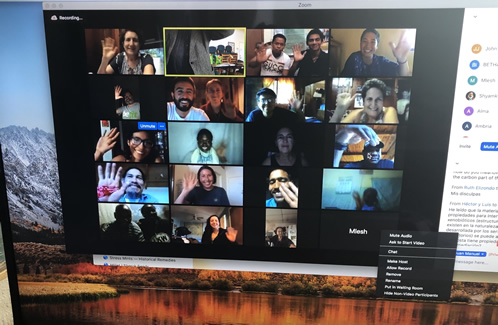 ---
As a result of the COVID-19 pandemic, Ecology Action transformed our 8-month onsite internship program—which normally brings people from all over the world to Mendocino County, California to study at The Jeavons Center and Victory Gardens for Peace GROW BIOINTENSIVE Mini-Farms—into an online course using Zoom. Although we miss working with the interns in person, and plan to continue the onsite program when it's possible again, a wonderful result of the distance-learning program (which we also intend to continue) is that more people are able to participate! We have 27 participants from around the globe: Mex-ico, Nicaragua, Argentina, the US , Nepal, Kenya, and Chile—and we're happy to be able to introduce them to the GROW BIOINTENSIVE Global Family here!
Presenters: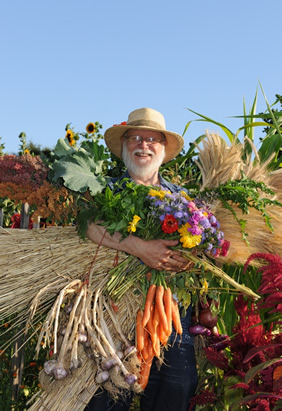 John Jeavons: Master Certified GROW BIOINTENSIVE® Teacher, Director of the Ecology Action Mini-Farming Program since 1972, and the author of How to Grow More Vegetables... the handbook for using the GROW BIOINTENSIVE® Sustainable Mini-Farming method, which is currently in use in over 150 countries in virtually all climates and soils where food is grown. Versions are available in English, Spanish, German, French, Hindi, Russian, Kiswahili and Arabic. John is author, co-author and/or editor of over 40 Ecology Action publications. His major responsibilities include directing research and education in GROW BIOINTENSIVE (GB) food-raising. He advises GB projects in many countries, including Mexico, Kenya, Canada, Russia and India, as well as the US. John holds a BA in Political Science from Yale University. Before coming to Ecology Action in 1972, he worked as a systems analyst in business, government and university settings. He has received the Boise Peace Quilt, Santa Fe Living Treasure, Giraffe, and Steward of Sustainable Agriculture awards for his public service. John's dream is to be a GROW BIOINTENSIVE mini farmer.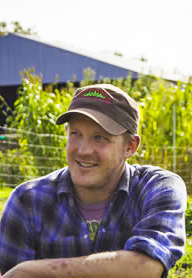 Matt Drewno: Master Certified GROW BIOINTENSIVE® Teacher Matt is certified in permaculture, restoration of oak-savanna ecologies and Biointensive food production. After a Bachelor of Architecture degree from Iowa State University, he founded Rhythmic Water Ecological Design, a permaculture and flow-form design business which served mid-western states. He has been working with Ecology Action since 2010, training individuals and communities in the principles of biologically-intensive food production, and is an Advanced-Level Certified GB Teacher. His experience includes organic farm-scale food production, design and implementation of food forests, residential-scale food production and community gardens. In 2014, he started the Ecology Action project Victory Gardens for Peace, a GROW BIOINTENSIVE research, education and demonstration Mini-Farm and Seed Bank in the town of Mendocino, CA.
Participants: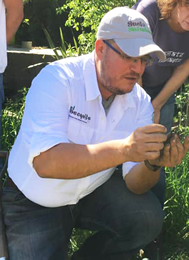 Agustín Medina from Mexico is Co-Director of the NGO El Mezquite in Aguascalientes, Mexico, and coordinator of the sustainable project in Latinamerica, Caribean and Europe, who works with Juan Manuel Martínez Valdéz, Director of ECOPOL, Ecology Action´s International Partner for Latin America´s 42 countries and Europe. "I think GROW BIOINTENSIVE is a big part of the new future, to help nature, help people, grow life and develop new relationships. Background: Farm Engineer specializing in Ecology and Rural Development form Aguascalientes University (Universidad Autónoma de Aguascalientes). Masters in Agronomic Sciences from Aguascalientes University and Science and Technology National Council (CONACYT), specializing in soil development and GROW BIOINTENSIVE research. Specialist in Environmental Education at Universidad Panamericana (PanAmerican University). Member of the Mexican Society for Sustainable Agriculture. Certified GROW BIOINTENSIVESM Master-Level Teacher, Ecology Action, 2014. Staff member of Ecology Action/ECOPOL/El Mezquite, coordinator of certification and accreditation process in GROW BIOINTENSIVE in Latin America, the Caribbean and Europe.Development of the Training and Research Center in CULTIVE BIOINTENSIVAMENTE El Mezquite, Comunidad La Tomatina, Municipio Jesús María, Estado Aguascalientes, México. Dissemination of Sustainable Agriculture and CULTIVE BIOINTENSIVAMENTE as well as Eco Technologies applied to Sustainability. Research coordinator of Comunidad y Sustentabilidad el Mezquite, A.C. Working 18 years with Aguascalientes, State Mexican government, in Environmental Education, giving support to municipalities and rural communities in environmental management systems. Working with University in soils and teaching in environmental eingineering. GROW BIOINTENSIVE farmer in El Mezquite Garden."
Alma Fregoso from Mexico was looking for an alternative to agro-industrial food farming and learned about the GROW BIOINTENSIVE method through Marisol and Agustín (ECOPOL/El Mezquite). She thinks the method " ... makes a lot of sense: it returns nutrients every time we take them from the soil, employs crop rotation and saves resources like the water, thanks to the compost. It also incorporates the wonderful idea of not using agrochemical products. I hope to have the chance to know more about this method because it's important to be more than nature in so many ways!"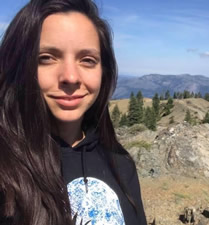 Ambria Zeitner from California, USA has the goal of "...being a part of a sustainable community, that teaches children (and adults) to embody and express themselves authentically. I do not have much farming experience, but I believe that gaining it is a pivotal part of creating a future that can thrive and sustain itself. I will use the knowledge and experience gained through the GROW BIOINTENSIVE Internships to join or create a small community that cares greatly about the food we ingest, and the soil we use to grow it, and the energy in which we use and build things. Looking forward to learning and working with all of you!"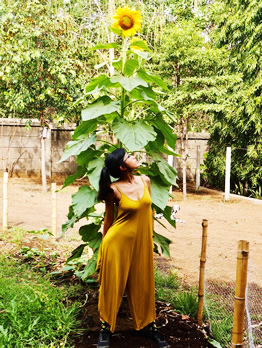 Ana Lucia Cantillano from Nicaragua is a filmmaker and promoter of the Biointensive method. "...I participated in the 2019 Ecology Action onsite internship at The Jeavons Center, near Willits California, and am now developing the Yaualí Project, a small biointensive group at home, with the goal of becoming self-sustaining, and providing workshops to teach others. I make videos to show everyone about the GB method and how it changes people's lives for the better." Ana not only disseminates information and experiences about Biointensive, she cultivates and lives it. While at TJC last year, she blindfolded herself and built a compost pile, so she could see what it would be like to be blind and do Biointensive. It worked, and she will now be able to teach a friend, who is blind, how to practice GB from an experiential place. Ecology Action hasseen a photo of a blind man digging successfully in India with strings up in the air along the sides of the bed, so he can stay withing the growing beds' boundaries!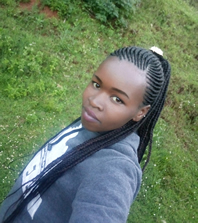 Beatrice Wangui Njoki from Kenya learned to love farming from her mother, a farmer: "... I used to help my mother plant maize, beans,and different varieties of vegetables when I wasn't in school. Immediately after I finished my secondary school education, I practiced agriculture for a while before I joined the GROW BIOINTENSIVE Agriculture Centre of Kenya (G-BIACK) where I studied GROW BIOINTENSIVE method in a year-long program. After graduating, I started my own organization in Kiambu County, Kenya, where my goal is to empower and to train small scale farmers to grow clean food."
Bethany L'Herminier from Nicaragua is a world traveler with a background in branding and editing, who discovered she had a knack for growing things, and then developed an intense interest in sustainable agriculture. She "... realised, when not in one of 3 or more freelance jobs that I actually rather liked gardening and watching things grow and also seemed to be somewhat green fingered, though still no real scientific interest; my window sill, then balcony, then garden became edible, I began composting and seed sharing, then volunteered in a community permaculture garden and kitchen, where I started to learn about soil and cover crops and companion planting and crop rotation, and a whole new world opened and then I decide to go on an adventure to India and ended up in Nicaragua ...I began working part-time in the garden at the farm in 2018... started meeting people with agriculture and agronomy backgrounds, and before every meeting, had to swot up the night before, so as not to sound as uninformed as I actually was, and then slowly began actual planning and putting these new found theories and concepts into practice on the farm, of course with the help of many experienced agroecologists, who mostly had different opinions, which made it even more interesting. Food security was my main priority when I began this learning curve, and although my focus has not changed it has very definitely widened to look at the food production system as a whole, with regenerative agriculture at the heart, and at the start of it all, was the huerto biointensivo and I believe that the principles and all that I have thus far learnt, can be replicated on a larger scale within the farm and in schools and within the community."
Catalina Diaz e Pauw from Chile runs a GROW BIOINTENSIVE demonstration center " ... near the center of Chile that is giving us a lot of food! So happy for that. But in this moment, we are moving to the south of Chile to start a new GB garden for food production for an Eco-village that is starting with 14 people, it is a beautiful moment to work on this project and take this course."
Chloe Ellwanger from California, USA is Ecology Action's newest Farmer-Teacher Trainer. Chloe "...not only believes that excellent food is medicine for the body, but that excellent agriculture is medicine for the earth. She is excited to join the Global Biointensive Family Team and delve into the root of her passions at Ecology Action, and learn about GROW BIOINTENISVE agriculture. Eventually, she strives to use her knowledge to teach other's the important impact of agriculture on our environment through both in person education and journalism."
Desiree Elizondo from Nicaragua, sister to another 2020 intern Ruth Elizondo, has a degree in Soil and Water Science from the University of California. "I am consultant in environment and natural resources management, and climate change. Now semi-retired, thinking to get back to my roots as agronomist, and soil scientist, profession a left behind long time ago, and I want to start an edible garden and small herbs business in my property."
Héctor Javier Martínez MC.Crea from Nicaragua is one of the last speakers of the indigenous Rama language and I has been active in the rescue and preservation of it. Héctor has practiced traditional farming methods since he was a child. "... I grew up applying the ancestral and traditional knowledge of my community. Our indigenous practices and customs rely on the resources of Mother Earth, and they respect the harmony of our ecosystems. When I first learned about the GROW BIOINTENSIVE method, I became interested in the relationship between this technique and my ancestral knowledge: GB also uses the available resources in the environment, taking advantage of the land and returning nutrients to the soil. For this reason, I have continued my training for promotion and the implementation of the method. I am also really interested in continuing to learn and become certified as a Biointensive Teacher."
John Wyss from Nicaragua "...got involved in GROW BIOINTENSIVE® with the group that coalesced in Nicaragua in 2012-2013, starting the Biointensive Center project with the National Agrarian University (UNA). As a complete beginner, I volunteered as Michael Richardson's translator and aide de camp and in 2016 did my basic level GROW BIOINTENSIVE® certification with 10 beds at the UNA El Plantel Farm in Guanacastillo (www.bionica.org). ... I have facilitated many one-day, three-day and five-day workshops mixing some additional seed saving, food forest planting and other permaculture content with biointensive to create field school-type experiences for CCID Nicaragua, the UNA, ADAR and now Centro Integral para la Propagación de la Permacultura (CIPP). Moving to a new house three years ago and digging six new beds, it has been eye-opening to have to start over developing soil fertility, I had to go back to square one and haven't gotten back to the results I had in El Plantel in 2016 but I do see steady improvement."
Juan Fabricio Manzoni from Argentina is an "... educator in the area of ​​Permaculture and Agroecology, certified by El Manzano Eco-school, headquarters of Gaia University in Chile, which is dedicated to the design and consultancy in the area of ​​health and regeneration of ecological systems and responsible food production. Juan especially enjoys working on the decoding of terrain patterns for efficient water systems. He is also passionate about hydrological management and soil fertility."
Judith Chase, also known as Oma, is from Nepal via the US. "... I've planted gardens tiny and expansive wherever I've lived. My mother also subscribed to Organic Gardening and Farming in the 50s and 60s, and I continued those subscriptions and their communication of the natural approach. After moving to Nepal in 1974 I eventually found a country farmhouse and land for my first dream gardens. I studied permaculture with Bill Mollison and followers and GROW BIOINTENSIVE with John Jeavons in workshops in California. I chose to introduce the farmers with me in Gamcha village to John Jeavons' Biointensive processes as the charts of comparison yields were convincing. Who was I to present any processes to Nepali farmers? When we dug two feet deep pits, one of the farmers suggested making the compost in situ rather than compost piles and later moving it. I was convinced and we have followed that process ever since. We called the process "Nepali Biointensive" because we incorporated animal manures in making compost. Nearly 100% of Nepali farmers keep milk cows and other animals. This initial Gamcha farm called Lotus Land was a great organic success story. No one had heard of the word organic although the farmers had been farming organically forever. But the foreign community knew farmers were using chemical additives and also that they washed their vegetables in the local rivers, not organic. There was great support for a farmers market twice a week at the Summit Hotel featuring not only vegetables but grains and legumes as well. Eventually vendors of breads, cheeses and other products joined us. The market lasted for 10 years or more. If I hadn't subsidized the production so enthusiastically, it could have been a great financial success.
In 1995 we moved to the Mattole valley of northern CA and I planted extensive Biointensive gardens as well as orchards. At that time I studied with John Jeavons on several occasions and completed a Certified Teacher's class in Willits. After living in the Mattole for 10 or 12 years we decided to return to Nepal and found some rural land outside of the Valley where we established Everything Organic Nursery. We laid out an orchard on triangulation with 24 feet between trees. Initially the empty spaces were filled with Biointensive two feet deep vegetable beds. Considering the state of agriculture in Nepal, we specialize in fruit and nut trees, wanting to provide a financially interesting way for farmers to earn a good income living on their traditional homesteads in the countryside. More than 95% of Nepali own their own land. We are now completing our first ten years. We have imported a variety of fruit and nut trees, tested them for adaptability as well as quality before offering their grafts to individual farmers as well as INGOs and NGOs working to establish successful farming systems with Nepali farmers. Besides trees, EVON also produces grapes and berries. EVON also produces a large variety of vegetable seeds. We work with communities throughout Nepal, supplying training as well as trees, sponsored by various organizations. Altogether over 10 years we may have supplied 10,000 fruit and nut trees."
Kaitlin Dickman from California, USA has a strong interest in the natural world, and a degree in "Food, Globalization and the Environment" with a focus on cultural connections to food and medicinal plants. "...Since graduating I've traveled and worked on many different kinds of farms (small restaurant gardens, production, CSA, farmers markets, citrus, tropical, permaculture design) and yet I felt I was missing some key under-standings and questioning a lot of essential concepts. I began to search for a mentor and farm that could help close those gaps of understanding. And so, the universe brought me Ecology Action and John Jeavons which I am immensely grateful for. I hope to grow as a farmer and apprentice of the land so I can eventually have my own mini farm that serves to sustain my own family and provide a space to teach others in a simple yet meaningful way. I strongly believe now more than ever we are going to need more biointensive farmers to step up and empower communities. I hope to inspire friends and community members to develop a closer connection to nature and confidence to grow food and medicine for their families and loved ones."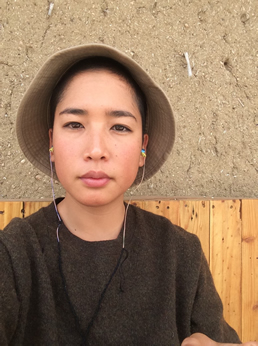 Kei Kamori Kabe from Mexico is a former anthropological sciences student with a natural inclination towards visual arts and handcrafting activities: "My path through organic agriculture started in Oaxaca, Mexico at a GROW BIOINTENSIVE method workshop at the age of 17. Discovering the depth of the industrial food system, the inequalities and overall destruction of the planet that it intakes, was a breaking point in my life. Ever since, I have been intrigued and motivated to think and act on other possibilities of existence linked to the ideas of food sovereignty and a deep ecological understanding. That led me to recognize the urgent state that we are in and the active role I can take to promote local food production. And that's why I'm interested in the GROW BIOINTESIVE method for it is a strong tool to empower people, bring awareness, and link them into the production and understanding of their own diets. My intention is to put into practice everything I learn in the program. And by experience, share and link my activities towards children and young people, offering workshops and building a bridge between the art and agricultural practices."
Ligia Belli Castellón from Nicaragua studied Animal Science at Cornell University, and with her family on a small farm, Las Gardenias Granja Agroecológica where they combine livestock production, pasture, trees from different species including hardwood, fruits and firewood, and a vegetable plot. In 2015 she received a Diploma in the Biointensive Method from Franck Tondeur and the same year became involved with the NGO ECHO Community, travelling to Florida in 2019 to participate in ECHO Community's international workshop " Small-Scale Seed Production and Utilization". "At the moment we have a total of 38 double-dug beds at Las Gardenias Granja Agroecológica, some of them under the Biointensive Method and seed production. My aim is to acquire knowledge to implement workshops for other interested in learning GROW BIOINTENSIVE, and several other technologies (microorganisms, production of bioinputs, etc.) to produce healthy food. I always wanted to go to Willits and participate in Ecology Action's 8-Month Internship, but 8 months is too long for me to leave our farm, So, participating in this 8-Month Internship online will fulfill this goal. Thank you so much for this opportunity!!"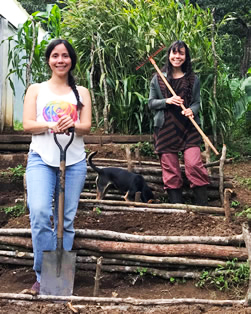 Ligia Espinoza from Costa Rica is the administrator and developer of Finca Ecológica Verde Esmeralda and a 6-month Intern at Ecology Action, 2014. She has " ... seven years of experience as a farmer and as instructor with the GB Method in Nicaragua and Costa Rica, and has been certified as an intermediate level GROW BIOINTENSIVE teacher since 2017. She is an environmental quality engineer with a specialty in assessment and reduction of pollution in aquatic environments and in food and nutrition sovereignty and is also trained in landscape design and permaculture. Currently she´s dedicated to developing a family project in food sovereignty called "Finca Ecológica Verde Esmeralda", which aims to turn into a Sustainable Model Farm in food sovereignty and in GROW BIOINTENSIVE teaching-learning." You can read more about Finca Ecológica Verde Esmeralda in this issue.
Luis Emilio Quezada Martinez from Nicaragua studied Agronomic Engineering at the National Agrarian University but was not satisfied with the conventional methods being taught. However, " ...in 2017 I took my first formal course of the Biointensive Method. It was then that I became totally involved with it, to the point of achieving my Basic Level GB Certification. With the Biointensive Method I obtained a great discovery, which was the so forgotten and endangered connection we have with our land, the one that nourishes us and the one that claims us. In everything I've seen since I became aware of the method, I conclude that this is a tool of change, since I read "...first we must learn to double dig the mind, then the body, then the tools and finally the ground." My approach is to bring people with a desire to learn a fresh and renewed agricultural philosophy after this internship, to show it through example and practice, and to develop training programs and strengthen existing networks, always with the aim of expressing the importance of Creole [indigenous] seeds."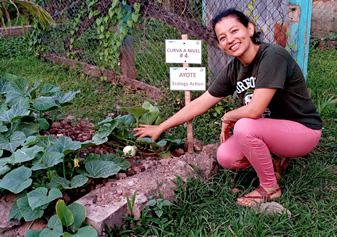 Marcia Suarez from Nicaragua is a biointensivista " ... who has supported families on the issue of food security for 12 years through projects with governmental and non-governmental organizations. She came to Ecology Action in 2019 to continue learning the GROW BIOINTENSIVE method in a broader way. Thanks to that experience, Marcia has found and connected with herself, found her purpose in life, and awakened to a global reality that she did not know. Marcia has started her own family initiative to become more autonomous and sustainable using GB, promoting GB in her community because she considers it a real and possible solution to the problems of Climate Change."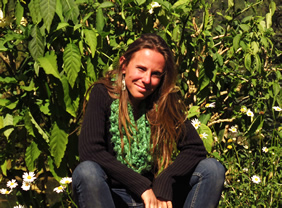 Marina Alejandra Peters from Argentina is a Facilitator in Permaculture, certified by El Manzano Eco-school, headquarters of Gaia University in Chile. "I am dedicated to the design, consultancy and consultancy in the area of ​​health and regeneration of ecological systems and responsible production of foods. I especially enjoy working to enhance biodiversity in systems through the diversification of species and the care and conservation of seeds."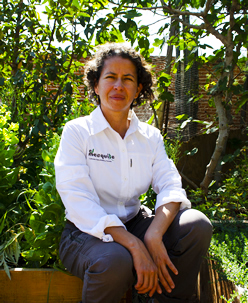 Marisol Lopez from Mexico is Co-Director of NGO El Mesquite in Aquascalientes, Mexico and an Assistant to Juan Manuel Martinez Valdez, Director of ECOPOL, Ecology Action's International Partner for Latin America's 42 countries and Europe. "My interest in GROW BIOINTENSIVE is to have the ability to teach with more elements, and to be able to transform the lives of people who practice GROW BIOINTENSIVE. Background: Biologist with a specialty in Ecology and Natural Resources, Universidad Autónoma de Aguascalientes (UAA). Master of Agronomic Sciences, UAA-CONACYT 2013-2014. Speciality in Environmental Legislation, Universidad Cuauhtémoc, 1999. Certified Master-Level Teacher by Ecology Action in GROW BIOINTENSIVE, Willits California, 2014. Staff member of Ecology Action/ECOPOL/El Mezquite, coordinator of certification and accreditation process in GROW BIOINTENSIVE in Latin America, the Caribbean and Europe. Development of the Training and Research Center in CULTIVE BIOINTENSIVAMENTE El Mezquite, Comunidad La Tomatina, Municipio Jesús María, Estado Aguascalientes, México. Communication coordinator of Comunidad y Sustentabilidad el Mezquite, A.C. Diffusion of Sustainable Agriculture and CULTIVE BIOINTENSIVAMENTE as well as Eco Technologies applied to Sustainability. Producer of quality food crop seeds for people to use, with GROW BIOINTENSIVE."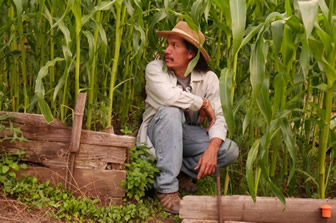 Melvin Castrillo from the USA "Mini-Farm Manager, Ecology Action, The Jeavons Center, Willits, CA. Melvin is originally from Nicaragua and naturalized to the U.S. 13 years ago. Melvin learned to double dig from a friend while living in Nicaragua and proved successful. Melvin relocated to California and obtained a degree in Agronomy from Fresno State in 1993. Melvin grew many things in the central valley in CA. Educating others has been key to my career objectives. Melvin is pleased to be a part of EA as he continues to learn and teach."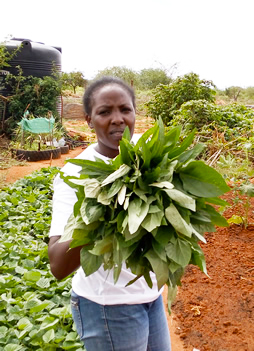 Nyambura Teresiah Njai from Kenya writes of her GB project: "We use the GROW BIOINTENSIVE method that regenerates healthy soils faster, then healthy crops, and healthy people through carbon-efficient crops that are composted to feeds the microbes. We are emphasizing close or intensive plant spacing which promotes a living mini-climate around the plants, and nutritional designed production for diet, quality soil preparation that helps grow food from a small piece of land. GB uses a third of the water used in conventional farming systems, we are thinking of functional biodiversity that mimics nature and use of open pollinated seeds, crop rotation and cover cropping. This approach grows healthy soils for every pound of food produced, and using it, we have started changing a hopeless and drought-stricken land to a land of abundance. We have acquired 3 acres of land for demonstration that has the demonstration gardens and we are planting to start putting up our offices and other farm structures next year. We have a garden of 24 beds where we are using 60% Carbon crops, 30% High calorie crops and 10% of which are meant for income, besides this we have a small farm on which we are using other Ecological farming techniques to restore the land and it is looking beautiful."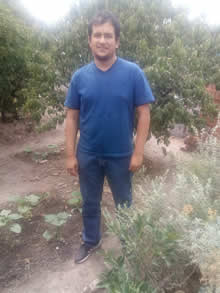 Raul Torres Perez from Mexico writes: "My family has been dedicated for generations to the production of corn and pumpkin, therefore, I have experienced agricultural work first hand, and I have noticed many problems that current cropping systems cause. That is why I am interested in new farming systems that optimize the use of resources to be friendly to the environment, and I hope to share my knowledge with the people of my community to show them that things can be done in a different way by being more friendly with the world around us."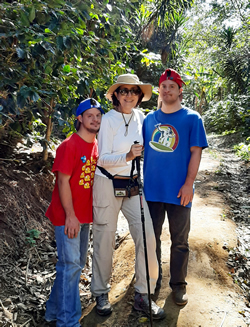 Ruth Elizondo from Nicaragua is a 4th generationcoffee producer "...In 2017 [former EA intern] Federico Gomez introduced me to the Biointensive Method. With his support I started my garden with the idea of introducing GB to other people. We were able to organize a workshop that year with the participation of 15 people, and we received 4 interns from France who wanted to learn the method. We wanted the farm to become a training center in the Biointensive Method... In 2017, John Jeavons visited my farm, as our garden was included in the program during his visit to Nicaragua. Unfortunately, as you may know, the country was almost paralyzed by a political crisis in 2018, and ever since it has been politically unstable. John Wyss, whom I have known since 1980, sent me the information on this 8-month internship, since he knows that I am an enthusiast in the method and manifested my interest in participating in the program to improve what I have being doing in my garden. With the support of the volunteers and my worker we were able to build 32 beds, 4 meters long and 1 m wide, where I have been harvesting food to fulfill my house needs mainly, vegetables (variety of tomatoes, variety of lettuce, variety of beans, eggplant, variety of potatoes, variety of corn) and herbs, medicinal and for the kitchen."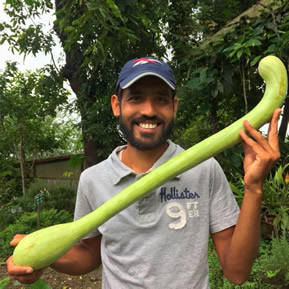 Shyam Kumar Pyakurel from Nepal has a bachelor's degree in Journalism, and works with Judith Chase (Oma) at Everything Organic Nursery (www.everythingorganic.org). He writes: "I am really interested in the 2020 Online Ecology Action 8-Month Internship program. I read your book about How to Grow More Vegetables, and I realize that this is most important to teach Nepali farmers to make them self-dependent on agriculture site. Most of the Nepali farmers have their own land. but they are not able to grow more vegetables and grains because they don't have the right knowledge. We are promoting "Nepali Biointensive" farming at our farm. So currently at Everything Organic Nursery we are introducing so many different varieties of fruit and nut tree like almond, cherry, apples, nectarines, apricot, artichoke, walnut, peach, etc., which is really new for Nepal and provide high value for health and income. I am a good Nepali Biointensive trainer ...We have already trained a lot of people all over in Nepal. If I learn more about Biointensive farming, I can teach more farmers in Nepal which is really needed right now our situation. Besides farming, I am working as a social mobelizer in my community. Most young people from our communities want to go abroad to earn money. Because of the money crisis, if I am able to show them possibly what they can do to make a good income — this will be an ideal gift for them and Nepal, so I am hoping I am able to teach them more and more after completing this Internship program. This is my dream from many years to join with your beautiful program now it's happening. Thank you so much."
Tania Montejo from Mexico writes from a "... tropical paradise that was transformed into a tourist destination. I saw firsthand how quickly the environment was affected and that made a big impact on me. When the time came, I did a last-minute change and chose an education-oriented profession rather than becoming an environmental engineer. I wanted to make an impact on people's behavior, because at the end, our actions are what affects the environment. From then on I have been actively volunteering fordifferent environmental nonprofit organizations, while holding several jobs to have an steady income for me and my family. For a few years now I had been taking as many agriculture and natural building courses as I can, with the goal of creating a sustainable space in which I can show what it is possible to do.Always under the premise that an example can teach more than a million words."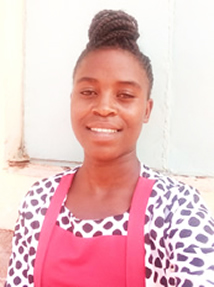 Wawush Clarah Mwakudu from Kenya has a diploma in BIA (Biointensive Agriculture) from Manor House Agricultural Center in Kenya, and now works with former EA Intern Mlesh Mlegwa at his Garden of Hope GB demonstration and training project in Kenya. "My aim is to be a role model in the community, especially to youths, by creating a GB garden that will be healing the soil and helping me eat healthy food. This will be a source of employment for me and others, and show the community that we have work within even if employment opportunities are very few, and we should be a solution to the world food crisis. I believe in growing healthy food for health life."









---
top | Newsletter Home |Table of Contents| Archive