Ecology Action's 2016 8-Month Interns
By Ecology Action Staff

---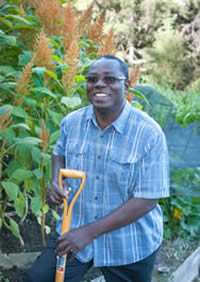 Jean Apedoh
I am an Agronomic Engineer and have worked in a community development program in Togo for the past twenty years. I am also chairman of NGO GRAPHE, which is promoting the System of Rice Intensification (SRI), an ecological rice production technique, in partnership with the Peace Corps. Ihave trained farmers all across West Africa, in Togo, Benin, Burkina Faso and Ghana. I am attending Ecology Action's internship to further my understanding of agricultural practices as well as my teaching abilities, so I can help small farmers know how to use GROW BIOINTENSIVE in all regions of Togo.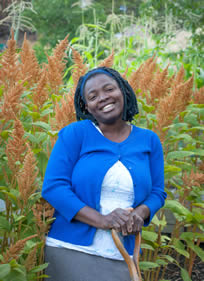 Olawumi Benedict
I am originally from Nigeria, but currently live in Ghana. In 2009, I took a post-graduate certificate course in Organic Agriculture, as part of an exchange program between the University of Agriculture, Abeokuta, Ogun State, Nigeria, and Coventry University, United Kingdom, which brought the concern of organic farming to my attention. Ever since then I have worked with projects in Nigeria. In 2013, I relocated to Ghana to join my husband, who is a missionary. Since October 2014, I have been a volunteer with the Ghana Institute of Organic Farming as the Head of Academics. This has fueled my passion and keen interest in organic, Permaculture and sustainable agriculture, so much so that after I complete the 8-month internship at Ecology Action, I will work to start a Center for Sustainable Development when I return to Ghana.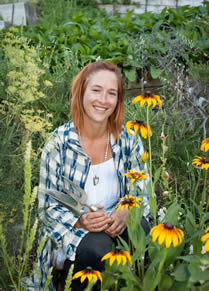 Sharon Coombs
My husband James and I are Canadians passionate about sustainable living, homesteading, and self-reliance. We've followed How to Grow More Vegetables for many years, and have had the goal to start our own sustainable and organic vegetable farming business and homesteading lifestyle. In 2014 we leased some land and started our own trials to gain hands-on experience using the Biointensive method. We double-dug eight 100'x5' beds and grew as many varieties as we could. We practiced companion planting, planted beneficial insect varieties, and learned a great deal about all the various vegetables, grains, and legumes we will grow as a sustainable vegetable farm. Ultimately our goal is to produce all of our food, income and materials on our own land.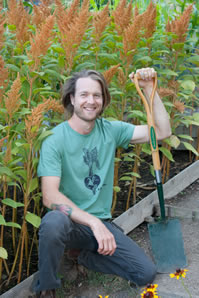 James Fougere
The prime motivation my wife and I have for participating in this internship is to gain as much knowledge and experience, and complete as many experiments and techniques as possible, so as to further the research and development of the GROW BIOINTENSIVE method, and sustainable agriculture as a whole. We both see the great need for this research to be done, as quickly as possible, to help secure a future for our children, our grandchildren and beyond. We see food security as the utmost important focus, because of the dire condition our soils are currently experiencing.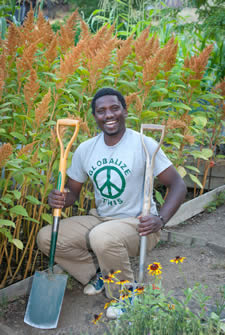 Samuel Kangethe
I am a Kenyan citizen. In 1999 I attended the 2-year Biointensive Agriculture Program at Manor House Agricultural Centre in Kitale. After my graduation, I worked with several organizations that promote Biointensive and sustainable agriculture, like Community Sustainable Agriculture and Healthy Environment (CSHEP Kenya), SACDEP, G-BIACK, RODI, and Beacon of Hope–Africa. I have been able to train over 500 households how to grow their own food using GB and available resources. These families live in the slums of Nairobi and surrounding areas. The families that have embraced these techniques have significantly improved their livelihoods, and are now able to feed their families and market their surplus, becoming socially and economically empowered. I have also implemented Biointensive "Kitchen Gardens" in schools, and created clubs where the members are trained in GB techniques so they could start gardens at their respective homes and schools. I believe GB can be a solution to the state of food insecurity in Kenya, and I envision being able to share my skills with small farmers to create a more resilient community.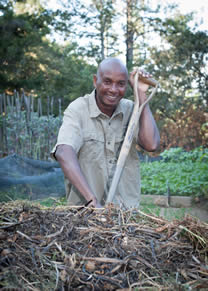 Jonnes Milesh Mlegwah
I am a Kenyan citizen from the Taita tribe. After attending Manor House Agricultural Centre (MHAC) from 1996 to 1997, where I got my degree in Biointensive Agriculture, I attained a diploma in Management and Development at Daystar University in 2001. In 2012 I returned to MHAC as a trainer. I also joined Mount Kenya University, Kitale campus, in the capacity of Farm Supervisor and established a GB garden there. In 2015 I pursued an undergraduate degree in Development studies in the School of Economics and Development at Mount Kenya University. Taita Taveta County is in the coastal region of Kenya, and I work as a trainee with a small community-based organization called Garden of Hope, which is in its inception.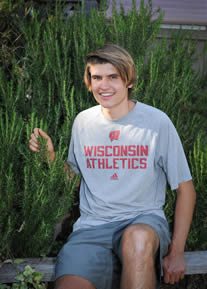 Joseph Huber
I'm from Viroqua, Wisconsin. I discovered Ecology Action while at the MOSES conference in La Crosse, WI, in 2015, where John gave the keynote presentation. I had the same questions John had, one of them being—what is the smallest land that someone could grow food on? I was encouraged to read How to Grow More Vegetables and was immediately interested in an EA internship. I see the two most important aspects of a balanced life as the well-being of Nature and of our individual selves. When you look at the world you see the overuse of prescription drugs, diseases like malnutrition, starvation, and heart disease, and the contribution of the food industry to climate change. You see the common denominator among them all is food and that the food system needs to change. It needs to be a lot more sustainable. I believe GB is the key to solving many of these issues. NOTE: Joseph is also in his second year as a three-year apprentice at the Green Belt Mini-Farm.
PHOTO CREDITS: ECOLOGY ACTION STAFF
---
top | Newsletter Home | Article Index | Archive