---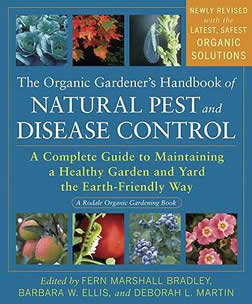 The Organic Gardener's Handbook of Natural Pest and Disease Control: A Complete Guide to Maintaining a Healthy Garden and Yard the Earth-Friendly Way
by Fern Marshall Bradley, Barbara W. Ellis, and Deborah L. Martin (Rodale Books, 2010).
Review from Rodale Books.
The Organic Gardener's Handbook of Natural Pest and Disease Control is the most reliable and comprehensive guide on a wide range of methods for growing and maintaining an organic garden. This updated edition features the latest science-based recommendations for battling garden problems. With all-new photos of common and recently introduced pests and plant diseases, you can quickly identify whether you've discovered a garden friend or foe and what action to take. This book features a plant-by-plant guide to symptoms and solutions for 200 popular plants, flowers, vegetables, trees, shrubs, and fruits; an insect-and-disease encyclopedia that includes photo identification guides and detailed descriptions of damages; and an extensive coverage of the most up-to-date organic control techniques and products shown in order of lowest impact to most intensive intervention. Acid-free, recycled paper
IMAGE CREDIT: www.amazon.com/

---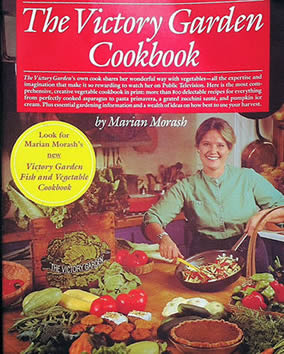 The Victory Garden Cookbook
by Marian Morash (Alfred A. Knopf, 1982).

There is a whole world of vegetable delights available, and The Victory Garden Cookbook helps you discover it.
Whether you're an avid gardener, a gardener wannabe or someone who loves to cook with fresh, locally grown produce, The Victory Garden Cookbook is a great book to have. Written as a result of the popular public television series called The Victory Garden, this book is a wonderful cross between an encyclopedia of information and a cookbook—for both gardeners who cook and cooks who like to garden. Morash's first goal was to entice readers with the pleasures of eating home-grown vegetables so much that they would be inspired to become gardeners themselves—or at least shop for the freshest ingredients instead of cooking with frozen or canned foods.

Organized alphabetically, The Victory Garden Cookbook includes all the vegetables Morash grows in her own garden. Information about planting, growing, and harvesting from your garden is also included. Morash gives advice about storing vegetables, converts yields into measurements (i.e., a half-pound of small Brussels sprouts equals 28–30 sprouts, while a half-pound of medium sprouts equals 12–14) and offers tips for finding the best produce for the cook without a garden. This cookbook is likely to become your go-to resource for gardening and cooking.
IMAGE CREDIT: www.amazon.com/
---
top | Newsletter Home | Article Index | Archive