Herbal Spotlight: Elecampane
By Rachel Laase, Assistant Mini-Farm Manager at The Jeavons Center and Student Herbalist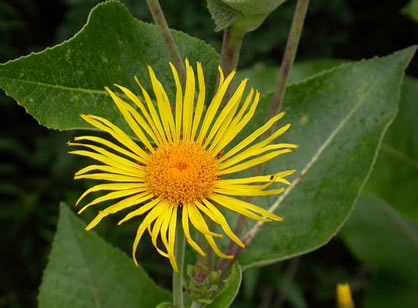 Elecampane can be used to make a cough-soothing syrup.
PHOTO CREDIT: Rachel Laase

---
Autumn is here, causing the weather to start cooling down and the leaves to change colors. It is time to start getting ready to harvest the herbs and flowers that have been hard at work, growing throughout the heat of the summer. One of the questions most frequently asked of herbalists is, "When do you harvest the root of herbs for their medicines?" One of my favorite ways to remember the optimal times to harvest all medicinal roots is during their First Fall or Second Spring (FFSS) or during the months that end with the letter 'R' (R=Roots).

The herb that I am the most excited to harvest this fall is one of my favorite herbal companions, Inula helenium, more commonly known as Elecampane. This beautiful plant can grow up to 4 feet tall and produce large green leaves with little hairs that alternate up the stem. The flower it produces is bright yellow with thin petals that remind me of something that would be found in the daisy family. Elecampane was an important medicine used by the Greeks and Romans to aid digestion; it was used as an antiseptic to treat wounds or to help with lung health. My favorite way to prepare the root is to make it into a cough syrup because once the cooler weather starts coming around, so do colds. Elecampane acts as an expectorant, helping to break up and soothe wet, phlegmy coughs.

Even though the root is harvested for its medicine, Elecampane easily reseeds itself, so there's always more coming up the following spring. Happy harvesting and medicine-making!

Cough and Cold Recipe

Ingredients
1 c Elecampane root, chopped
2 c distilled water
4 c honey (I prefer raw)
Juice of one lemon

Note: You can also add other herbs that help with colds, such as fresh ginger or horseradish, to spice it up a bit!
Directions
1. In a saucepan, combine water and herbs. Bring to a boil, then reduce heat and simmer for 20 minutes.
2. After 20 minutes, remove from heat and strain herbs with a mesh strainer or cheesecloth. Be sure to squeeze out the herbs to get all of the herbal liquid from them.
3. Combine herbal liquid with raw unfiltered honey and freshly squeezed lemon juice. Allow to cool on the counter top before putting a lid on and storing in the fridge. This will keep in the fridge for 4–6 weeks.
---
top | Newsletter Home | Article Index | Archive