Garden of Hope Makes a Difference in Kenya
By Newsletter Staff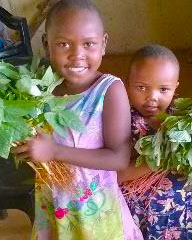 Young girls with indigenous sweet potato slips for planting at the Garden of Hope.
PHOTO CREDIT: Mlesh Mlegwa


---
Jonnes Elijah Mlegwah, known as Mlesh, was an 8-Month Intern at The Jeavons Center Mini-Farm in 2016. When he returned home, he started the Garden of Hope project that encompasses a variety of research and teaching activities. Here is an overview.
Mlesh's garden project is in the Central Province of Kenya. Biologically intensive gardening skills are particularly important for people in this region. Due to severe drought conditions in the area, water and food prices have increased dramatically, which has resulted in theft and burglary in some areas. The situation is a stressful one.
Mlesh manages Garden of Hope and is passionate about teaching the GROW BIOINTENSIVE method. Despite poor growing conditions and low rainfall, Garden of Hope grew the following crops in 2018: alfalfa, amaranth, beans, capsicum, carrots, cassava, cocoyam, cowpeas, garlic, ginger, green grams (mung), kale, lima beans, maize, millet, okra, onions, potatoes, sorghum, spring onions, butternut squash, pumpkins, sugar cane, sunflower, sweet potatoes, thorn melon and watermelons. Imagine showing struggling farmers that this kind of variety and abundance is possible in an area experiencing so much hardship!
Also in 2018, Garden of Hope trained 120 farmers using the GROW BIOINTENSIVE method, worked with volunteers, including hosting two from Italy, taught GB in the school and developed a garden there. They taught community members through the development of "Another Way of Living" presentations and created a garden site for this endeavor as well.
In addition, Mlesh organized two vine shares with local farmers as a way of encouraging them to plant indigenous sweet potatoes which are best suited to the local climate. A total of 160 farmer–gardeners attended, hearing how best to propagate plants during drought conditions. In addition, November's topic was Dryland Farming, and the organizations RARE (the Revue Africaine de Recherche en Éducation–African Journal of Education Research) and International Foundation of Organic Agriculture Movements supported a workshop designed to teach conservation methods.
Mlesh wrote recently, "…we've managed to transform [farmers' and their family's lives] and have moved from sadness to happiness, from buying to selling, from single-handed eating to abundance, from borrowing to giving, from living-to-eat to eating-to-live, from impossible to possible, and from suffering to rejoicing."
Mlesh is already creating initiatives for 2019. He's motivated to share how GB techniques can help solve food and water issues in his region—but he needs our help. If you'd like to support Mlesh's work and the Garden of Hope project, please make a contribution via credit card at www.gofundme.com/mleshs-biointensive-training-farm or via PayPal on our dedicated donation page https://donatenow.networkforgood.org/gardenofhope. We are trying to raise $3500—an amount that will allow Mlesh to continue his wonderful work. Your help will go far in easing the challenges he faces in Kenya. Thank you.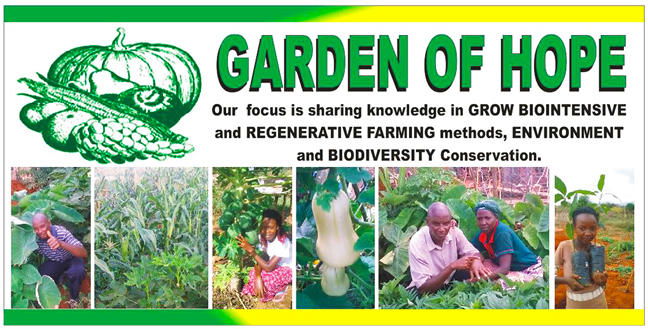 ---
top | Newsletter Home | Table of Contents | Archive