Meet Ecology Action's 2018 Interns
By Newsletter Staff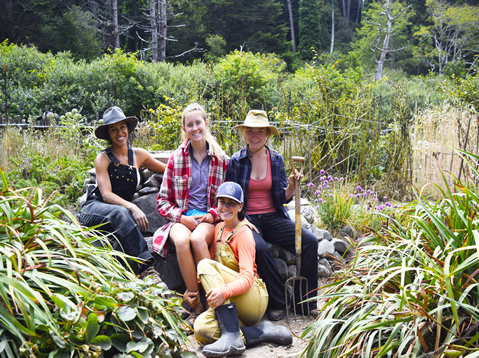 Four Interns in the Garden
PHOTO CREDIT: Matt Drewno


---
This year, in addition to EA's four interns, Stanford Inn sponsored Annika Kao and Ben Don, 2-Month Interns, as part of their Sustainable Mindset program. The interns lived and worked along with EA's VGfP interns, providing a broader experience. Ben was unavailable for this article.
Annika Kao, California, USA
Stanford Inn sponsored 2-Month Intern at VGfP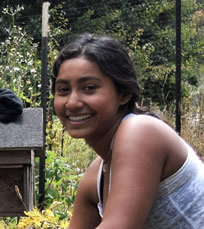 My mom has always loved to garden, and as a kid I would sometimes help her, but it wasn't the gardening that truly drew me in. I found the concept of the sustainable mindset very interesting. I am currently studying Environmental Studies at UC Santa Barbara, CA. I love the idea of learning sustainable methods in all fields of practice.
I learned about the 2-Month GROW BIOINTENSIVE Internship program through Joan Stanford at the Stanford Inn Eco-Resort. I met Joan while applying for an internship. Joan was part of the interview committee.
During this internship I learned so much valuable information, from everything about seed fertility to how our experiences shape us. The knowledge that I gained, not only through my mentors at the Stanford Inn, but from the VGfP interning women and other participants, is invaluable. I learned about different cultures, hardships in other places of the world, ways to help the planet thrive, and so much more. I think the most important thing I took away from this experience is that the large-scale solution is not always the best, but rather it is the small changes that each of us can make that in the end will help us and the planet most. We all get so caught up in being rigid in our way of doing and being, and assuming the same of others, when the most important change is our own change.
Now that the internship has ended, I will be returning to Santa Barbara to finish my degree. I hope that I can help spread awareness of Ecology Action, their teaching programs and the GROW BIOINTENSIVE gardening method. I want to focus my study and research on sustainable practices and hope to become a part of the university garden at UCSB. The internship opened my eyes to parts of Environmental Science that I was not aware of before, and even though my plans after graduation are unclear, I will take these teachings with me. .
Marin Williams, North Carolina, USA
Two-Month Intern at Victory Gardens for Peace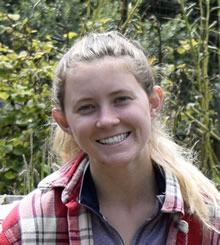 I'm currently an Environmental Studies and Food Production major at Elon University, in North Carolina. In the past I've worked at the university's Loy Farm and been a member of the Garden Club there. These activities led me to want to know more about growing and farming.
I've always been interested in food systems and how food sovereignty affects different communities. I spent a lot of time as a soup kitchen volunteer during high school, but it wasn't until I went to an urban farm and rehabilitation center in St. Louis for a week that I realized how impactful food truly is. It can have a very positive, or equally negative, effect on people's lives. I heard about the internship program from my professor, Steve Moore.
While I was in Steve Moore's class, Sustainable Food Systems, we went through How to Grow More Vegetables (HTGMV) and the Biointensive method of food growing. I was captivated by the ideas. I wanted to intern with Ecology Action so I could learn how to start a Biointensive farm from the very beginning, farm without using machinery, understand the characteristics of individual crops and build healthy soil. I want to use this method in my future career in agriculture and teach others how to feed themselves as well.
Gabriella Cobb, Vermont, USA
Six-Month Intern, choosing to stay another 12 months, at Victory Gardens for Peace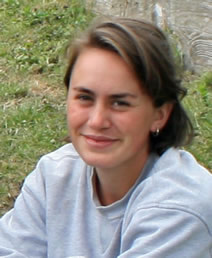 I worked on a farm milking cows and became fed up with the political situation in agriculture. I saw that conventional farming practices use and manipulate nature, rather than work with the natural systems. Practices are often removed from the natural cycle. I wanted to find a way to function inside society but outside its sometimes misguided rules and constraints. I explored different agricultural practices such as biodynamics and organic agriculture. I was a shepherdess in Switzerland with free-range animals and began to see there were more-natural ways of doing the same thing.
While working on a tea farm in Switzerland, I was trying to grow my own garlic. I asked a local seed-saver and friend what to do to help the plants thrive. Judith had worked with Juan Manuel in Brazil, and she gave me a copy of HTGM. Reading the book explained so many things to me; it gave me the 'why' of many gardening practices I'd been doing but not fully understood before. While I was still living and working in Switzerland, I realized if I wanted to learn more about the GROW BIOINTENSIVE (GB) method, I needed more training. Then I'd be able to make a difference in agriculture in larger arenas, not just for myself. Judith told me about EA's internship, and I contacted Matt Drewno. I arrived in May, 2018.
I came to VGfP to learn about the growing techniques, but the area that has really caught my attention is seed-saving. It's so important and something I first discovered here. Growing plants, saving the seeds, planting again; it's like the circle of life. I never thought about it before. Also, the other farming I've done used tractors. At the Mini-Farm we're more involved with the plants, and that brings a sense of responsibility that isn't part of large-scale agriculture.
My mom owns twenty acres in Vermont which will come to me. In that state there's a huge political movement around farming because large agriculture had pushed out small-scale farming in the past. I want to start a GB garden to help bring back the small farmer. Many of the long-time farmers in the area would benefit from a new approach, because to localize, you need to farm on a small scale. I'll have about an acre and hope to develop a food forest, as well as have a seed bank so the practices will come full circle.
Since my farm is in Vermont I'm really interested to apply what I've learned in a climate that has a three-month growing season, instead of the twelve months at VGfP. I've heard GB is effective in Russia; perhaps that research will help me when I return to Vermont.
Brooke Eichenlaub, North Carolina, USA
1-year Apprentice, choosing to stay another 12 months, at Victory Gardens for Peace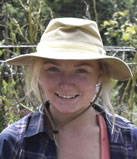 During college I wanted to be involved in community service so I did a 3-month internship with Ashevillage Sanctuary, which is a privately owned retreat with a demonstration garden. While I was there, I helped maintain their permaculture beds. A couple of years later I did a 12-month permaculture design internship at Asheville College. After college I wanted a way to use my Environmental Science degree and to work in the field of sustainable agriculture. I saw EA's internship on a sustainable agriculture job site and applied.
I arrived in May and will stay on until the summer of 2020. It's helpful to work in the same garden for more than a year so you can see a few seasonal cycles.
The thing I value about GB, over permaculture for example, is that the method helps streamline practices, which helps us micro-scale agriculture. I can see that these practices are going to be needed in the near future; it'll be good to know how to grow all my own food in as small a space as possible. When I go home I want to help others in my community be able to start a community garden or a garden of their own. Everyone should have a chance to grow their own food. .
Kimberley Fisher, Bermuda
Eight-Month Intern and Assistant Mini-Farm Manager in training at Victory Gardens for Peace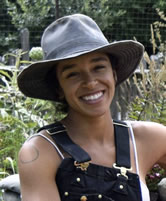 I was born in Bermuda and partly raised in North Carolina. While growing up, my father started a garden to help supplement the family's diet. I remember helping weed, water and harvest from the garden.
I heard about GROW BIOINTENSIVE via a series of connections with people using and teaching the GB method. Ms. Frances Eddy, an EA 5-Day Teachers Workshop participant in 2002, was teaching GB informally in Bermuda. Chris Faria, a mutual friend of Frances and me, attended the workshop, and she gave him a copy of HTGMV. He became inspired and together with his wife, Alba, decided to start a garden of their own. I interned with Chris and learned some of the basics of the GB method.
When I was 22 I was working at a non-profit in Bermuda but found it wasn't a good fit. I decided to start a project of my own through an internship at EA. I discovered that physical work, and work which is directly involved in growing and sharing food, felt healthy and right.
In order to learn more about GB, I came to the Golden Rule Mini-Farm in October 2017 and worked with Rachel Britten, the GRMF Manager at the time. When an internship became available at VGfP in March 2018, I joined Matt Drewno on the coast.
I hope to collaborate with Chris and others from my home to create a GB learning center in Bermuda. We're both currently training for Basic-Level Teacher Certification.
What I value most about my time at VGfP is the connection with these people that's developed. I can't imagine ever not having them in my life. Not only the teachers and interns from EA, but also the communities I've experienced in Mendocino County; the forests, the people, the commitment to local food movements, it's all really inspiring. I was considering other training sites, but I feel it's providential that I was meant to be here. It's a privilege and an honor to be in this space.
I'm considering staying another year as an apprentice, which would give me a chance to become really grounded in the GB method. But when I finish, I want to return to Bermuda and teach the method to the people there. Our island imports 100% of our food. The GROW BIOINTENSIVE method could change that. .

---
top | Newsletter Home | Table of Contents | Archive