Recipe: Leek and Potato Soup
Adapted from foodnetwork.com/recipes/alton-brown/leek-potato-soup-recipe/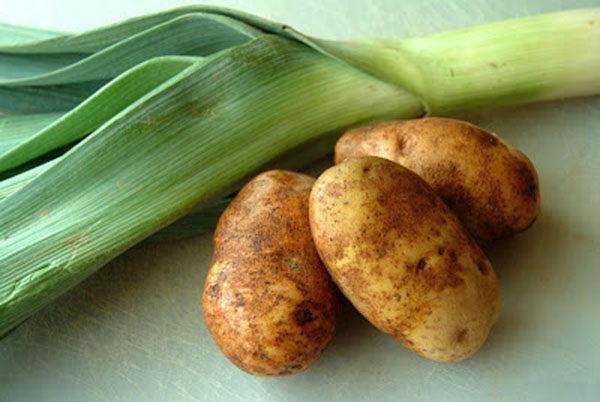 PHOTO CREDIT: www.lawyerloveslunch.com


---
Leeks and potatoes are both excellent calorie crops for a GB diet design. Here's a delicious recipe to use your crops in the kitchen!
1 pound leeks (approximately 4 to 5 medium) cleaned, and tough, dark green sections removed
3 tablespoons unsalted butter or olive oil
Heavy pinch salt, plus additional for later seasoning
14 ounces Yukon Gold potatoes (approximately 3 small), peeled (if you prefer) and diced small
1 quart vegetable broth
1 1/2 cups whole milk (or a "creamy" milk substitute)
1/2 teaspoon white pepper
1 tablespoon snipped chives
Chop the leeks into small pieces. In a 6-quart saucepan over medium heat, melt the butter. Add the leeks and a heavy pinch of salt, and sweat for 5 minutes. Decrease the heat to medium-low, and cook until the leeks are tender, approximately 25 minutes, stirring occasionally.
Add the potatoes and the broth, increase the heat to medium-high, and bring to a boil. Reduce the heat to low, cover, and gently simmer until the potatoes are soft, approximately 45 minutes.
Turn off the heat, and puree the mixture with an immersion blender until small chunks remain (or smoother or chunkier, depending on your preference). Stir in the milk and white pepper. Taste and adjust seasoning if desired. Sprinkle with chives and serve immediately or chill and serve cold. .

---
top | Newsletter Home | Table of Contents | Archive