Curried Socca (Chickpea Bread)
By Shannon Joyner Garden Companion Editor

---
If you are looking for a delicious, vegan, gluten-and-grain-free, protein-rich snack that is quick and easy to prepare, then you should try socca. Originating in France (or in Italy as farinata, depending who you ask) and spreading from Gibraltar to Argentina, basic socca is a flatbread made with chickpea flour, oil, water, and salt. From there, you can add any flavoring you like: herbs, spices, nuts, seeds, sautéed vegetables—your imagination is the only limiting factor. It's traditionally eaten in southern France as an appetizer at bar-cafes, cooked in a cast-iron pan in a wood-fired oven, served smoking hot and crispy on the edges, drizzled with olive oil and sprinkled with flaked salt. In this version, adapted from minimalistbaker.com, socca gets an infusion of savory flavor with caramelized onions, garlic, curry powder, cumin, coriander and mustard seed. Delicious on its own, it would also make a good substitute for naan served with chutney.
---
Ingredients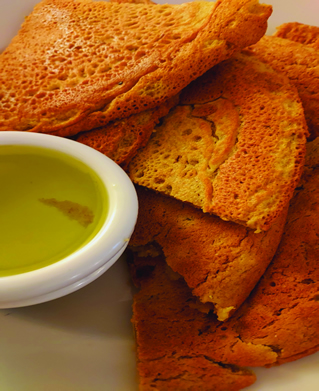 BATTER
1 cup (120 g) chickpea (garbanzo) flour
1/2 tsp heaped sea salt
1 tsp baking powder
1 scant cup (220 ml) warm water

SPICE BLEND
2 ½ Tbsp olive or vegetable oil
1 small onion, sliced thin
1 clove garlic, minced
2 tsp curry powder
1 tsp whole cumin seed
1/2 tsp ground coriander seed
1/4 tsp whole mustard seed

Extra olive oil and flaked sea salt for serving

Directions
Place chickpea flour, sea salt, and baking powder in a medium bowl, and whisk to combine. Slowly pour warm water into dry ingredients and whisk until smooth. Cover the batter and allow it to sit for at least 1 hour to hydrate the flour, stirring occasionally.
While the batter is resting, heat an oven-safe cast-iron skillet over medium-high heat. Add olive oil and onions and sauté, stirring occasionally for 5-8 minutes until onions begin to caramelize. Reduce heat to medium, and add garlic, cumin seed, and mustard seed and allow to toast until just fragrant (~1 minute), stirring occasionally. Add curry and coriander powders, stir and allow to toast for an additional 1-2 minutes, until fragrant. Remove the mixture from the heat.
When the chickpea batter has rested add spice mixture and stir to combine. Preheat oven to 425 degrees F (218 C). Also heat the oven-safe cast-iron skillet from earlier over medium-high heat (it should still have a little oil from cooking the spices earlier – if necessary add a little more oil to keep the batter from sticking). Once the pan is nice and hot, add enough chickpea batter that, when you swirl it around the pan, the batter spreads into a large, thin pancake that reaches the edges of the pan.
Carefully transfer the hot skillet to the oven and bake for 10-15 minutes or until bubbles have formed, the edges have browned, and the top is slightly golden brown. Remove from oven after baking and let cool in the pan for a few minutes. Then gently loosen with a spatula, flip so that the crispy underside of the bread is on top, and slice into pieces. Repeat cooking process with the remaining batter (our cast-iron skillet is 10 inches in size and yields two large pieces of socca as the recipe is written – you could also use two pans and cook the whole recipe at the same time).
Sprinkle with flaky sea salt and serve hot with a good quality olive oil for dipping, or with anything you'd enjoy with naan. Leftovers will keep for 3 days or in the freezer for up to 1 month. Enjoy at room temperature or reheat on stovetop until warm.
♥

---
top | Newsletter Home |Table of Contents| Archive