The Jeavons Center Mini-Farm Report
by John Jeavons, Executive Director, Ecology Action

---
"I enjoy GROW BIOINTENSIVE farming because it is inspirational and empowering. It focuses on a detailed knowledge of the whole ecosystem within a garden. Biointensive is extremely effective in using resources to grow a balanced diet while also regenerating the soil. Despite being a complex system, it becomes a simple process of caring for the garden and watching it grow, a process that in turn nurtures the mind, body and soul."
– Suraya David-Sadira, TJC FTT, 2021
---
As The Jeavons Center mini-farm transitions into winter and we begin looking toward the start of the new growing season, it's a pleasure to reflect on the different annual crops we'll be growing into 2022. There are a few favorites I'm particularly focused on: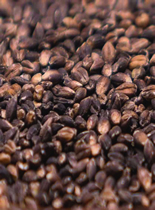 Barley
Because TJC has a fairly short (5-month) main growing-season, combined with an average of only 10 nights per year with a temperature of 60 degrees Fahrenheit, we need to get our warm/hot weather 60% Carbon-and Calorie-Crops in as early as possible to achieve reasonable yields. For TJC, that means a planting date for the warm/hot weather crops of no later than May 16. To accomplish this, we need to get at least some of our cool/cold weather 60% Carbon-and-Calorie-Crops out of the growing beds as soon as possible to make room for the warm/hot weather crops. Most of the cool/cold weather 60% Crops we favor take about eight months to mature at TJC. However, barley (Hordeum vulgare) is unique in that it can take as little as three months. This means we can plant cool/cold weather barley as late as February 15 (and as early as October 7 if needed or desirable) and still achieve a good harvest by May 16. Also, barley, according to Cereal Crops (by Warren H. Leonard and John H. Martin, The Macmillan Company, 1963), it is possible to harvest barley in 2 1/2 months (2 weeks early) without impairing the nutritional value of the grain—although seed and dry biomass yields will be reduced a little. This year, TJC expects to be trialling the Black Nile and Gopal barley varieties in 15 growing beds—and possibly several more varieties as time and garden space allow. These seeds are being sourced for us by Lorenz Schaller, proprietor of the KUSA Seed Society. KUSA has a diverse array of crop seeds and varieties (see ancientcerealgrains.org/seedandliteraturecatalog.html for a catalog). Lorenz has also written a 3-volume series on barley, with the final fourth volume in preparation. You can read my review of the series The Book of Barley at my blog, Grow the Earth.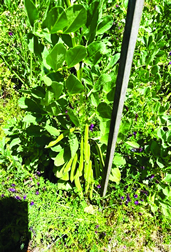 Fava Beans
Banner Cold-Weather Fava Beans (Vicia faba) are one of our favorite 60% varieties because of its hardiness and productivity during our long, cold (hopefully wet), winters. This year, we're also planting it because we are low on seed for this variety and need to replenish our stocks. Here is how it compares with the runners-up, which are also good. In Ecology Action's experience, the two best varieties are the first two below, yet they are difficult to locate. The last is easily available and has some good aspects.
Banner: Does not freeze until 10 degrees Fahrenheit, provides dense growth 4.5+feet high. At intermediate-level GROW BIOINTENSIVE yields, Banner can produce 9 pounds of seed and 36 pounds of mature dry biomass for compost material per 100 sq. ft. Grown for immature compost material, this variety can produce up to 160 pounds of wet biomass. See Table A, p. 40 in HTGMV (2017) to see how important this compost material yield can be!
Frederick: Does not freeze until 15 degrees Fahrenheit, provides dense growth 4-feet high.
Vroma: Does not freeze until 10 degrees Fahrenheit, provides less dense growth ~3.5-feet high.



Note: To destroy any weevil eggs in the dry fava beans at harvest time, store in a freezer for 3 full days immediately after harvest.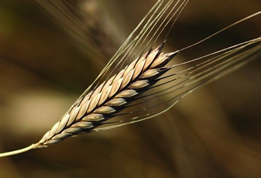 Early Stone-Age Wheat
Einkorn (Triticum boeoticum (wild wheat), or Triticum monococcum (domesticated species)), was first cultivated in the fertile crescent of the Tigris/Euphrates confluence by primitive humans 10,000 years ago, and is known as our "first wheat". The name is derived from the German word for "single grain" because each spikelet contain only a single fertile flower and thus produces only one seed, in contrast with the multi-grain spikes of modern wheat. Einkorn contains 14 chromosomes, whereas modern wheat contains 42. It is thought that because Einkorn does not have the D chromosome, which seems to be connected with wheat intolerance in many humans, that einkorn is easier to digest and may not cause as many problems for people with sensitivities to other forms of wheat. It also contains more 18.3% protein than modern wheat, and more antioxidants as well. When grown in northern Iran it produced all of one person's calories annually with an average of just 3.7 minutes daily. (Actually 20 minutes a day for 60 days.)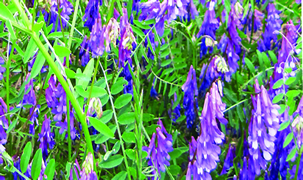 Wooly Pod Vetch
This legume has the potential for fixing up to ~0.63 lb. of nitrogen in 100 sq. ft. of garden soil (if you pick off all its flowers, so the nitrogen does not go into producing seed). See also, Managing Cover Crops Profitably, SARE (Free online at sare.org/wp-content/uploads/Managing-Cover-Crops-Profitably.pdf). Woolly Pod Vetch (Vicia villosa) is one of the most effective legumes for nitrogen fixation, as only ~0.5 lb. of nitrogen is needed/100 sq. ft. growing bed per 6 month growing season (5 lb. carbon is needed/100 sq. ft. growing bed per 6 months – this is where your carbon crops come in handy). Since a 100 sq. ft. growing area needs 0.5 lb. of nitrogen to grow a crop, and because ~0.25 lb. of this can come from GB cured compost, the remaining ~0.25 lb. of nitrogen needed can come from growing out just 2.2 oz. of Wooly Pod Vetch seed!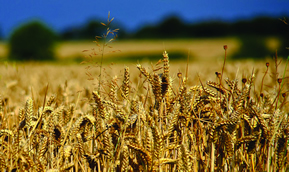 Hard Red Spring Wheat
This traditional variety (Triticum aestivum) is also a favorite at TJC. At intermediate-level GROW BIOINTENSIVE yields per 100 square feet, it can produce 10 pounds of seed and 30 pounds of dry biomass. Plus, the freshly ground flour makes excellent bread and pasta! (See Table A, p. 40 in HTGMV (2017) to see how important the dry biomass compost material yield is.)
These and other varieties will go into the growing beds between now and the first hard frost, becoming part of the ongoing "smallest growing space" 10-Bed Unit Project underway here and at a dozen other GB test gardens globally, helping to determine the best complete, closed-loop. food, compost and soil-growing plan possible for the smallest growing area for a given climate.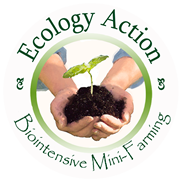 Growing edge Biointensive projects like this are flourishing around the world, helping to heal the Earth and its people, right where they are. We love our Global GROW BIOINTENSIVE Family and are proud of the work we and our partners do. We look forward to growing strong with you through 2022 and beyond!!
♥

---
top | Newsletter Home |Table of Contents| Archive