Herbal Spotlight: Rosemary
By Rachel Laase, Assistant Mini-Farm Manager at The Jeavons Center and Student Herbalist

---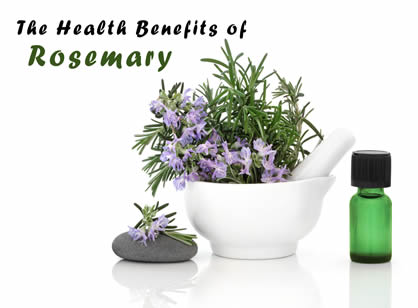 Rosemary is a versatile herb that can be used in a variety of ways.
IMAGE CREDIT: https://mygrandmasgarden.net/2014/06/27/rosemary/

---
Rosmarinus officinalis, more commonly known as rosemary, is a beloved herb that is often found in abundance in any herbalist's cabinet. Rosemary, which means "dew of the sea", is a perennial shrub native to the Mediterranean region. It is an herb that has a long history going as far back as Ancient Egypt and has many medicinal qualities.

You may know that rosemary is often adds a delicious flavor to cooking, but did you know that its uses go beyond just culinary? It is a digestive tonic and can help with anxiety, support liver health, bring down a fever, keep colds at bay, ease skin ailments such as eczema and dandruff, as well as boost memory and fight fatigue. So many incredible benefits!.

Besides putting it in your winter stews or infusing it into cooking oil or vinegar, an easy way to incorporate rosemary into your daily routine is by making a hot tea. When it is steeped in hot water, the beneficial oils are released, making its medicine fully available.
For external use, rosemary is great to incorporate in homemade bug repellent spray and also as an herbal hair rinse. Rosemary is a very effective natural preservative, so working it into recipes can help those mixtures be less perishable.
Here at Ecology Action we're lucky our rosemary produces year-round, allowing us to have a bountiful harvest and a fully stocked herbalist's cabinet at all times. If you would like to experiment with one of the benefits of this herb, please try the following recipe.

Homemade Bug Repellent Spray

Ingredients
3–4 c apple cider vinegar
2 Tbsp each of dried sage, rosemary, lavender, and mint
1 quart-sized glass jar with an airtight lid

Directions
Fill the glass jar with apple cider vinegar and the dried herbs.
Seal tightly and shake well each day for 2–3 weeks.
Once ready, strain out the herbs and add water 1 to 1.
Store this mixture in a spray bottle until ready to use.
The infusion can be refrigerated, but it will keep without it.
---
top | Newsletter Home |Table of Contents| Archive