How to Build and Use Seedling Flats: Sustainable Seed-Starting Boxes
By Leslie Roberts, in collaboration with Matt Drewno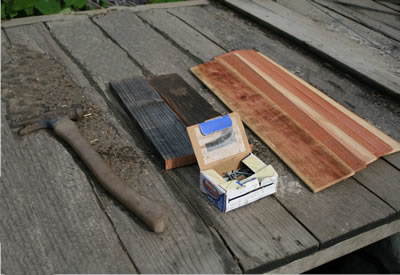 Some of the pieces you'll find in the kit.
PHOTO CREDITS: Matt Drewno

---
At Ecology Action, many seed varieties are started in seedling flats and then transplanted into the bed once they are established. There are several advantages to using wooden seedling flats:
More efficient use of water and space
Better soil temperature maintained than with plastic containers
Durable and with proper care will last for many seasons
Biodegradable
How to Build a Seedling Flat
These pictures demonstrate assembling a precut kit from Bountiful Gardens, but once you make one from a kit, it's relatively easy to make your own using new or recycled lumber. Redwood or cedar is best, when available. The flats will be constantly getting wet and in contact with moist soil. Redwood and cedar resist rot.

Tools and Materials List:
1 seedling flat kit: 2 short end pieces, 2 long side pieces, several bottom pieces (see image above)
Hammer
Nails
Construction For ease of construction, collect all the necessary tools and materials in one place. This project should take less than an hour. Depending on the age of your children, consider including them. It's a great way to introduce them to simple carpentry and garden preparations.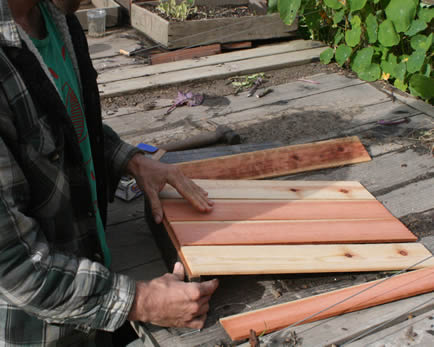 Start by aligning the bottom pieces with one of the end pieces to determine their placement.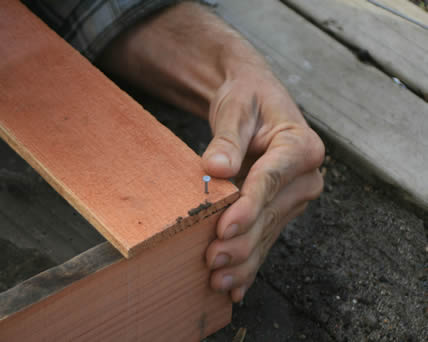 Attach the two outer bottom pieces to the end pieces. Be sure to line up the pre-drilled holes with the board underneath. If they don't align perfectly, gently tap the nail into place before driving it home. Be careful not to hammer your fingers or thumb! Add the middle bottom pieces last, positioning them evenly to provide drainage slits on either side.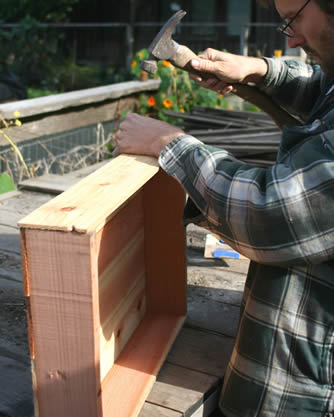 Carpenter Bobby Z., 1-year apprentice at Green Belt Mini-Farm.
PHOTO CREDITS: Matt Drewno
Add the long side pieces, and you're done! Now, you're ready to get started growing your seedlings!

Recommended inner dimensons for making your own flats:
Standard 23" x 14" x 3"
Half 11.5" x 14" x 3"
Deep 11.5" x 14" x 6"
---
top | Newsletter Home |Table of Contents| Archive