Biointensive for Russia Activities:
Dr. Ludmila Zhirina's Teaching Tour of Three Northern Russian Regions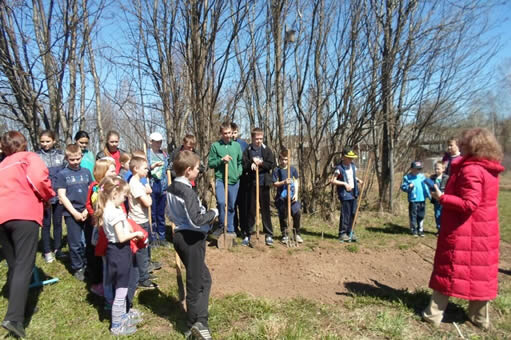 Dr. Ludmila Zhirina with Students at a Double-Digging Demonstration in Northern Russia
PHOTO CREDIT: BfR


---
This is an edited version of the report Carol Vesecky, Director of Biointensive for Russia (BfR), sent us.
Following the print-on-demand publication of the Russian How to Grow More Vegetables 3rd ed., Dr. Ludmila Zhirina of the NGO VIOLA taught workshops in the fall of 2016 in St. Petersburg and its region, the Leningrad province. Among the participants was Irina Skiba, a farmer and teacher from the Yaroslavl region. Following the workshop, Irina worked with Ludmila to plan a teaching tour for the spring of 2017 to the Yaroslavl region and two others in Northwest Russia. BfR supported this effort by sending $1200 to Ludmila to assist with travel, visual aids, and books for workshops in the Yaroslavl region, Vologda, and Arkhangelsk regions. She accomplished an extraordinary amount in a short time, traveling nearly 2000 miles and holding more than 20 meetings and seminars. The trainings were held between May 15 and 23, in rural schools and on farms.
Ludmila also collaborated in collecting heirloom seed varieties, some of which were planted in Bryansk this summer. She was hosted by school principals, farmers, orchardists, and bee¬keepers, who were all grateful for BfR support. Ludmila wrote, "I think they feel the Biointensive method will work well with their cold climate, short summers, and wet soil."
During the tour, Ludmila distributed the Russian How to Grow More Vegetables 3rd ed. to teachers in the north. Access to the electronic version was also shared and is available for a $5 donation to EA at growbiointensive.org/HTGMVRussian.
People in these groups want to try GB and hope we will visit them this autumn. Ludmila will continue to advise the groups via Skype.
Funds were used to create five sets of posters to be used during Ludmila's workshops and later by four of the hosting organizations. These posters have become a useful resource and are being shared electronically with six more organizations.
For more information, visit BfR's Facebook page. and see the wonderful pictures and blog entries about the Biointensive activities on the Biointensive for Russia blog. Carol is available for informational presentations to assist fundraising for Russian teachers and Ludmila's continued teaching of GB in Russia. Also, if readers in cold climates would like to correspond with the new Biointensive gardeners in northern Russia, contact Carol at cbvesecky@gmail.com.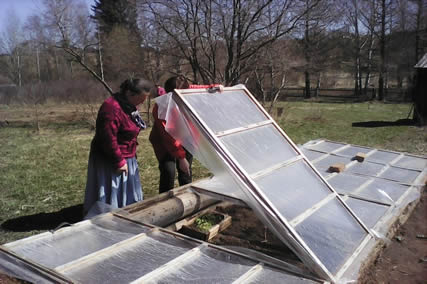 Irina Skiba with a Teacher, Examining a Cold Frame
PHOTO CREDIT: BfR

---
top | Newsletter Home |Table of Contents| Archive