---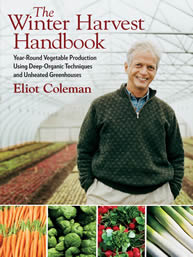 The Winter Harvest Handbook: Year-Round Vegetable Production Using Deep-Organic Techniques and Unheated Greenhouses
By Eliot Coleman (Chelsea Green, 2009).
Review by Chelsea Green
With The Winter Harvest Handbook, anyone can have access to Eliot Coleman's hard-won experience. Gardeners and farmers can use the innovative, highly successful methods Coleman describes in this comprehensive handbook to raise crops throughout the coldest of winters.
Building on the techniques that hundreds of thousands of farmers and gardeners adopted from Coleman's previous books, The New Organic Grower and Four-Season Harvest, this book focuses on growing produce of unparalleled freshness and quality in customized unheated or, in some cases, minimally heated, movable plastic greenhouses.
Coleman offers clear, concise details on greenhouse construction and maintenance, planting schedules, crop management, harvesting practices, and even marketing methods in this complete, meticulous, and illustrated guide. Readers will discover all the techniques that have proven to produce higher-quality crops on Coleman's own farm.
His painstaking research and experimentation with more than 30 different crops will be valuable to small farmers, homesteaders, and experienced home-gardeners who seek to expand their production seasons.
A passionate advocate for the revival of small-scale sustainable farming, Coleman provides a practical model for supplying fresh, locally grown produce during the winter season, even in climates where conventional wisdom says it "just can't be done." .
IMAGE CREDIT:Chelsea Green Publishing

---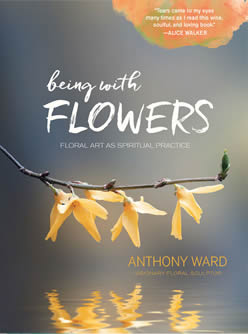 Being with Flowers: Floral Art as Spiritual Practice - Meditations on Conscious Flower Arranging to Inspire Peace, Beauty and the Everyday Sacred
by Anthony Ward (Quarry Books, 2017).
Review by Amazon

Learn to become one with nature and create beautiful flower arrangements with Being with Flowers. Floral arrangements are so much more than a decoration. They provide a way to connect to nature and the world around us. Master floral sculptor, Anthony Ward, shows you how to work with flowers to bring more peace into your life. Including creative exercises, guided meditations, and step-by-step flower arrangements, Being with Flowers will show you how to appreciate the natural art of each flower to create the perfect arrangement.
"This is a beautiful and original book. Through vivid prose and stunning photographs Anthony Ward shares with us his love of and respect for flowers. Whether their design is simple or exotic, their colors muted or flamboyant, he captures and shares the magic of these gifts from the world of nature." - Dr. Jane Goodall, DBE, founder, the Jane Goodall Institute & UN Messenger of Peace
Floral sculptor Anthony Ward is an artist living in northern California. He travels the world sharing his love of flowers through wedding creations, workshops, and "prayerfor-mances" at transformational music festivals. Anthony (and this book) can be found online at www.beingwithflowers.com, on Facebook and Instagram @AnthonyFlowersWard, and on Twitter @floralsculptor.;
IMAGE CREDIT: Amazon.com
---
top | Newsletter Home |Table of Contents| Archive