---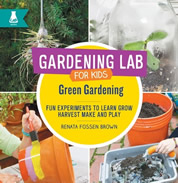 Green Gardening: Gardening Lab for Kids
by Renata Fossen Brown (Quarto Publishing, 2018).
Review by Lerner Books
A refreshing source of ideas to help children learn to grow their own patch of earth, Green Garden: Gardening Lab for Kids encourages children to get outside and enjoy nature. This fun and creative book features 13 plant-related activities set into weekly lessons. Renata Fossen Brown guides your family through fun opportunities learning about botany, ecology, the seasons, food, patience, insects, eating, and cooking. The labs can be used as singular projects or to build on experiences. The lessons in this book are open-ended to be explored over and over—with different results each time! So, slip on your muddy clothes, and get out and grow!

IMAGE CREDIT:Quarto Publishing

---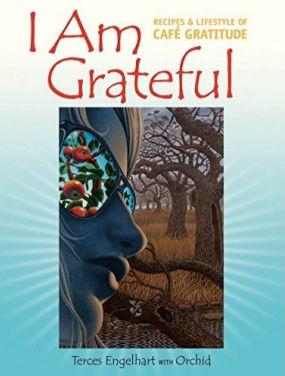 I Am Grateful—Recipes and Lifestyle of Café Gratitude
by Terces Engelhart with Orchid (North Atlantic Books, 2007).
Review by Amazon

With locations in Venice, Santa Cruz, San Diego and Los Angeles, California, Café Gratitude has become well known for its inspiring environment and distinctive, flavorful organic foods. In I Am Grateful, cofounder Terces Engelhart presents her and her husband Matthew's view of life and business philosophy. She also presents her story of personal healing, sharing highlights of her recovery from food addiction while explaining the benefits of eating raw foods. The book's gorgeous full-color photographs accompany easy-to-follow recipes for the café's most popular items, making it easy for readers to prepare live foods at home.
IMAGE CREDIT: Amazon.com
---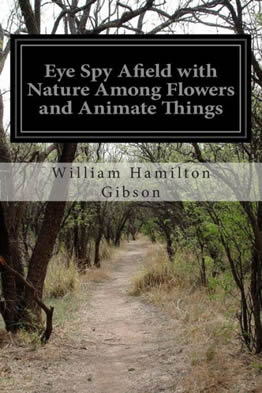 Eye Spy: Afield with Nature among Flowers and Animate Things
By William Hamilton Gibson (Harper & Brothers Publishers, 1899).
Review by John Jeavons

Here is another astounding exploration of the Natural World for children and all of us! The age of this publication only increases its usefulness.

Topics include: • A Naturalist's Boyhood • The Story of the Floundering Beetle • Fox Fire • A Homely Weed with Interesting Flowers • The Fairy Sponges • Green Pansies • Mr. and Mrs Tumble-Bug • The Horse-hair Snakes • Professor Wiggler • Cow-spit, Snake-spit and Frog-spit • The Paper Wasp and His Doings • The Spider's Span • Ballooning Spiders • The Lacewing Fly • The Perfumed Beetles • Mushroom Spore-prints • Some Curious Cocoons • Nettle-Leaf Tent-Builders • The Evening Primrose • The Dandelion Burglar • The Troubles of the Housefly • Tendrils • A Strange Story of a Grasshopper • Riddles in Flowers • Luck in Clovers • Barberry Manners • A Wooly Flock • "What Ailes Him?" • The Cicada's Last Song
This book, with its numerous drawings and photos, is fun! One can only wish there were more. Available in ebook formats from Gutenberg.org.
IMAGE CREDIT: Harper & Brothers Publishers
---
top | Newsletter Home |Table of Contents| Archive