Camp Tabonuco Teaches Personal and Environmental Resilience
Elena Torres wrote about Camp Tabonuco her internship application essay.
Here is an overview of the organization.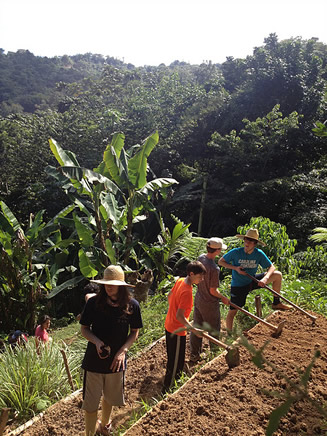 Camp Tabonuco participants in an agroecological workshop
PHOTO CREDIT: Camp Tabonuco staff


---
Puerto Rico's agriculture is equal to 0.8% of the island's gross national product. The island imports 95% of its food even though most of the land is fertile. Currently only 6% is arable, a fact that threatens Puerto Rico's food security. This agricultural situation has been caused by mismanagement of terrains, lack of alternative farming methods, a deficient agricultural workforce, and loss of farmland to hurricanes.1 However, organizations like Camp Tabonuco (also on Facebook) are educating youths in skills and ideals that will help change the current agricultural situation. The farm is located in the Mameyes neighborhood of Jayuya, Puerto Rico. They focus on ecological education and serve a diversity of youth through farm visits, experiential camps and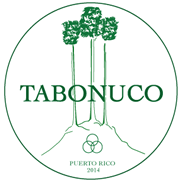 workshops focused on agroecology, the arts, natural construction and more.
Camp Tabonuco operates among fields of coffee, plantain and citrus with a rustic framework that includes a gazebo for activities, two bamboo cabins, composting toilets and outdoor showers. The camp runs completely off-grid with spring water and solar panels for electricity. Their mission is to empower Puerto Rican youth with transformative learning experiences that cultivate social and ecological awareness and stewardship.
---
top | Newsletter Home |Table of Contents| Archive