Appreciation from Eden Garden, Kenya
By Hesborne Apida, Director of Eden Garden and Resource Services Program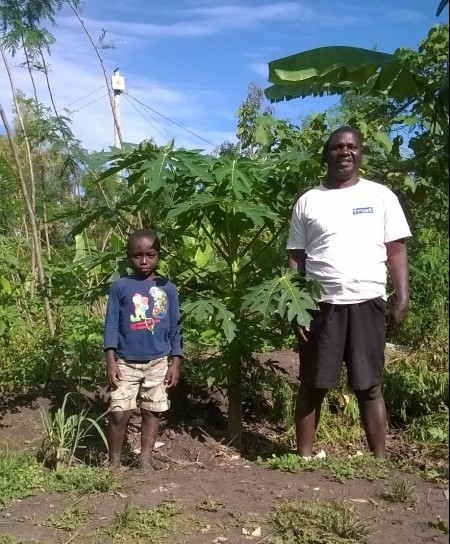 Rev. Apida and his son Ezekiel at Eden Garden, Kenya
PHOTO CREDIT: Eden Garden staff


---
Dear John,
Greetings. My name is Rev. Hesborne Apida. I am Pastor of a Baptist church in Kisumu, Kenya, and founder and Director of Eden Garden Farm and Resource Services Program. I've had a good email correspondence with your office staff concerning our desire to partner with Ecology Action as we develop our Biointensive Agriculture Mini-Farm. Two years ago you sent us copies of HTGMV and other GB materials. I wanted to express our appreciation for your support through these materials. They have greatly helped, and today our gardens are much improved. However, we continue to have challenges. We would like to partner with Ecology Action to learn GB skills so we may share successes and challenges and find solutions and joys for expansion. We have found GROW BIOINTENSIVE works. This season we planted tomatoes for the first time, and I tell you, the harvest is nothing I have ever grown before or seen anywhere; large fruit. Once we figure out a way to keep the birds from eating our tomatoes, we'll enjoy a greater harvest.
One of our goals is to serve as a demonstration center and teach the skills to support care givers to the many orphan children around us, the elderly, widows and other vulnerable persons who often go hungry. The gardens will provide food, and we will sell the surplus to pay some of the children's school fees.
We chose the name Eden Garden because we want to emulate the Garden of Eden in the book of Genesis in the Bible. We believe we will get there with this vision.
Thank you to you and all your staff,
Rev. Hesborne Apida

---
top | Newsletter Home |Table of Contents| Archive