Vacation School at Garden of Hope
By Mlesh Mlegwah, Director of Garden of Hope, Kenya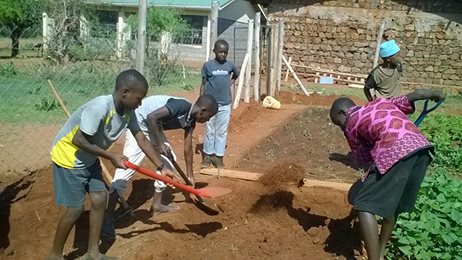 Garden of Hope Vacation School students prepare garden beds during vacation school
PHOTO CREDIT: Garden of Hope staff


---
Hello Eco-friends!

It was fantastic working with the children yesterday as we worked in teams to make our soils fluffy, encouraging aeration, infiltration and root penetration. We created an environment conducive for both macro- and microbial life to thrive in the soil. I call it 'Teaming with Microbes'. We have taken the students through the GROW BIOINTENSIVE (GB) process, starting with a single-dug bed. Due to the soils being compacted, root and water penetration is an issue. Some plants tend to come to maturity before their time, due to a lack of helpful life in the soil.
We are demonstrating the GB method to all the students in our vacation school and training them to eat healthy food. We served whole meal chapati, or unleavened flat bread, made with brown wheat flour. This was to give the students energy, for some are walking nearly a mile from home to school. We also gave them some indigenous vegetables, which are chemical free, to carry home and share with their families. We took the opportunity during World Diabetic Day to encourage the community and the students to eat healthy and live well by consuming foods only if they know how and where they've been grown.
As we prepare for January 2019 when school opens, we have started transplanting seedlings into the new double-dug beds. If anyone is willing to assist us as we help these young people be good stewards of our environment and their health, donations are most welcome. We would like to provide fruit to go with their tea at break, but currently are financially unable. The children have really liked the chapati, and we hope through this example, knowledge about eating healthy will trickle down to the parent. Children absorb information easily, and they make sure what they're learning is shared.
To donate please visit www.gofundme.com/mleshs-biointensive-training-farm. Remember a healthy life starts from a healthy soil.
All the best!
Mlesh
To see more of Mlesh's wonderful work, check out his Facebook page.
---
top | Newsletter Home |Table of Contents| Archive