2019: Year in Review at Victory Gardens for Peace
By Matt Drewno, VGFP Mini-Farm Manager


---
Looking back on 2019, I am full of gratitude for the hard work and contributions of everyone who participated in our programs, from our students who travelled from afar to be with us, to our staff, donors, and community members who continue to support this great work. It has been another year of inspiration and connection. The family of Biointensive farmers around the world continues to grow in all directions, from local to global, and there is so much happening it is hard to keep track of it all! So many individuals are taking the initiative to catalyze change in their communities.
Here are some of the highlights from Victory Gardens for Peace in 2019:
In January I travelled to Peru with former intern Diego Hernandez (Mexico), film maker Matt Anderson, former EA Garden Managers Ryan Batjiaka, Lucas Howerter, and Eric Buteyn, to visit several key biointensive projects including Eco-Huella, the Andean Alliance, and Arariwakuna. We visited ancient agricultural sites and seed banks and helped on the farms where we could. It was amazing to see how ancient, rural communities were incorporating Biointensive techniques to help maintain their cultures in challenging climates and socio-economic conditions.


We began developing the Garden-Friendly Communities Resolution—an open-source tool that communities can use to increase awareness, support and access to sustainable home and community gardens. Our work through 2019 resulted in the City of Fort Bragg, CA becoming the first to pass the resolution to become a Garden-Friendly Community; work on starting community gardens there has already begun. We look forward to publishing our process in later this year. To learn how to use this resolution in your community email Matt@Victorygardensforpeace.


In March (and November!) we participated in the Ecology Action 3-Day Workshops held each year in Willits, CA. We said goodbye to apprentices Brooke Eichenlaub of North Carolina and Gabriella Cobb of Vermont, who had completed their program at VGFP.


In March, the Victory Gardens for Peace Seed Bank was invited to attend the Seed Library Summit in Santa Rosa, CA to represent our work and contribute to an ongoing dialogue on how seed banks and seed libraries can better serve their communities in the face of climate change. A highlight of this meeting was a discussion on what seed adaptability means in the face of climate change, and how this relates to our work as seed stewards in our communities. We met again at the Santa Rosa Heirloom Festival in September and continued out dialogue. We have been invited by Daniela Soleri of University of California Santa Barbara to participate in a study on how the genetics of a common bean variety change over space and time as it is distributed through seed libraries into communities around California.


In May and October, we held our two annual seed exchanges at the first and last farmers markets of the year in Mendocino, CA. We also brought our seed bank to several other local events, including community meetings for the Garden Friendly Community Resolution in Fort Bragg. As of January 2020, our seed bank was approaching 700 varieties of seed, all of which are made available to our community for free. We also continue to host our free seed cleaning workshops each December and January. Each year, the seed bank becomes more efficient and effective at fulfilling its mission to increase access to seeds and the network of seed savers in our community.


In April 2019 we welcomed 8-Month Interns Camila Guerrera and Ariel Pinto Calvio of Chile, and Elena Vanasse Torres of Puerto Rico to our 8-month GROW BIOINTENSIVE Internship Program. Their perspective and experience enriched our program, which ran through November 2019. Elena left us early in July to take on a Fulbright Scholarship in Brazil. Ariel and Camila stayed on and completed their GB Teacher Certification Course and, after presenting their final projects in November, were awarded scholarships to return home and begin working on their projects teaching GB in their communities. Congratulations Ariel, Camila and Elena!


In addition to our 8-Month Interns, we were delighted to work with 2-month Interns Alexander Ederer (California), Philomena Jombo and Vivian Miel (both from University of Pacific, California). Participants of the Stanford Inn Sustainable Mindset Field School Hannah, Daniel, Morgan and Jesse also participated in our program. We were also grateful to have David Hill, a local participant in our 9-Saturdays summer program; his great questions and deep perspective enriched our curriculum. The summer course was one of our best this year. A big thanks to Biointensive teachers Rachel Britten and Jes Pearce their help!


In May, we hosted a garden tour at VGFP and were honored to be joined by Biointensive for Russia (BfR) leader Carol Vesecky. We spent the day together and discussed present and future projects with the GB movement in Russia. She donated seeds to our seed bank and a copy of the Russian translation of How to Grow More Vegetables (8th ed., available online at growbiointensive.org/HTGMVRussian) to the VGFP library. We were so grateful for her visit!


In July we were sad to say goodbye to former Garden Manager Kimberley Fisher of Bermuda, but we know she will continue to teach, inspire, and shine in her new role as a mother. Congratulations Kimberley!
In 2020 we (like everyone!) are experiencing many changes – some good, some challenging - but still look forward to a productive and exciting year. My partner Jaime and I welcomed our daughter, Olivia Wren, to the world in April! We planned on hosting interns onsite as in previous years (we had already accepted excellent candidates from Kenya and Nicaragua) but in response to the coronavirus pandemic, Ecology Action transformed the program from onsite to online, running April 7 - November 20. While we miss living and working together with our interns, and hope to resume our regular schedule soon, we are confident that our online program will be a success! We are excited to welcome our newest staff member Elise de Cuba of Aruba, who arrived well before the virus made travel unsafe. As permitted by safety measures, we will be expanding the Garden-Friendly Community Resolution work in Mendocino County, strengthening our relationships within and beyond our community, developing the GardenCorps Project to help train leaders in communities to increase food security and food sovereignty, and increasing our capacity to train teachers in Biointensive food production. The integration of all our programs continues to inspire individuals from around the world and shows – now more than ever! – that we can, and should, create a better future together.
I personally want to thank everyone who has contributed to Ecology Action over the years. I can tell you with heart, that the great work of this organization and the many lives it has touched has and is spreading around the world – I have witnessed it in my travels to Nicaragua, Peru, Dominican Republic, Chile and Mexico. I have met people from every continent who have been inspired and are working hard to bring about a more peaceful and sustainable world. Thank you for a great 2019 and for being a part of the Ecology Action family. The world is a better place because of our shared focus on a better future. We will keep growing together, even while we are apart.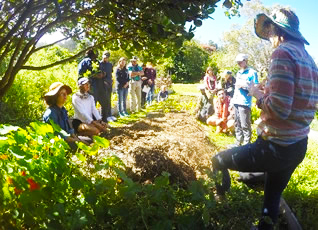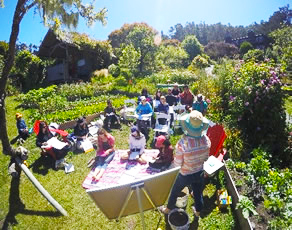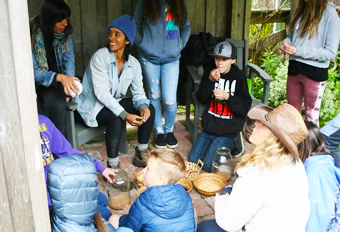 ---
top | Newsletter Home |Table of Contents| Archive