Huerta Verde Esmeralda ("Emerald Green Garden"),
A space for learning, experimentation and research for self-sufficiency and the dissemination of the GROW BIOINTENSIVE method
By Ligia and Tania Espinoza Benavides GB Farmers and Educators in Costa Rica

(haga clic aquí para la versión en español)

---
La Huerta Verde Esmeralda ("The Emerald Green Garden" (biointensivocentroamerica.com)) is a space for learning, experimentation and research for self-sufficiency and the dissemination of the GROW BIOINTENSIVE method! This Biointensive garden is in a mountainous area of the tropical humid forest climate transition to premontane at 1800 masl (5905 ft. elevation), near the small town of Copalchí in the province of Cartago, Costa Rica. It was created in 2016 and is managed by Ligia and Tania Espinoza Benavides, twin sisters of Nicaraguan origin now living in Costa Rica. In this article, they relate their experiences establishing Huerta Verde Esmeralda and what motivates them to have their own garden.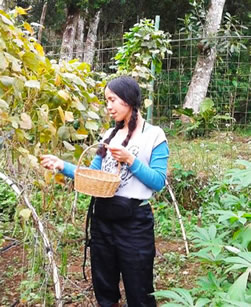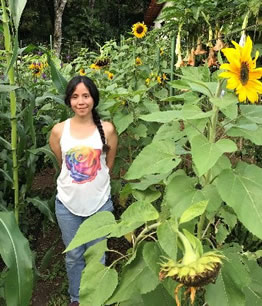 We are motivated by many things, but we will summarize them in three:
the socio-ecological, economic, and political reality of the planet and our region of origin;
the people we admire; and
the need to create new models and productive systems to break paradigms that stagnate humanity and destroy nature.
We grew up in a country under reconstruction after a war, where the availability of and access to quality food were limited for the majority of the population, and the form or productive strategies to solve the problem - which were established for business reasons to regenerate the economy— did not seem appropriate. We studied environmental quality engineering and understood that the impacts of agricultural and agro-industrial activity for export and import of products and supplies were destructive and unsustainable, and also their contribution to climate change was significant.
So, searching for something we could do, on a personal level, to stop the destruction of the land and its natural resources—to help change the production and consumption paradigm, with a clear ecological focus—we changed our diet from omnivorous to vegetarian. In 2009, we eliminated the meats from our diet. Since then, we try to be responsible consumers, conscientiously choosing our foods, checking labels, and trying as far as possible to buy local and free of pesticides. This has not been easy because there are very few options available; for that reason, out of necessity, we decided to become organic farmers, because we had to create the options that did not exist to diversify our diet and generate our new, personalized lifestyle.
In 2010, we met Juan Manuel Martínez, from the Mexican organization ECOPOL. Thanks to his noble energy and ability to inspire and teach, we trained at a basic level, learning the GROW BIOINTENSIVE method. We lived in the city, and we started our practice by installing and promoting small garden projects of 10 to 30 m2 (100-300 sq. ft.) in friends' backyards and parks in our neighborhood and universities where we worked.

In 2014, we finished the second growing season at the 30 m2 (300 sq. ft.) mini-farm we managed in Nicaragua, with the purpose of obtaining basic-level teacher certification in grow biointensive method (in the first official GROW BIOINTENSIVE teaching, demonstration and research center headquarters, located in the Universidad Nacional Agraria's farm for validation of agricultural practices, established as a result of the collective work of a founding group of which we were also part) Tania and I had the opportunity to travel to California, with a scholarship from Ecology Action, to join their 6-month internship program in The Jeavons Center research and demonstration mini-farm.
Through the internship program, we learned the basis of sustainable garden design – ecologically and economically – working in a closed-loop system, where all "waste" is reused to continually improve the soil and increase the efficiency and productivity of the system. Thanks to John Jeavons and Ecology Action's team of enthusiastic people for practicing and teaching the method, we decided that we wanted to become biointensive ecologic farmers, producing the food we want and choose to consume, designing a diet to supply our caloric and nutritional requirements.
Returning from California, we offered workshops and training meetings in Nicaragua, sharing the skills we gained during our internship with our colleagues in the Biointensive movement. We said goodbye to our previous work (university teaching and NGO service), and at the end of 2015 Tania and I moved to Costa Rica, where we found the right conditions to allow us to begin a life project: living the practice of growing food sovereignty and gradually breaking the paradigms of conventional and non-sustainable food production.
In 2016 I married Makhno Mata, a Costa Rican plastic artist, and we established our home on the beautiful mountain where the family property we call Finca Ecológica Verde Esmeralda is located. Tania, Makhno and I are working together to turn the property into a model of food sovereignty that can generate transferable knowledge in technological tools, inputs and capacities, so that the model can be adopted, adapted, multiplied or replicated by the people who visit us to find personalized spaces in which to share, collaborate and learn.
We created the Huerta Verde Esmeralda garden for the purpose of self-sufficiency and productive experimentation, to demonstrate that we could design sustainable ecological systems with closed-loop sustainability, high diversity and productivity, applying all the principles of the Biointensive method. Within the experimentation processes that we develop, our research is supported by the collection and analysis of crop data, which allows us to assess the efficiency of the production system and select the best crops to work in the climate and conditions of the mountain where we live.
Starting a garden from zero, with not much but our own entrepreneurship – and in a new country! – is not an easy task. Access to water for irrigation was one of the most costly issues we had to deal with, but little by little, we figured it out. Our garden has been growing larger and we have installed facilities that makes our daily work more practical and efficient in time and energy consumption, both in productive aspects and for data recording.
Thanks to cooperation and family support, we are increasingly closer to evolving the work in the garden, from self-sufficiency to the establishment of a research and teaching learning center. We are also interested in expanding work capacities in the farm in general, in aspects of protection and conservation of ecosystems, species and forest areas, as well as implementing ecological and sustainable technologies, which allow us to continuously improve the management of liquid and solid domestic waste.
In 2019, in parallel to the productive development of our garden area, we are designing and establishing an edible forest, where we are also applying Biointensive and natural conservation principles by mixing various design techniques.
At the moment, after 31/2 years of having established our garden on the farm, we estimate that we get 25-30% of our food from it, from a variety of crops including cereals, tubers, vegetables, legumes, aromatic herbs, medicinal plants and shrubs. We expect to increase that percentage every year as we increase our cultivation areas in proportion to the number of family members that we feed and our maintenance capacity, until we produce no less than 80% of our family diet.
Most farmers in Costa Rica, Nicaragua and the region grow crops to sell, and then use the money they receive to buy food for themselves and their families. We, as Biointensive farmers, grow to eat healthy, nutritious food, taking care of the soil health and saving seed from the garden for the next growing cycle, exchanging or marketing, and we plan to sell only surpluses. Thus, we ensure that we produce and consume top quality and organic food that helps care for and conserve nature and does not exploit, abuse, or destroy it.
The challenge of the sustainable farmer is to be creative, to diversify sources of income, and to be increasingly efficient and productive in the art of living in health, awareness and responsibility. There is much to learn and more road to travel; it is nature, animals and people we love who motivate us to make the journey.
---
Esta huerta biointensiva está ubicada en una zona montañosa de clima de bosque húmedo tropical transición a premontano a 1800msnm, en las cercanías del pueblo de Copalchí en la provincia de Cartago, Costa Rica. Fue creada en 2016 y es manejada por Ligia y Tania Espinoza Benavides, hermanas gemelas de origen nicaragüense residentes en Costa Rica, a continuación, nos cuentan su experiencia y lo que las motiva a tener su propia huerta.

Nos motivan muchas cosas, las resumiremos en tres: la realidad socio ecológica, económica y política del planeta y de nuestra región de origen; personas que admiramos; y la necesidad de crear nuevos modelos y sistemas productivos para romper paradigmas que estancan a la humanidad y destruyen la naturaleza.

Crecimos en un país en reconstrucción después de una guerra, donde la disponibilidad y acceso a alimentos de calidad era limitada para la mayoría de la población, y la forma o estrategias productivas para resolver el problema -que se establecían por motivos de negocio para regenerar la economía-, no parecían las adecuadas. Estudiamos ingeniería en calidad ambiental y comprendimos que los impactos de la actividad agropecuaria y agroindustrial para la exportación y la importación de productos e insumos eran destructivos e insostenibles, y además su contribución al cambio climático era significativa.

Entonces en la búsqueda de hacer algo a nivel personal, para generar un cambio de paradigma productivo y de consumo, con sentido ecológico y coherente, para detener la destrucción de la tierra y de sus recursos naturales, cambiamos nuestra dieta pasando de omnívoras a vegetarianas.  En 2009 eliminamos el consumo de carnes en nuestra dieta y desde entonces buscamos ser consumidoras responsables, eligiendo con conciencia nuestros alimentos, revisando las etiquetas y procurando en lo posible que sean locales y libre de agrotóxicos.  Esto no ha sido nada sencillo porque hay muy pocas opciones disponibles, y es ahí, que por necesidad decidimos convertirnos en agricultoras ecológicas, pues teníamos que crearnos las opciones que no existían para poder diversificar nuestra dieta y generar un nuevo y propio estilo de vida.

En 2010 conocimos a Juan Manuel Martínez, de la organización mexicana ECOPOL y gracias a su noble energía y capacidad para inspirar y enseñar, nos entrenamos en un nivel básico en el método de cultivo biointensivo; vivíamos en la ciudad, y empezamos la práctica instalando y promoviendo pequeños proyectos de huertos de 10 a 30 m2 en patios de amigos, parques de nuestro vecindario y universidades donde trabajábamos.

En 2014, después de concluir el segundo ciclo de cultivo del último huerto de 30 m2 manejado en Nicaragua, con el propósito de obtener certificación de maestra de nivel básico en el método biointensivo (en la primera sede de enseñanza oficial establecida para la demostración capacitación e investigación del Método biointensivo en Nicaragua en la finca de validación de prácticas agrícolas de la Universidad Nacional Agraria, fruto del trabajo colectivo de un grupo fundador del cual también fuimos parte), Tania y yo, tuvimos la oportunidad de viajar a California, becadas por Ecology Action para ser aprendices por 6 meses en su programa de internado en sus sedes de investigación y enseñanza.

En esa experiencia aprendimos las bases para diseñar huertos sustentables, en  términos ecológicos y económicos, en un sistema de círculo cerrado, donde todos los desechos son reaprovechados para el mejoramiento continuo del suelo y la eficiencia del sistema productivo y gracias a John Jeavons maestro anfitrión de Ecology Action y su equipo de personas entusiastas para la implementación y enseñanza del método salimos convencidas  que queríamos ser  agricultoras ecológicas biointensivas y producir los propios alimentos que deseamos y elegimos consumir en nuestra dieta para satisfacer nuestros requerimientos calóricos y nutricionales.

Regresando de California, en Nicaragua ofrecimos diversos talleres y encuentros de capacitación para compartir lo aprendido en el internado  a nuestros compañeros del movimiento biointensivo, y luego de despedirnos de nuestros trabajos anteriores (docencia universitaria y servicio en ONG), a finales de 2015 nos mudamos a Costa Rica, donde Tania y yo encontramos las condiciones para emprender un propio proyecto de vida que nos permitiera vivir en la práctica la construcción de soberanía alimentaria y romper gradualmente paradigmas de la producción alimentaria convencionales y no sustentables.

Me casé en 2016 con Makhno Mata, un  artista plástico costarricense, y establecimos nuestro hogar en una hermosa montaña donde se localiza la propiedad familiar que llamamos Finca Ecológica Verde Esmeralda, donde estamos trabajando los tres en conjunto para   convertirla  un modelo de soberanía alimentaria que pueda generar conocimientos transferibles en herramientas tecnológicas, insumos y capacidades, de manera que pueda ser adoptado, adaptado, multiplicado o replicado por aquellas  personas, que visitándonos encuentren espacios personalizados para compartir, colaborar y aprender.

La huerta Verde Esmeralda la creamos con fines de autoconsumo y de experimentación productiva, para demostrarnos que podíamos diseñar sistemas ecológicos sustentables de círculo cerrado, de alta diversidad y productividad, aplicando todos los principios del método biointensivo. Dentro de los procesos de experimentación que desarrollamos, hacemos investigaciones apoyadas en  el registro de datos de cultivo, para valorar la eficiencia del sistema productivo y seleccionar los mejores cultivos para trabajar en el clima y condiciones propias de la montaña donde vivimos.
Empezar de cero un huerto y como emprendimiento propio, más en otro país, no es tarea fácil, el tema de acceso al agua para riego fue uno de los más costosos de resolver, pero poco a poco lo hemos solucionado y nuestro huerto ha ido aumentando su tamaño y hemos instalado facilidades que nos permiten hacer el trabajo diario más práctico y más eficiente en consumo de tiempo y energía, tanto en aspectos productivos como para el registro de datos.

Gracias a la cooperación y el apoyo familiar, estamos cada vez más cerca de evolucionar el trabajo en huerta, del autoconsumo al establecimiento de un centro de Investigación y de enseñanza aprendizaje. También nos interesa ampliar las capacidades de trabajo en la finca en general, en aspectos de protección y conservación de ecosistemas, especies y zonas de bosques, así como implementar tecnologías ecológicas y sustentables, que nos permitan mejorar de manera continua el manejo de desechos líquidos y sólidos domésticos.

En este año 2019, paralelamente al desarrollo productivo de nuestra área de huerto, estamos diseñando y estableciendo un bosque comestible, donde estamos aplicando también principios biointensivos y de conservación natural mezclando varias técnicas de diseño.

Al momento después de 3 años y medio de haber establecido nuestra huerta en la finca, calculamos que de  25  a 30% de nuestros alimentos provienen de  ella, entre cereales, tubérculos, verduras, leguminosas, hortalizas, hierbas aromáticas, plantas medicinales y frutos arbustivos; esperamos aumentar ese porcentaje cada año a medida que incrementamos nuestras áreas de cultivo en proporción al número de miembros de la familia que de ahí nos alimentamos y la capacidad de mantenimiento, hasta llegar a producir no menos que 80% de nuestra dieta familiar.

La mayoría de agricultores en Costa Rica, Nicaragua y la región, cultivan para vender y con la ganancia comprar sus alimentos y los de su familia, nosotros como agricultoras biointensivas cultivamos para comer saludable cuidando la salud de suelo y recuperamos del huerto la propia semilla para resembrar, intercambiar o comercializar, y pensamos en vender únicamente los excedentes. Así nos aseguramos que contribuimos en producir y consumir comida de primera calidad y ecológica que cuida y conserva la naturaleza y no la explota, abusa o destruye.

El reto del agricultor sustentable está en ser creativo para diversificar las fuentes de ingreso y ser cada vez más eficiente y productivo en el arte de vivir en salud, conciencia y responsabilidad. Hay mucho por aprender y camino por recorrer, es la naturaleza, los animales y las personas que amamos quienes nos motivan a hacerlo.
---
top | Newsletter Home |Table of Contents| Archive