Recipe: Silky-Smooth Hummus
by Shannon Joyner, Editor


---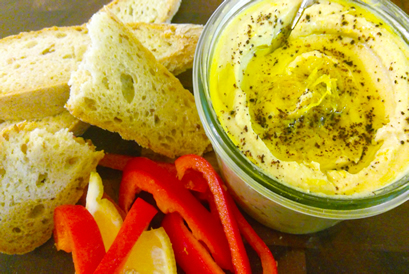 Hummus is healthy, filling, and delicious—and nutritious: chickpeas and sesame seeds are some of the oldest crops consumed in the world, and are full of vitamins, minerals, and protein. I love hummus on toast for breakfast, but the plastic containers it comes in at the store? Not so much. Also, I prefer organic ingredients, but sometimes organic brands don't have the ultra-smooth texture I enjoy. So, after an extensive Internet search and some experimentation, I came up with hummus that is tangy and garlicky, and easy to make at home with a few basic ingredients. It might seem fussy to skin the chickpeas, but the resulting silky texture is heavenly (and it removes the nutrient binding phytates contained in the skins, so you can absorb more vitamin and mineral goodness from your hummus). You can leave the skins on, but your hummus won't be as velvety. This recipe uses dried chickpeas, but you can substitute two 15-oz cans of chickpeas if you like—just skip the soaking and boiling steps.

Ingredients
1 c dried chickpeas
1 tsp baking soda
3 cloves garlic, peeled, crushed, and coarsely chopped*
1 tsp salt (to taste)
Zest from 1 lemon
Juice from 1 lemon** (more to taste)
½ tsp ground cumin (optional, but delicious)
½ tsp smoked paprika (optional, but delicious)
1/3 cup sesame tahini (more to taste)
Ice water (make sure it's really cold – this is what helps the hummus to attain fluffy smoothness)**
1 T olive oil for drizzling over the top of the finished hummus
Pick over the chickpeas, rinse, and soak overnight in 1 quart of water. The next day, drain and place chickpeas in a pan with 1 tsp baking soda. Cover with water by 2 inches, and bring to a boil over medium heat. Reduce heat and simmer until the chickpeas are very tender (you should be able to easily crush one between your fingers). Drain and cool until they can easily be handled.
Next, remove the skin from each chickpea – they should slip off easily when you pinch one between your thumb and forefinger. Discard the skins and place the chickpeas in a food processor, blender, or even a mortal and pestle. Add the garlic, salt, lemon zest, cumin and smoked paprika, and blend until smooth. Add tahini and lemon juice and continue blending. Add ice water, 1 tablespoon at a time**, and continue blending until the mixture is ultra-creamy, fluffy, and silky-smooth. (You want it to be a good spreading consistency, not too thick or thin—if you refrigerate it, it will be a little thicker than it is at room temperature.) Taste and adjust seasoning to your liking.
Place in a bowl and swirl the top so there is a reservoir to hold any toppings you might want to add. The basic topping is a good splash of olive oil, but you can absolutely glam it up! Chopped fresh herbs, citrus zest, tapenade, muhummara, roasted garlic, basil or sun-dried tomato pesto, fresh salsa, chimichurri, dukkah, preserved lemons, or caramelized onions are just a few toppings you can try. Serve with bread, chips, or fresh veggies for dipping, and enjoy!
*If you're not a garlic fan, you can definitely reduce the number of cloves. If you want a VERY mild garlic flavor, you can boil the whole cloves with the chickpeas, and then add them to the mix when you blend it.
** I like mine really lemony, so I substitute chilled fresh lemon juice for some of the water. Taste as you go along and adjust the lemon and salt to your liking. ♥
---
top | Newsletter Home |Table of Contents| Archive