Recipe: Strawberry Oatmeal
by Shannon Joyner, Garden Companion Editor

---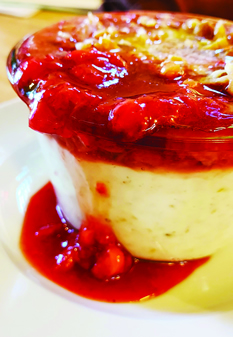 Spring is here, the days are getting longer, and everything seems to be in bloom at once. It's so beautiful! But while the sun is bright and warm in the afternoon (80°F in the shade and it's not even April yet), mornings are a chilly reminder that we're not really that far from winter yet (34°F this morning brr!). So while dinner is edging away from hearty soups and stews and toward the salads and stir-fries of summer, I still need to start the day with something cozy and comforting, and with the world the way it is right now, it doesn't hurt if it feels a little like a treat.
Oatmeal is a healthy, filling, nutritious, and warming choice. It's got protein and carbs, and it's a wholegrain powerhouse of vitamins and minerals including silicon, manganese, zinc, calcium, phosphorus, and vitamins A, B1, B2, E, and heart-healthy soluble fiber. It's got unique antioxidants called avenanthramides which inhibit inflammation, help protect your arteries, and may even help fight cancer. But let's be honest: oatmeal can be a little dull on its own. But...what it if wasn't? What if it were glamorous and deliciously creamy-sweet-tart-fragrant and an utter delight to eat? What if oatmeal for breakfast was good for you but felt like a guilty pleasure?
What if, indeed.
---
Ingredients (per serving)
1/2 cup quick cooking oats
1/2 cup milk of whatever type you like (or you can use all water, but it won't be as creamy)
Scant 1 cup water
A pinch of salt

1 cup frozen strawberries (or fresh)
2 T maple syrup
A squeeze of fresh lemon juice
A dash of vanilla or almond extract
1 T chopped nuts (optional)
A pat of butter or coconut oil

Place the oats, milk water, and salt in a saucepan and cook, stirring often, over medium heat until thickened to your liking.
Place strawberries, maple syrup, and lemon juice in a separate saucepan, cover and cook over medium heat until the strawberries are mostly thawed (or softened, if using fresh berries). Using a potato masher or a fork, mash the strawberries to form a chunky sauce. Continue to cook and stir until somewhat thickened, but still quite juicy. Remove from heat and stir in vanilla.
Transfer the oatmeal to a serving bowl (a clear-sided one gives a dramatic presentation) and gently spoon the strawberry sauce over the top so that it completely covers the oatmeal to the edge of the bowl. Top with a pat of butter/coconut oil and chopped nuts, and enjoy.
♥

---
top | Newsletter Home |Table of Contents| Archive