New VGFP Staff: Jake Ellsworth New VGFP Staff: Jake Ellsworth


---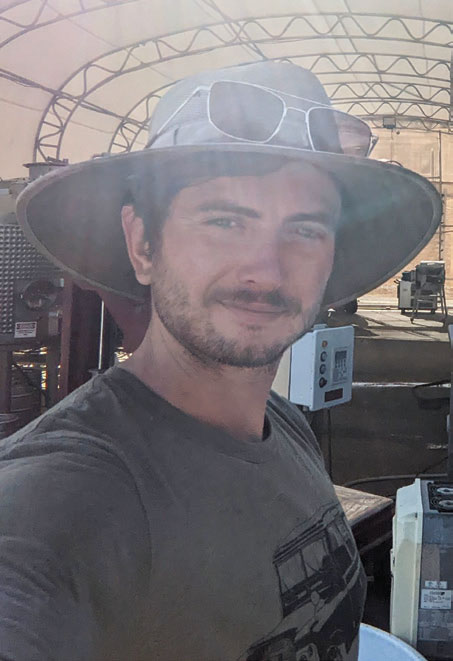 My name is Jake Ellsworth, and I hail from Milwaukee, WI. I moved to California in the summer of '22 after graduating from the University of Wisconsin-Milwaukee with a degree in architecture.
Ever since I was young, I wanted to be a farmer and a scientist, so naturally when I found How to Grow More Vegetables I fell in love. The concepts made so much sense, but the applications and practice were foreign to me, being just a kid from the suburbs. Soon after high school I traveled to New Zealand for six months to participate in WWOOF (World Wide Opportunities on Organic Farms, wwoof.org). There I saw biointensive and permaculture principals in practice that revealed the potential of local agriculture and the beauty of local ecology.
Returning to the States, I worked on several farms and attended Northeast Wisconsin Technical College, studying sustainable agriculture. Finding it not as academically rigorous as I hoped, I returned to Milwaukee seeking more, and found UW-Milwaukee's School of Architecture and Urban Planning. Architecture has always fascinated me and I saw it as a path that would challenge me in all the right ways. During my college career, I focused on designing for sustainability, participating in the national solar decathlon, for which my team was awarded 2nd place. However, designing for sustainability in an unsustainable system began to seem more and more a fool's errand, and worse, enabling the greenwashing of hardly "green" profits.
In this world of uncertainty, I believe that food sovereignty is the most important goal to strive for. Not only can localized and sustainable agriculture curb the degradation of the ecology of the planet, but it is also the first step to unweaving the rope of consumerism that binds us.
After working on over a dozen farms, attending school for sustainable agriculture, and countless hours of watching YouTube videos and reading books on the topic, the best method that I've found for achieving the goal of food sovereignty is GROW BIOINTENSIVE®. I couldn't be more excited to have the opportunity to study the method with Ecology Action and Victory Gardens for Peace, and teach it to as many people as will listen!
♥

---
top | Newsletter Home |Table of Contents| Archive