Recipe: Snowy Day Buckwheat Waffles (Vegan, Gluten Free)
by Shannon Joyner, Garden Companion Editor

---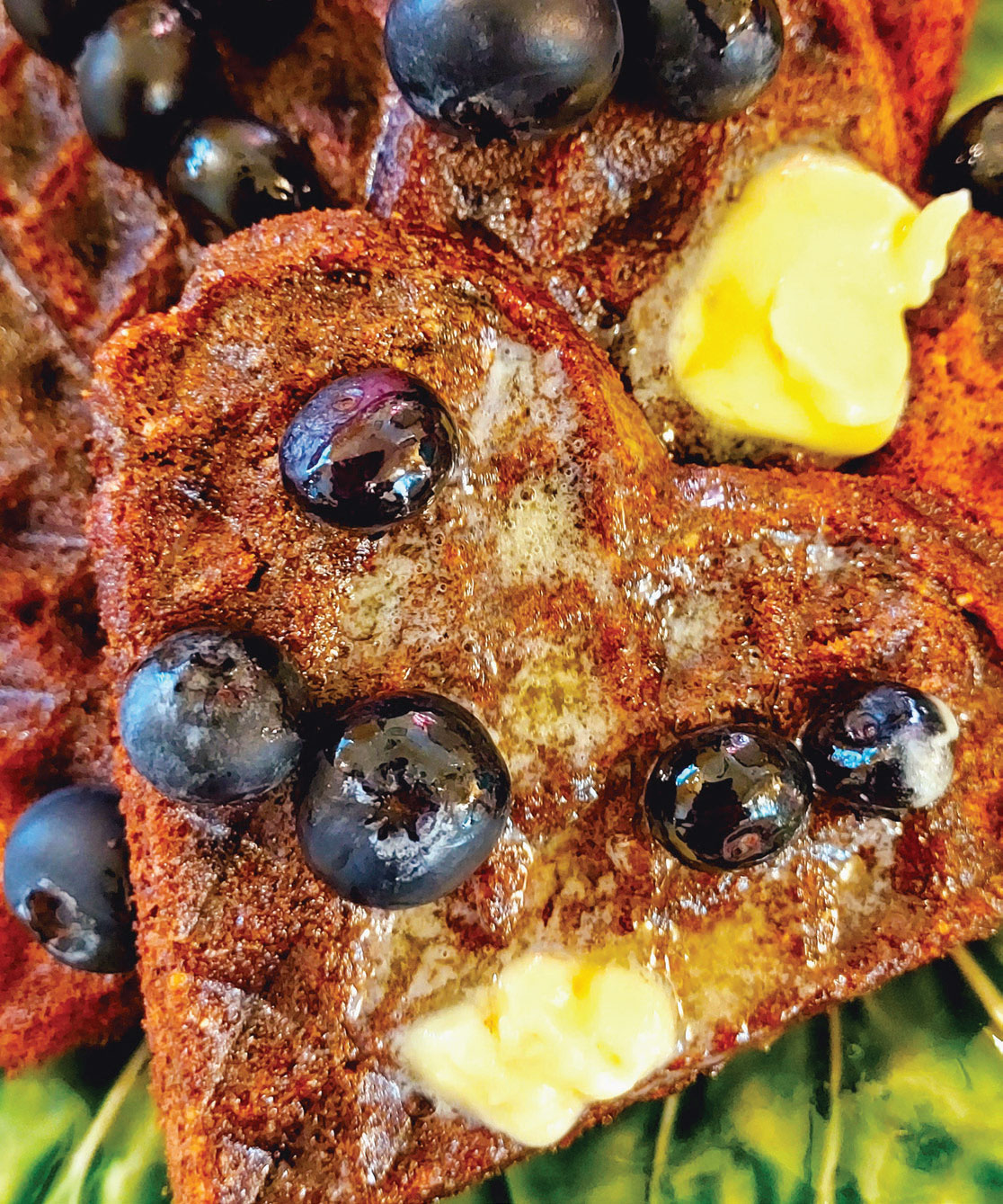 It's been a cold, wet, fierce winter here in Northern California. As I write this, I'm snowed in from back to back storms that have doused the state from the Oregon border to the Hollywood sign. Snow isn't my favorite form of precipitation, but these storms are filling up our aquifers and soaking into our drought-parched soils, so I'm not complaining! Being snowed in somehow gives everything a weekend vibe, and what's more "weekendy" than waffles? I had some buckwheat flour in the pantry, so thought I'd try adapting the recipe at cookieandkate.com to be vegan, and this is what I came up with. Now, I know (really!) that making something both vegan and gluten free can yield...um, lets call them mixed results. But these waffles aren't a disappointment: they're crispy-tender, have a sweet wholesome flavor from the whole grains and the pumpkin spice, and hot off the waffle iron they go really well with maple syrup and blueberries, a strong cup of coffee, and a snowy wonderland outside the window. I like the texture soy milk gives, but you can use any nondairy milk you prefer. Just be aware that different milks have different water content, so you may need to adjust the amount to get a nice batter consistency - I'd start with one cup and work your way up to avoid getting watery batter. If you're not feeling vegan today, you can use an egg in place of the flax/water mixture, and buttermilk in place of the milk and vinegar.
---
Ingredients (~2-3 servings)
1.5 T flaxseed meal
3.5 T warm water
1 ½ c unsweetened soy milk
2 t apple cider vinegar
1 cup buckwheat flour
3 T oat flour
1 T sugar
1 ½ t baking powder
1 t baking soda
¼ t salt
½ t pumpkin spice
¼ c sunflower oil

In a small bowl, mix the flax meal and the water. Stir well, and allow it to sit for 10 minutes to thicken. In another small bowl mix the soy milk and vinegar. Stir well and allow it to sit for 10 minutes.
Preheat your waffle iron.
In a medium-sized mixing bowl, whisk together the buckwheat flour, oat flour, sugar, baking powder, baking soda, salt, and pumpkin spice. Add the oil, the flax mixture, and the soy milk mixture to the dry ingredients and mix thoroughly. Allow the batter to rest for 10 minutes to give the flour time to absorb the liquids. Give the batter another stir, and then spoon it onto the hot, oiled waffle iron plates, close the top, and cook until the waffles are done (I use about 1/4 cup of batter for each waffle, but that and the time it takes to cook will vary depending on your waffle iron; they will be golden brown and lightly crispy to the touch when they're done).
Carefully remove the waffle from the hot iron and serve immediately, topped with butter, nut butter, fruit, syrup, jam, honey, or whatever makes your mouth happy! Leftover waffles can be frozen and reheat well in the toaster.
♥

---
top | Newsletter Home |Table of Contents| Archive