Victory Gardens for Peace: Reflections on Growing Coastal,
Projections for the Year to Come
By Matt Drewno, VGFP Mini-Farm Manager

---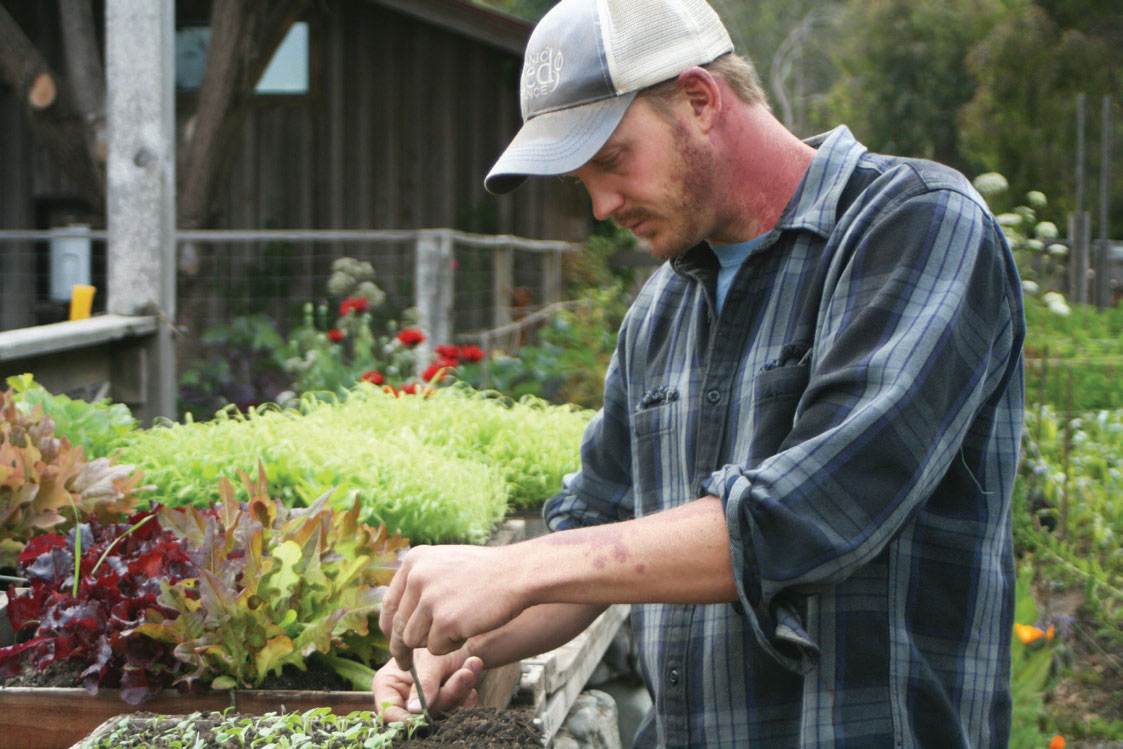 It's been a wonderfully cold and frosty winter here on the coast in Northern California. For most, such cold is unwelcome, but for us, we are grateful! Our climate tends to be cool and damp, and we rarely see frost during the coldest months, November through March. This condition encourages mold, rust, fungus, and other plant diseases which can flourish into the spring, most affecting our overwintering fava beans, alliums, and oat crops. This year, however, with temperatures dipping into the upper 20's (°F), we are seeing an immediate knock-back of these common coastal issues. Hooray for the cold!
And during the day, the sun comes up and immediately warms the garden. Winters tend to be our sunniest months on the coast; during the summer, the warming inland temperatures draw a cool marine layer of fog to the coast, which often persists through the months of June, July and August. Locals here jokingly refer to August as "Fog-ust" and June as "June-gloom". For seed savers like us, this creates challenging conditions to save our maturing seeds which often need a good dry summer warmth spell to finish. All growing climates are unique, but our coastal climate is special. The vast majority of temperate arable land is found away from oceans, in fertile plains and valleys which experience very cold winters and very warm summers: the opposite of what we have at VGFP. Our cool summers and mild winters provide many challenges and opportunities.

One of the biggest benefits our mild climate provides is that it is so completely easy and relaxing to work in. I almost feel guilty sometimes, that just four miles up the road, it may be 90-100°F, and although the tomatoes up there are likely much happier and more delicious, I'm down here on the coast wearing flannel, not even breaking a sweat. Perhaps more than guilty, I've become a bit of a softy—after growing here in this gentle climate for over 10 years now, I probably complain a lot more about the cold and the heat than I used to. I think I remember reading somewhere in an old book about growing climates around the world, that coastal climates like ours are the most productive for humanity. If I remember correctly, because coastal people spend less of our caloric energy warming and cooling our bodies, we are more effectively able to utilize calories to do the work of growing our food. So, not only do I feel a bit guilty, and am becoming soft, but I also tell myself how effectively I use my calories to produce my food in this climate! Good grief.
Anyways, I feel blessed. Victory Gardens for Peace is happy to be working with Janét Moore and Jake Ellsworth, our most recent staff additions (you can read about Jake on the next page and Janét on page 6). Francesca Mills, our local high school intern, is an amazing person. In about a month, we will be welcoming two 8-month onsite interns from Kenya, Clarice Wawuda Mwakudu and Eliakim Kipngetich. Both work with our partners in Africa and we welcome their arrival. It's wonderful to work with friends from other countries who are committed to helping their communities adapt and thrive with Biointensive agriculture. There is a camaraderie and dedication to the work that unites us in a way that is far beyond a normal classroom or educational environment. Through these bonds we strengthen our resolve, and with lasting friendship we find hope in each other's work and progress.

In this growing year to come, we welcome our new friends and neighbors. Our local programs are continuing to grow with educational partnerships blossoming with our local high schools and community college. Our seed bank is a gem, a curation of over 1,000 accessions, including over 30 varieties of locally grown quinoa, dozens of kales, peas, lettuces, barleys, corn, squash, and beans, and shelves overflowing with flower varieties that have been saved in our community.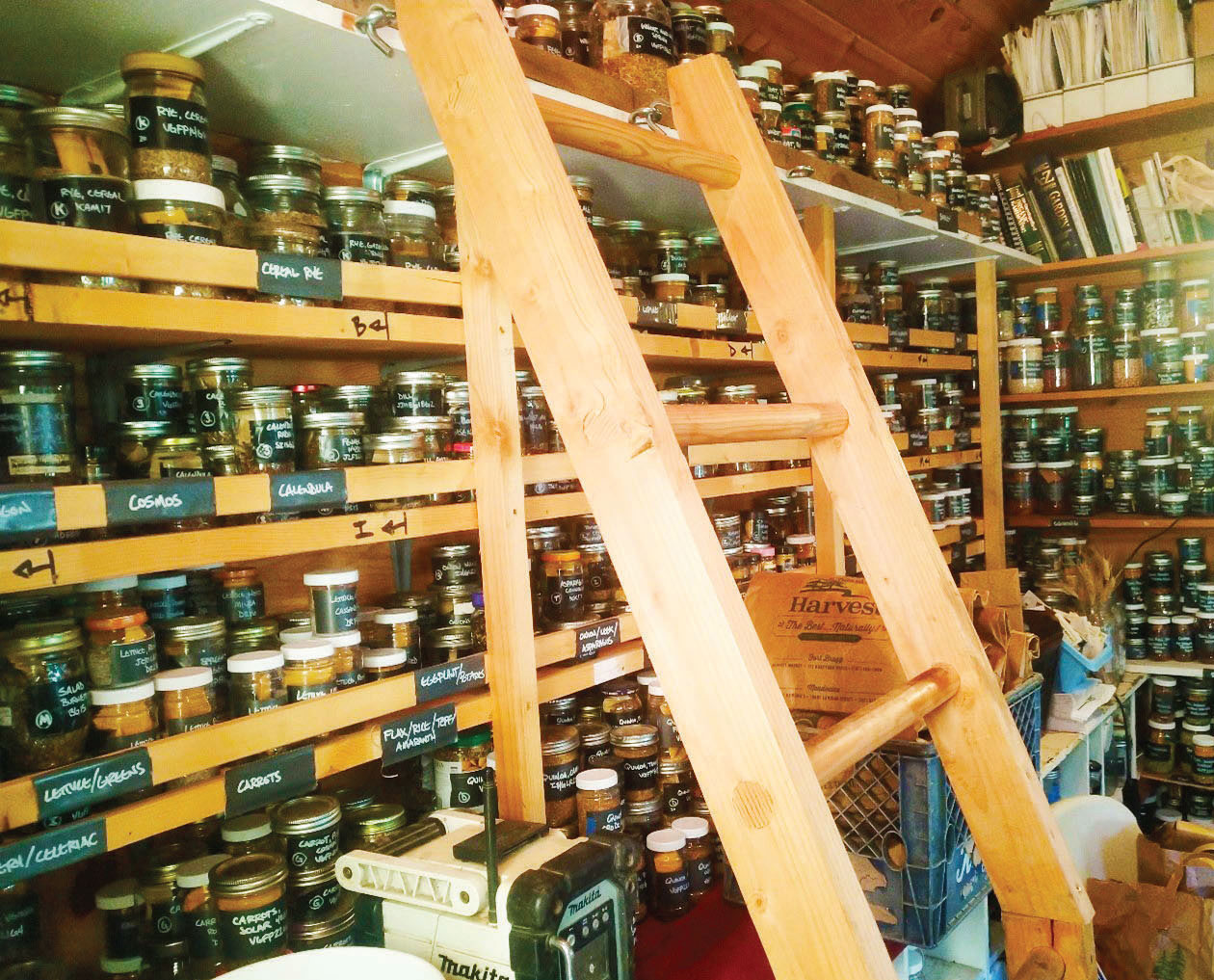 We care for these seeds and offer them free of charge to anyone in our community. We host seed bank and garden tours and offer scholarships to help participants attend our workshops and internships. The work ahead is about working together, celebrating the effort and letting nothing get in the way of what we know is possible in our hearts. The future is an open invitation to correct the course we're on, and to discover the fun in the process.
It's a blessing to work for Ecology Action. In the Ecology Action library, located at The Jeavons Center in Willits (a library more impressive than many agriculture sections in university libraries), there is a framed quote: "Those who believe it cannot be done should step aside for those who are doing the work". That quote, which I first saw many years back, is etched in my mind. It continues to inspire me, and despite the challenges which come and go, keeps me focused. There is no doubt that the challenges we face in our rapidly changing world are great, but it's the vision that we hold on to as we work, of an equitable, peaceful, and sustainable world for all, that makes it happen.

From our little garden, perched on the cliffs of the Pacific Ocean we can hear the waves and smell the salty air. Our days are joyful and focused. We are a part of a growing tide of hope and inspiration. And throughout the mild growing season, even if we don't grow the greatest tomatoes, our kales, potatoes, barleys, leeks, and quinoa are delicious. And with a little love we can bring out the sweetness of it all. Wishing you the best of spring and summer this year, may your work be satisfying and the fruits or your labor be delicious!

Looking ahead, Ecology Action and Victory Gardens for Peace will be offering garden tours in 2023! Come see our work! Information and registration at growbiointensive.org/tour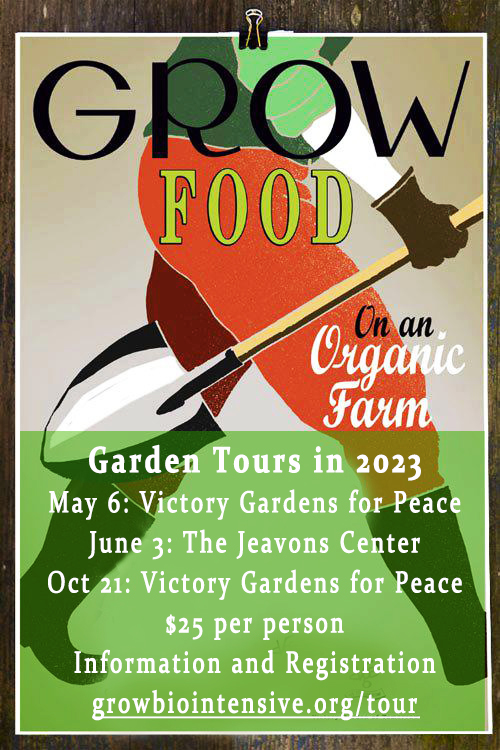 Come see how we:
Grow Hope
Grow Abundance
Grow Biointensive!
♥

---
top | Newsletter Home |Table of Contents| Archive