---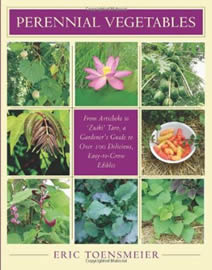 Perennial Vegetables: From Artichokes to Zuiki Taro, A Gardener's Guide to Over 100 Delicious and Easy-to-Grow Edibles
by Eric Toensmeier (Chelsea Green, 2007).
Review by Chelsea Green
There is a fantastic array of vegetables you can grow in your garden, and not all of them are annuals. In Perennial Vegetables, the adventurous gardener will find information, tips, and sound advice on less-common edibles that will make any garden a perpetual, low-maintenance source of food..
Perennial Vegetables author and plant specialist Eric Toensmeier (Edible Forest Gardens) introduces gardeners to a world of little-known and wholly underappreciated plants. Ranging beyond the usual suspects (asparagus, rhubarb, and artichoke) to include such "minor" crops as ground cherry and ramps and the much-sought-after, anti-oxidant-rich wolfberry (also known as goji berries), Toensmeier explains how to raise, tend, harvest, and cook with plants that yield great crops and satisfaction.
Perennial vegetables are perfect as part of an edible landscape plan or permaculture garden. Profiling more than 100 species, illustrated with dozens of color photographs and illustrations, and filled with valuable growing tips, recipes, and resources, Perennial Vegetables is a groundbreaking and ground-healing book that will open the eyes of gardeners everywhere to the exciting world of edible perennials.

IMAGE CREDIT: chelseagreen.com/perennial-vegetables

---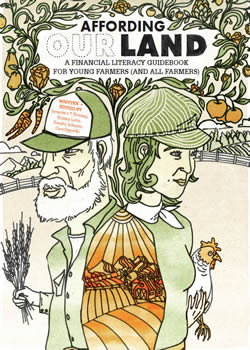 Affording OURLAND: A Financial Literacy Guidebook for Young Farmers (and All Farmers)
By Kristen Loria, Severine v T Fleming, Kendra Johnson, Cara Sipprelle (Greenhorns Creative Commons, 2014).
Review by Mary Zellachild

The purpose of this short book is "to interpret the landscape of options available to young and beginning farmers who wish to access land and credit for starting farm businesses." The writers suggest you consider this booklet (or the PDF) "a primer on ways to approach finance for your farm, and an invitation to do more research on your own time, once you have an idea of what trajectory makes sense for your business."
A beginning section traces the history of US farming since settlers first arrived in the country—an alternative (and more realistic) view than is usually given, but useful to know for serious potential farmers. Both short-term and long-term leasing are discussed, including how to find a place to lease, the way the lease will work for both tenant and landlord, and emphasizing that the terms must be clear and written out. When it comes to actually buying land, the booklet addresses non-traditional methods, such as sweat equity, seller financing, and cooperative land purchasing. Another chapter addresses community and conservation land trusts.

Traditional and alternative financing are the subjects of the two remaining chapters. The former "is a brief lesson on credit and how to make it work for you," including a caution before taking on debt. Many alternative options for financing are listed and should be of interest to potential farmers. As mentioned above, this book could be a good starting resource for someone seriously interested in becoming a farmer..
IMAGE CREDIT: http://www.thegreenhorns.net/wp-content/ files_mf/1397167611affordingbookFINAL.pdf
---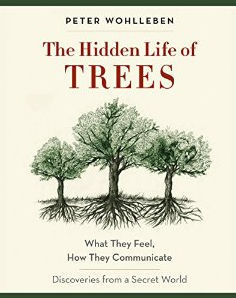 The Hidden Life of Trees: What They Feel, How They Communicate

by Peter Wohlleben (Greystone Books Ltd, 2015).
Review by Mary Zellachild
This book was written by a forester in Germany. The author's job was to survey the forest and assess the suitability of various trees to be processed into lumber. About 20 years ago, when he opened the forest to outsiders for survival training and as an alternative burial ground, he found that visitors were "enchanted by its crooked, gnarled trees." This led him to notice again the forest's beauty, rather than just its monetary value, and reignited his love of Nature. As a result, he changed the way he managed the forest, including no longer allowing the use of machinery, and the forest became healthier and more productive.
As the author slowed down and changed his interaction with the forest, he started to pay more attention to the wonders that exist there, such as the ways trees communicate with each other, how they share resources like the air space between them, why they thrive much better in groups than by themselves, and how so many ideas we have about trees and forests are simply not true. In this book, Wohlleben shares his discoveries in a very reader-friendly and interesting way. He also ponders environmental issues such as trying to reinstate "old-growth" forests and trees during climate change.
This is definitely a worthwhile read, full of little-known facts and written with a holistic consciousness. To this reviewer, one of the most interesting facts was that the "owner" of the forest which employed the author was not the national or state government, but the nearby tiny village of Hummel.

IMAGE CREDIT: amazon.com/Hidden-Life-Trees-Communicate- Discoveries/dp/B01KMNFP5E
---
---
top | Newsletter Home |Table of Contents| Archive