Feeding Homeless Children in Kenya
By Philip Odhiambo Munyasia, 2008 EA 6-Month Internship Graduate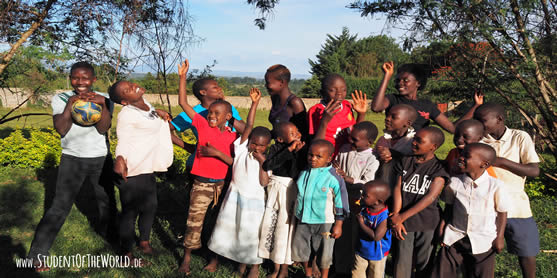 Children at the OTEPIC orphanage
PHOTO CREDIT: ©Silke Oppermann, www.studentoftheworld.de/index.php/tag/otepic/ Used with permission.

---
Philip Odhiambo Munyasia was a 6-month intern at the Golden Rule Mini-Farm in 2008. He is currently Program Coordinator for Organic Technology Extension and Promotion of Initiative Centre (OTEPIC). Here is a report of current projects.

"In the last year, we have been busy with many activities, constructing buildings and expanding our garden. OTEPIC started a program to feed the homeless street kids in our area. This also gives us a chance to talk to them about the effects of drug abuse, such as using glue to get high. As we spend time with them we also try to involve them in our garden project. This way we can live and work together, showing them a better way to be in this world.

We have also talked with the local supermarket to let us collect the food they would ordinarily throw away. We use this when we prepare meals to share with the street kids. Additional food comes from the OTEPIC GROW BIOINTENSIVE garden, and the rest we buy."
The Multinational Exchange for Sustainable Agriculture (MESA) posted an excellent article on Philip's work starting OTEPIC in 2010.
For more information, visit www.otepic.org or Silke Oppermann's non-profit blog, www.studentoftheworld.de.

Join the real food revolution!

---
top | Newsletter Home |Table of Contents| Archive