Ligia Espinoza Receives Basic-Level Teacher Certification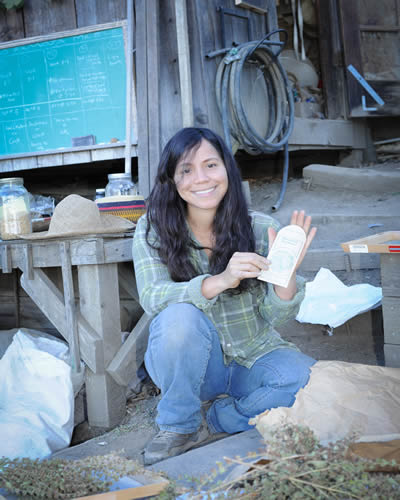 Ligia Espinoza, EA 6-Month Internship Graduate, 2014
PHOTO CREDIT: Cynthia Raiser Jeavons

---
Ligia and Tania were interns at The Jeavons Center and Green Belt Mini-Farm, respectively, in 2014. They are currently working and farming in Nicaragua. Ligia wrote to John Jeavons with news of her activities.

I wanted to let you know I have received my Basic-Level Teacher Certification. It has been very helpful. Currently, I´m working on the required report in order to get the Intermediate-Level Certification. My sister Tania is working on her Basic-Level Teacher Certification using the data from last year.

We use the book Test Your Soil with Plants, and have discovered some interesting things. We will prepare a special report about that when time permits. John Beeby (EA's soil consultant, http://www.growyoursoil.org/) has been so kind and professional giving us a detailed interpretation of the soil report from the lab; we are happy to work with him. We want to write him and share how we're doing using his recommendations. It has been hard to find time to sit and write in the last few months between family commitments and garden maintenance.

We are working toward a comparison report of growth results contrasting beds without minerals in 2016 versus beds with minerals this year. It will be interesting to see the difference.
Last year in each bed, we put three buckets of Biointensive compost or bocashi (fermented manure) or a combination when we didn't have enough compost ready. This year, because we have added more beds, we will use two buckets of compost in each bed. We're going to follow your recommendations and collect data about compost piles.
I heard about the heavy rains and flooding in your area; here the climate is very crazy too. Right now we are in the middle of the dry season, and it's cloudy and foggy. We've had slow rain just like winter days from last year. Climate change is getting harder!!
Thank you very much for writing, I´m so happy to be in touch with you again and to have your feedback.
Lots of blessings and love,
Ligia
---
top | Newsletter Home |Table of Contents| Archive