The Growing Edge: Biointensive Thriving in Nicaragua
By Mary Zellachild, Communications Director,
and Shannon Joyner, Ecology Action's eNewsletter Editor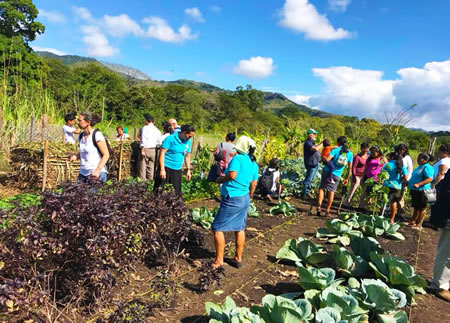 Huerto Eli Garden in Corozo, Nicaragua.
PHOTO CREDIT: Ecology Action
---
Of all the places in the world where the GROW BIOINTENSIVE method (GB) is being used, it is spreading rapidly in Mexico and Latin America and—most of all—in Nicaragua. By the end of 2018 there will be over 100 certified trainers at all levels in Mexico, South America, Central America and the Caribbean—with 85 of them in Nicaragua!
From January 22 to 26, 2018, ECOPOL, Ecology Action's International Partner in Latin America, co-sponsored a five-day GB conference in Nicaragua, with 20 participants from Bolivia, Chile, Peru, El Salvador, Honduras, Mexico, France, Italy and Spain. On the first day, which was for presentations at the National Agrarian University (UNA)—a co-sponsor of the event where the conference took place—there were over 100 attendees. Juan Manuel Martinez, head of ECOPOL, who organized the conference, estimates there were about 400 Nicaraguans who participated in activities during the week.
Lilia Splender, the CEO of Amigos de la Tierra/Friends of the Earth-Spain, was one of the participants. Her organization is going to publish 5,000 copies of How to Grow More Vegetables (8th edition) in Spanish for Central America. Others interested in the conference streamed the event live on Facebook, allowing it to be viewed elsewhere in Nicaragua and worldwide. The energy level was very high! As a result of the conference and the GB work being accomplished in Nicaragua, HBO is planning to film a program on the GB method in the country in 2019.
Ecology Action's Director John Jeavons and Advanced-Level GB Certified Teacher and VGFP Mini-Farm Manager Matt Drewno made presentations at the conference. Matt spoke on Achieving More with Less: Experiments in Growing a Complete Diet in 1,000 Square Feet and John's topic was Food for the Future: Now. John and Juan Manuel were both awarded beautiful certificates at the final celebration dinner—each for his life of humanitarian work.
After he and Matt returned home, John had many things to report from the conference and his time in Nicaragua. He believes that the GB program there can be viewed as a microcosm of what can, and possibly should, be done—a living example of a proactive, nurturing and healthful farming and gardening system. Examples of the work there include:
Universidad Nacional Agraria (Nicaragua's National Agrarian University (UNA)), is in the process of setting up a three-year GB university course for the purpose of training Biointensive Technical Specialists. There is also a GB training/demonstration center at the university. Javier Silva, the Program Director, is a UNA professor. Watch a video on this work here. The Centro Biointensivo involved in this program is the result of a 2013 cooperation agreement between CCID BioNica, the UNA, Ecology Action and ECOPOL.


A Nicaraguan who made a presentation on the first day of the conference taught 38,000 people Biointensive over the course of 26 years.


Franck Tondeur another attendee who runs a GB demonstration/training center in the region has taught 4,800 people in four years. Growth trials and research to improve and adapt GB for the region and to establish important data points for soil studies being conducted by GB practitioners in several countries are being carried out both at the UNA and at Franck's center.


John observed that "…people in Nicaragua have a very strong sense of responsibility for themselves and what they are doing in their community and in the world. Culturally, they understand GB and are doing it from their souls."
At the conference both men and women's GB mini-farming projects were represented, with both groups doing well. In addition, one of the highlights of the conference was the introduction to two strong women's groups who have incorporated the GB method into their organizations:
La Central Cooperativa Las Diosas ("The Goddesses") is a dynamic network of community-based cooperatives run by women and supporting true development and respect for women's rights. The cooperative is located east of Managua, where much of the land is devoted to tobacco production and largely controlled by male producers. Las Diosas consists of four smaller cooperatives, each managed by its own Directiva (female Board of Directors). Fiercely independent and determined to succeed in the coffee industry, the 260-member cooperative has made much progress since their founding in 1996, both in terms of sustainable commercial relations for their coffee sales as well as the promotion of issues such as women's education, housing and health. The women grow organic coffee as well as vegetables, grains and fruit produced using the GROW BIOINTENSIVE method. Las Diosas works closely with another women's group, La Fundacion Entre Mujeres (FEM), or Foundation between Women, which focuses their development project work on issues concerning women's health, universal access to education and economic and moral support for single mothers. For more on these organizations, go to highergroundstrading.com/pages/nicaragua



Image: A co-op member holds saplings ready for planting.


PHOTO CREDIT: Higher Grounds
Continue to page: 1 | 2

---
top | Newsletter Home | Table of Contents | Archive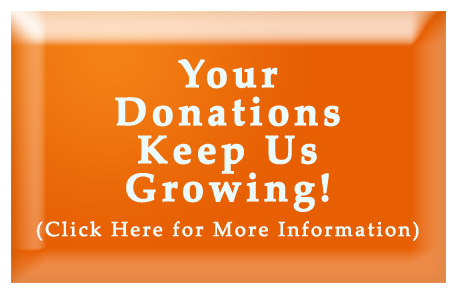 .