How GB Takes Root: About the Kilili Self Help Project
By Ecology Action Staff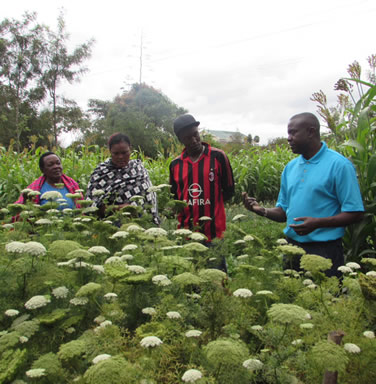 G-BIACK Director Samuel Nderitu (right) teaches the GROW BIOINTENSIVE method
PHOTO CREDIT:G-BIACK

---
Sandra Mardigian, a colleague of Ecology Action who had spent many years in Kenya, started Kilili Self Help Project (KSHP) in 1985 as a community assistance fund with Kilili Village in Machakos, Kenya. The Kilili community met together and prioritized their needs, then sent proposals. When word reached Sandra that Manor House Agricultural Centre (MHAC), a Biointensive agriculture school, had just been started in western Kenya, she chose to use Kilili funding to support the Centre's graduates who were training farmers in their communities. The community contributed the labor and built a community water project, a school, a maize-grinding mill, and a medical dispensary. In December 1989, Kilili Self Help Project sent a group of Kilili primary school teachers to MHAC for a week of training in the Biointensive method.
With experience over the years, Sandra's vision evolved, and an idea took shape for a grassroots GROW BIOINTENSIVE education center where farmers could come for training and the center's staff could also do outreach to train farmers in their communities. In 2008 the vision was manifested with the opening of the Grow Biointensive Agriculture Center of Kenya (G-BIACK, www.g-biack.org/). Since then, all of Kilili's focus and funding has been directed to G-BIACK.
Seeking to honor forty years of research, innovation and education in Biointensive agriculture by John Jeavons and Ecology Action, the Foundation for Global Community sponsored a film to show the successful application of this work in the impoverished areas of the world where it is flourishing. When asked to recommend a good subject for the film, KSHP suggested G-BIACK, outside Nairobi. The result is the 12–minute film GROW:

Sandra Mardigian, Director of the Kilili Self Help Project, is the sole staff-person. She carries out the administration of KSHP on a volunteer basis, and donates all costs and overhead (except bank transfer fees). Therefore, nearly 100% of contributions by donors can go directly to programs in Kenya. To read more about KSHP, visit kililiselfhelp.net, or to contact Sandra, email her at smardigian.kilili.self.help[at]gmail.com.

---
top | Newsletter Home | Table of Contents | Archive