The Victory Gardens for Peace Mini-Farm Report
By Matt Drewno, VGFP Mini-Farm Manager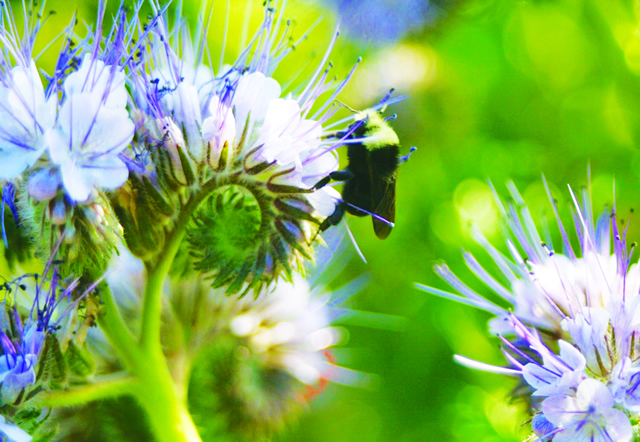 A bumblebee at VGFP tickles the pollen from flowering phacelia, a fantastic early-season pollinator plant! IMAGE CREDITS: VGFP

---
"When I go into the garden with a spade and dig a bed I feel such an exhilaration and health that I discover that I have been defrauding myself all this time in letting others do for me what I should have done with my own hands." – Ralph Waldo Emerson

Each day in the garden is an opportunity to grow. And what a gift it is! Here at Victory Gardens for Peace we approach each day with gratitude for the lessons learned, and those which constantly reveal themselves in the garden. What a blessing to be able to work with the Earth and to be worked by the Earth: to nurture that which nurtures you! Our 220-bed research, education and demonstration mini-farm is located on the Mendocino Coast in Northern California. We are transitioning our overwintering legume cover crops into main season grains, pulses, vegetables, flowers and seed crops. Its an exciting time of year as increasing day-length awakens the pollinators to meet the profuse blooms of wildflowers and overwintering seed crops. The vital force of spring lifts us and carries us, and as we cultivate the soil from winter's rest we, too are invigorated by nature's verdant and prolific vitality. Springtime is a celebration, a resurrection, and a perennial joy. I hope that over the past year you have found the inspiration to grow more soil, food and seed than ever before, and that that inspiration carries you forward with joy into the garden.
By the time you are reading this, our summer internship and course will have begun. Each year we bring folks from different parts of the world and our community to share experience and learn together about the GROW BIOINTENSIVE® Method (GB). While COVID has hindered our ability to accept international students, we have adapted to integrate our curriculum and local outreach into an exciting new program we are calling GardenCorps which we are offering to domestic students. More on GardenCorps later, but I would like to say how impressed I have been with the quality of the 8-month Online Internship program which has enabled Ecology Action to continue our international outreach and education despite the challenges posed by the COVID crisis. Each week dozens of interns gather online to enhance their understanding of the important solution of the GB Method – a real world example of technology promoting sustainable progress!
Our Victory Gardens for Peace Seed Bank continues to grow, and we have developed a new online platform that allows us to take online orders and ship them to our community. This has enabled us to continue to distribute seed during the pandemic, and also helps us better track what seeds are popular so we can continue to grow out priority seeds for the North Coast of California. You can learn more about this important project at victorygardensforpeace.com. We will be publishing a booklet by the end of 2022 on how to start a community seed bank and reintegrate seed saving into your community, so everyone can access local, healthy seed.
This year we will be focusing much of our growing area into replenishing seed stocks after last year's big rush on our seedbank. Seed saving is a wonderful part of the GB Method, which not only saves money, but also helps adapt local varieties and increases food security. And that's not all! The flowers of seed-producing plants provide food and habitat for pollinators and beneficial insects. In addition, as plants mature, their carbon structures change and their biomass increases to support their blooms and seeds. This biomass provides wonderful materials for the compost pile, which farms more carbon from the atmosphere and helps us increase the organic matter of our soils for increased fertility and sustainability.
As I write, we are transplanting our grains and summer crops after a dry winter and entering what appears to be a rather severe drought-year. That makes it even more important to note that GB uses only a third of the water that conventional agriculture requires to grow food. GB incorporates carbon-rich crops and composting, which increases soil organic matter levels, which further-enhances the soil's water-holding capacity. And with a good diet design, such as the 10-Bed Unit Complete Diet Design we are experimenting with in VGFP's coastal climate, as little as 2-10% of the water is required to grow a complete diet and sustainable soil fertility, on less than 2% of the land, as compared to a conventionally grown American diet.
When you understand what is possible with GB, you discover a world full of hope and possibility. I call this inspiration "discovering the endless well." Our gardens are a way forward, a whole-systems solution, which helps us reduce energy and resource consumption, decrease our land-area requirements for food production, and enables us to put more of our precious biosphere into full-functioning, restored ecosystems to be preserved for the health and integrity of the plant. We don't have to carry the weight of the world's challenges, we just need to start doing what makes sense, and the solution is so beautiful and delicious! Grow a sustainable vegetable garden with the GB Method! Ecology Action is publishing my work in Booklet 38, A Path to Peace and Sustainability: Growing Soil, Food and Seed in as Little as 1,000 Sq. Ft. which everyone can use to begin designing and growing their own 10 Bed Unit. It should be available for purchase here in mid-July.
One of the greatest joys of this work is sharing it, and seeing others grow. Our work in the nearby city of Fort Bragg, CA to pass the Garden Friendly Community Resolution has blossomed into a movement to establish community gardens across the city. We are currently volunteering to help create two gardens which should be complete by the end of the year, helping others experience the joy of helping themselves through growing a garden. We will be supporting this work with free GB resources, seeds from our seed bank, and establishing community networks to help strengthen a movement towards sustainable food localization.
In 2019, we determined that with 5-10 years of experience and soil buildup, that it would be possible that all the calories needed to feed Fort Bragg's 7000+ residents could be grown in open land within the city limit. This year we are starting our pilot GardenCorps Program which will combine our knowledge of the GB Method with our community organizing experience in Fort Bragg. In addition to training in the GB Method and sustainable diet design, this program includes classes in agricultural leadership, community organizing, and project development. We have fund-raised four full scholarships from the community itself, with the agreement from students that they commit to 50 hours of community service in establishing community gardens in Fort Bragg, CA. We are so proud of this work and the participants in the program!
The United Nations predicts that we have around 55 years of soil remaining. At Ecology Action, we believe that this number is more likely to be much less: as little as half of this amount. The need for replenishing soils, while also increasing yields sustainably is more important than ever. This year we are excited to have been chosen as one of 13 GB training sites worldwide to participate in the Soil Testing Analysis, Amendments Recommendation Training (STAAR) Program. This program trains individuals to establish 10-bed-unit soil-test stations, to be able to act as hubs in the community to help farmers and gardeners improve their soils with the low-input GB Method. This training is run by John Beeby of Grow Your Soil (growyoursoil.org) who has for the last 20 years been creating and monitoring organic fertilizer recommendations for GB farms around the world. John, Steve Moore, Laura Taylor, and Samuel Nderitu published Effects of a One-Time Organic Fertilizer Application on Long-Term Crop and Residue Yields, and Soil Quality Measurements Using Biointensive Agriculture in the journal Frontiers of Sustainable Agriculture last year. This work helped inspire the STAAR program with the powerful and scientifically documented low-input studies on several GB farms across Kenya. Congratulations John, Steve, Laura and Samuel on such important work!
As we continue to develop Ecology Action's Victory Gardens for Peace Sustainability Hub we strengthen our foundation and our ability to serve our community and the greater GB movement. What we learn, we share, and are constantly inspired by the wonderful work of GB farmers and projects around the world. We are a family, brought together for the love of the work and the hope that it brings. We invite you to connect with us—if you would like more information visit victorygardensforpeace.com or email Info@victorygardensforpeace.com. Thank you to our donors and all those who contribute to keeping Ecology Action strong and serving. We wish you all wonderful, abundant and beautiful garden year!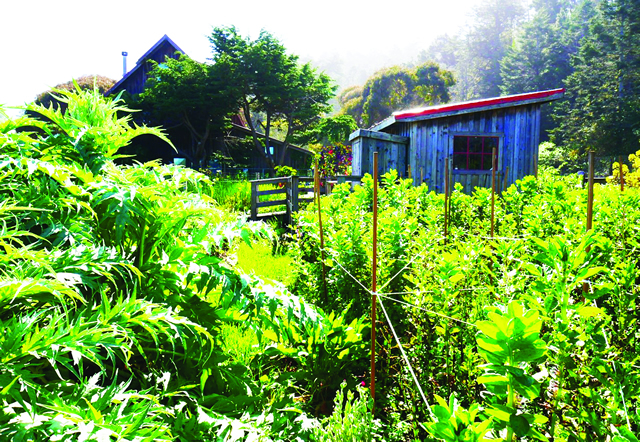 Victory Gardens for Peace Mini-Farm awakening after winter rest
IMAGE CREDIT: VGFP
♥
---
top | Newsletter Home |Table of Contents| Archive