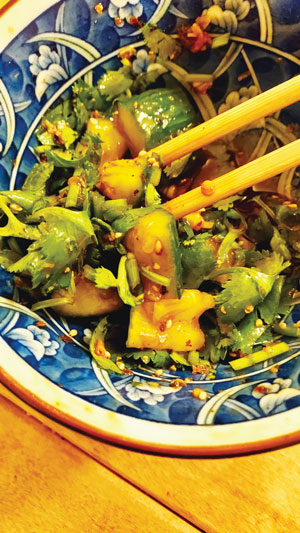 Smashed Cucumber Salad
(Vegan, Gluten Free)
by Shannon Joyner, Garden Companion Editor

---
This year we had an old-fashioned Northern California winter: cold, wet, and continuing well into June. Now with August on the horizon, the temperatures have finally climbed into the 100s, summer is truly here, and I'm done with the oven for the season. When it's really hot, I want something cool, light, and refreshing, and this Asian smashed cucumber salad is my new favorite. Inspired by the recipe at thewoksoflife.com/smashed-asian- cucumber-salad it's tangy, spicy and savory, great on its own or served alongside your favorite grilled protein, in a Buddha bowl with spicy rice noodles (recipe in the Garden Companion Summer 2022 issue), or as a topping for bánh mì sandwiches. Chinese Traditional Medicine considers that cucumbers are good for cooling excess heat in the body (and science has shown that cucumbers' internal temperature in the field can actually be up to 20F cooler than the surrounding air!); they're 95% water, so eating them helps keep you hydrated; and they're a good source of vitamin K which is essential to bone health. Smashing the cucumbers is a traditional Chinese technique to crack the skin, open up the seeds, and give a pleasantly rough texture to the cucumber, allowing it to soak up the dressing. If you're feeling warm and are wondering what to make for dinner, give this cool and satisfying salad a try!
---
Ingredients (~4 servings)
2 cucumbers (preferably seedless Persian or English, about 1-1.5 lbs/ ~ 600g)
1 bunch of cilantro with stems
1 carrot (optional)
1/4 teaspoon salt, to taste
2 teaspoons sugar, to taste
2 T toasted sesame oil
4 T gluten-free tamari
2 T rice vinegar
2-4 cloves garlic (finely chopped)
1-2 teaspoons chili crisp (I like Fly By Jing brand which has crunchy Sichuan peppercorn bits)
2 teaspoons seaweed gomasio (a Japanese condiment made of sesame seeds, seaweed and salt)

In a small bowl, make the dressing for the salad by whisking together the salt, sugar, oil, tamari, vinegar, garlic, chili crisp, and gomasio until the salt and sugar are dissolved. Taste and adjust seasoning. Set aside.
Wash and dry the cucumbers, cilantro, and carrot. Coarsely chop the cilantro, and julienne the carrot into thin matchsticks. (If cilantro tastes like soap to you, use parsley or arugula. Chopped basil and mint are also a nice addition.)
On a cutting board, lay a large knife flat against the cucumber, and press the blade down gently with your hand (be careful not to cut yourself! You can also use a saucepan or a wide spatula to do this if you're not comfortable using a knife). The cucumber should crack open and smash into four sections. Repeat along its full length. Once the whole cucumber is completely open, remove the seeds if using a seeded variety, and cut the sections at a 45-degree angle into bitesized pieces and place them in a serving bowl.
Add the chopped cilantro, carrot matchsticks, and a generous amount of the prepared dressing, toss gently to combine, and serve immediately, with any leftover dressing on the side—it's good on everything! (Note: this salad is best eaten the day you make it. If you want it to travel, keep it cold, and don't dress it until you're ready to serve or it'll lose some of its crunch.)
♥
---
top | Newsletter Home |Table of Contents| Archive