The Jeavons Center Mini-Farm Report
by John Jeavons, Executive Director, Ecology Action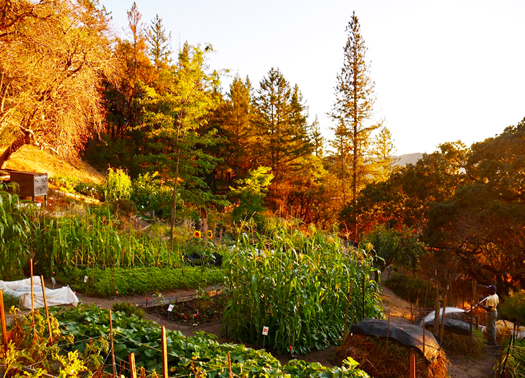 IMAGE CREDITS: EA staff

---
"Great enchantment and productivity grow with each year of the garden. True vision, the necessary permit for this growth, expresses the enormous possibility of what can be achieved. Imagination is required right from the start. The era in which we live is a little frightening when you look at it very plainly and don't endeavor to escape the truth of what we are doing to the world. The vision of which I am talking is one of the greatest things we can possibly conceive of. It is a recovery from all the destruction going on. It is possible."
– Alan Chadwick, Villa Montalvo 1972

Our world is moving at a challenging pace, and individuals and organizations are coping as best they can with the unpredictable changes that 2020 has brought to all of us. Ecology Action is no exception: for an organization so focused on in-person training, the social distancing guidelines necessary to slow the spread of COVID-19 have been difficult to work around. But we are persevering!

Ecology Action's 8-Month Internships are a unique experience, in which participants travel from abroad to stay, farm, learn and grow with us. The program grows people as much as it grows all kinds of crops, and at the close of the program each year everyone involved is better off for the process. The participants return to their home countries and teach their friends and neighbors the GROW BIOINTENSIVE skills that they have perfected here in Willits, and we keep communications open going forward on their gardens and activities. Many of these interns go on to start their own training programs at their home garden sites, or with the organization with which they have been working. In March, when the pandemic really started to take hold in the United States and the State of California implemented the nation's first shelter-in-place programs, we were preparing to welcome our new 2020 interns from around the globe.

As the arrival dates grew closer, it became clear that the visa program itself was in jeopardy; flight bans took effect, and the prospect of interns becoming sick en route stuck here with no way home for an extended time, or worse, getting infected here in the US—was a realistic one. We had no choice but to contact all our interns and inform them that we had decided to present the program online, rather than onsite.

So now, like so many other organizations around the country and the world, we are becoming proficient in using the video conferencing service, Zoom. And while we love having our onsite interns, there is a silver lining to this story: putting the internship online made it possible for 3 times the number of people to participate in the program! Rather than the 9 interns we were planning on hosting, over 25 people from countries in Central and South America, Africa, Nepal, and the U.S. are participating in all-day classes each Tuesday, virtual classroom talks and discussions, and keeping up on assignments, safe in their own spaces. (Shyam from Nepal sent this beautiful seed-saving photo and writes, "COVID-19 taught the Nepali people an important lesson: agriculture is vital for human life, and so they are back to farming. We have a lot of demand for seed and fruit trees and are focusing on OP seed production and teaching seed-saving.")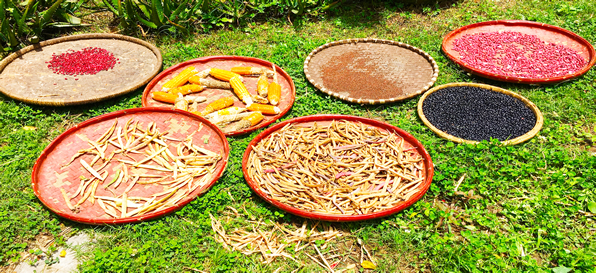 IMAGE CREDITS: Shyamkumar Pyakurel

Like everyone else, we are unsure how long this "new normal" will last, but it does seem like it may be quite a while. But a positive aspect of these changes is the fact that more people can attend (we are hoping for an online class of 100 people from around the world in 2021), and that there will be a lasting record of the classes, which will prove valuable in the future for generations to come. There is truly nothing like this GROW BIOINTENSIVE Online Internship—covering in such depth and breadth such a wide range of topics and questions on sustainable closed-loop Biointensive farming—available anywhere else in the world. We look forward to seeing you online: for those interested in applying to our 2021 online 8-Month Internship program, you can find all the information at: growbiointensive.org/Internship.

We are working to convert our other educational programs into potential online formats for 2021. Our November 6-8, 2020, workshop will not be held onsite due to COVID-19 restrictions; however, have created an online Zoom-based version which will take place over three consecutive Saturdays: Nov. 7, 14 and 21, 2020!

Through a connection forged via our sister organization MESA (mesaprogram.org), Ecology Action's GB Farmer's Mini-Handbook was translated into Korean and published at growbiointensive.org/Self_Teaching.html, the first of hopefully many EA materials in Korean!

Matt Drewno's Achieving More With Less: Experiments in Growing a Complete Diet in 1,000 Square Feet (EA Self-Teaching Booklet #38) is close to completion, and should be available online by the end of the year. This timely and important work details growing a complete balanced diet for yourself and your soil on as little as 1,000 sq.ft. and hints that it may be possible to miniaturize a complete diet garden into a mere 850 sq.ft.

In other exciting news, some key projects have been initiated in spite of the chaotic events of 2020 by some of our 2019 8-Month Interns and supported by the Kent Whealy Scholarship Fund for Ecology Action:

• Ana Lucia Cantillano from Nicaragua is using her award to purchase equipment to carry out her project filming how GB is being used in her county. While the pandemic disrupted her filming schedule, making it impossible to travel and film as she had intended, Ana used her time sheltering at home to make simple videos to introduce others to GB (including showing how COVID-19 makes home gardens even more valuable), and began a crowdfunding campaign to complete the videography. She has been filming 2019 intern Marcia Suarez (see below) and also her primary subject Luis Quezada, who first introduced Marcia to GB. Despite the virus, she has many interviews lined up and is making progress on her film Rule of Return, named for the Alan Chadwick quote: "Give back to the soil as much as you have taken, and a little bit more, and Nature will provide for you abundantly."

• Marcia Suarez is contributing to the improvement of food security, sustainability, and nutrition by promoting GB to families on the Caribbean Coast of Nicaragua. She has been practicing GB at her site, guiding the local community on the philosophy and techniques of the method, coordinating and administrating all the project's numerous initiatives, and is working to qualify as a Basic-Level GB Certified Teacher. She encourages technicians of the NGO Blue Energy to become involved in certification and data collection, is catalyzing GB in the CETAA school in the nearby Wawashang community, is using soil testing and evaluation expertise from John Beeby to fully develop the fertility of her soils and is working to have her site certified as a Biointensive Agroecological Center (CAB) in her country. Open garden times have been set up for nearby community members. Her family is helping with her work. Marcia misses the brotherhood, love and tranquility of Ecology Action, and thanks the EA Team for all the support. "They changed my life," she says in a recent letter, "it was a blessing."

• Fredrick Onyango, from Kenya, held a 3-Day GB Workshop for his NGO (SADA) staff with over 40 men, women, and youth attending. SADA began receiving donations from community members; with these and the EA Award funds, the organization purchased garden tools and seeds for crops, paid staff, developed a well, and built a small house for visitors and volunteers. Frederick gave another 3-Day GB Workshop for representatives from the Kenya Crop and Marketing System, which works with the Kenya Agriculture Ministry. Since 2017, SADA has trained almost 3,000 farmers to use GB.

• Camila Guerro's goal, to teach GB in Chilean regions with large populations close to cities, was made more difficult by COVID-19. However, she persevered, teaching classes in a local park and transitioning her home garden into a GB teaching garden. She developed a 1-day-a-week GB teaching program including online classes and follow-up, and began the process of establishing an NGO with the focus of purchasing land to establish a 40-bed GB demonstration unit.

• Ariel Pinto's project (teaching GB agriculture in Chilean schools) was hampered by corona virus challenges, as schools were closed for much of the year. However, his GB demonstration garden is developing beautifully, and he has gathered materials, submitted proposals, and maintained contacts with the three schools involved so he will be ready to launch his GB School Garden Project as soon as it is safe to do so.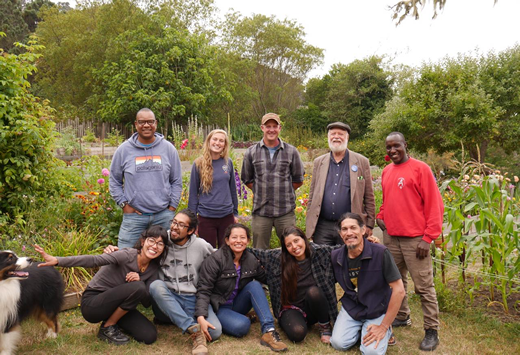 IMAGE CREDITS: VGFP Staff

As you will read throughout this issue, we and our international partners are seeing a surge in requests for Biointensive solutions: training, information, farmer-leaders, seed-saving initiatives, garden-friendly community planning, and GB gardens. Now, more than ever, it is vital that people learn to grow their own food, and help heal the Earth and each other, right where they are. We are grateful and honored by the work our GROW BIOINTENSIVE Global Family is doing, are proud to be a part of that work, and look forward to growing strong with you through the rest of 2020 and beyond! ♥
---
top | Newsletter Home |Table of Contents| Archive