Victory Gardens for Peace Mini-Farm Report Jan-Jul 2020
by Matt Drewno, VGFP Mini-Farm Manager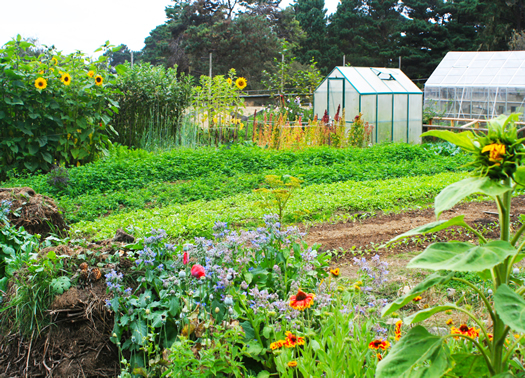 IMAGE CREDITS: VGFP staff

---
This has been an unpredictable year: each day we are waiting for the news to change, and yet here we are, still in the middle of the COVID-19 pandemic. We have been constantly adapting to meet the needs of the situation to both fulfill our mission and grow our work into the community. Despite the COVID setbacks, much progress has been made.

"Only a crisis—actual or perceived—produces real change. When the crisis occurs, the actions that are taken depend on the ideas that are lying around. That, I believe, is our basic function: to develop alternatives to existing policies, to keep them alive and available until the politically impossible becomes politically inevitable."
– Economist Milton Freidman

In 2017, we envisioned the VGFP Initiative knowing a time would soon come when home and community gardening would see a resurgence as the foundation for a sustainable and localized food system. By re-establishing this local food culture we also help the rest of the world by transforming our consumption paradigm, lowering our carbon footprints and divesting from the resource extraction and social injustice created through exploitation of people and their resources to feed consumptive habits.

This vision for a new Victory Gardens for Peace movement is centered on the concept that we can preempt war, suffering and struggle by creating abundance in our own backyards and community gardens. We can heal and beautify our communities and discover the joy in creating the future we know is possible, empowering our citizenry to take back their communities and determine for themselves what their future is. This work requires universal access to healthy, organic, and local food. It requires that we work from the bottom up and the top down. It is an inclusive process which is undeniably, inarguably, and positively appropriate. It is work that brings people together.

In 2017, we set the goal of establishing the following initiatives by 2020:
• Victory Gardens for Peace Local Course Series
• Victory Gardens for Peace Seed Bank
• Garden Friendly Communities Resolution
• GardenCorps Training Program
All of these programs are designed to integrate into existing Ecology Action programs, to strengthen them and provide an example of localization created out of this work for our interns and apprentices to learn from and apply upon returning to their communities. Each of these initiatives is designed to support one another. We chose the City of Fort Bragg as our test site to develop and implement these programs, bringing back what we learned and evolving concepts and approaches which can feed back into the organization and help bring this work to more communities as a package of initiatives to help rapidly re-establish resilient, local and sustainable food systems.

We are happy to announce that we have worked hard to reach our goal set in 2017 and look forward to reporting the progress we are making. The pace has increased significantly, and there is an overflow of excitement and opportunity being created in Fort Bragg. In fact, the support has been so hopeful and expressive that it affirms the power of this work to reach people and inspire the change we so need.

The following is a list of some of the activities we have engaged in since the start of 2020 through July:
• Internships: COVID-19 led to mass cancellation of in-person training. We have taken on two 6-month interns, Kaja Gawronska and Ambria Zenitar, both living in California and housed in Fort Bragg.

• Matt and Jaime had a baby, Olivia Wren April 14th 2020

• The Stanford Inn has gone through the wringer with COVID and had to lay off staff, however Matt is currently managing 150 beds with a full-time helper.

• January: VGFP Director Matt visited colleagues from ECOPOL Juan Manuel, Diego, Mateo and Freddy in Mexico, visiting their Biointensive projects and partners, to broaden our understanding of how this work evolves in Mexico City and Oaxaca.

• February: Taught a seed saving workshop at Seed and Scion Exchange; developed two community garden proposals for Fort Bragg; gave a presentation for Round Valley Library on Victory Gardens; gave a class on Biointensive at Montessori School in Fort Bragg; gave a presentation on Victory Gardens for Peace and Ecology Action at the Presbyterian Church in Fort Bragg.

• April: Published VGFP Growers Guide to help the coast with food security (victorygardensforpeace.com/vgfp-growing-guide); published article in Word of Mouth Magazine on Victory Gardens.

• May: Published article in League of Women Voters Magazine on Victory Gardens; published article on local food systems titled "Tag you are it!" in Justice Rising Magazine; began coordinating weekly local food discussion with Caspar, CA, community; interviewed on Pivot Point Radio (kzyx.org) regarding Garden Friendly Communities Resolution and Victory Gardens.

• June: Formalized Garden Networks for Garden Friendly Community, Fort Bragg; hosted Rose Hayden-Smith (author and historian) for a presentation on Victory Gardens; began internship course series for Kaja and occasionally Ambria.

• July: Victory Gardens for Peace joined the COVID Response Network to provide support for local food resilience conversations; gave a presentation to the Latino Coalition Fort Bragg on Victory Gardens, GardenCorps and Garden Friendly Community Resolution.

Our seed bank saw an 1800% increase in seed orders during this time period, and we have also been working closely from a distance with James Christie-Fougere and Sharon Coombs of the Kootenay Society for Sustainable Living in British Columbia, Canada, coordinating resources and building a VGFP website (victorygardensforpeace.com, a work in progress). With the rest of the West Coast, we are weathering an unprecedented fire season with thick smoke everywhere. Keep healthy and safe, keep gardening, and stay tuned for more on these events, resources, and initiatives!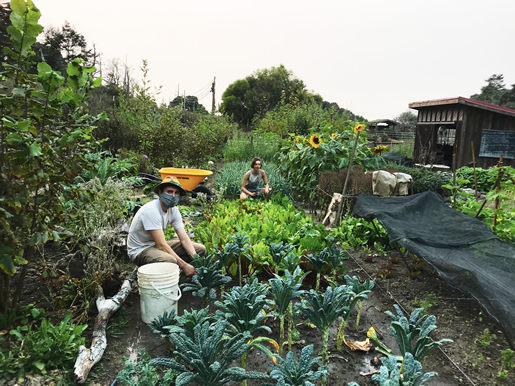 IMAGE CREDITS: VGFP staff
---
top | Newsletter Home |Table of Contents| Archive