GROW BIOINTENSIVE Takes Hold in Sri Lanka
by Hemantha Abeywaradhana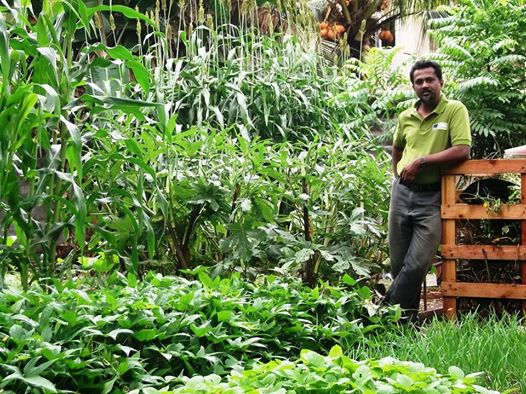 Hemantha in the Grow More Sri Lanka Biointensive Demonstration Garden
(photo: Grow More Sri Lanka) .
Hemantha Abeywaradhana was an EA six-month intern in 2013. He's currently working with the Dilmah Conservation Sustainable Agriculture Research Centre (DCSARC) in Sri Lanka, bringing GB to both government organizations and NGOs. The following is taken from an update he sent us in June.
DCSARC has a new GB training and garden development program. Last month I took classes in designing, planning, mapping and development of the garden at their Colombo site. I'm going to be manager of the program and am using EA publications for a guide. The training garden has about 1600 square feet of total bed space, 90% double-dug.
The program will start next month, and we hope to introduce GB basic techniques, using How to Grow More Vegetables. The garden will be open to students, officials and farmers. After the beginning stage, I hope to expand and develop the training program. Sanjana [an EA intern in 2013 see his article in this issue] will join me as a training facilitator through the Department of Agriculture. Details and pictures will soon be available by visiting GROW BIOINTENSIVE Sri Lanka on Facebook at www.facebook.com/growbiointensive.srilanka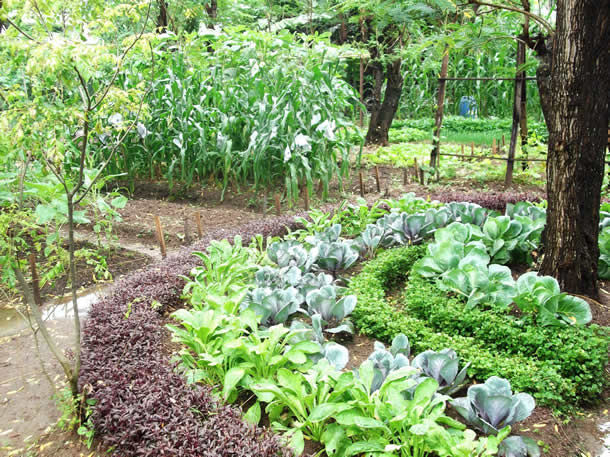 A beautiful Biointensive bed at Grow More Sri Lanka's Demonstration Garden

.
---
top | Newsletter Home | Article Index | Archive