Winter Compost Crops
By Bountiful Gardens Staff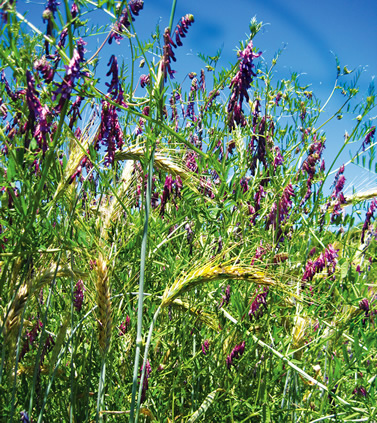 Overwintering Compost Crops in Action
PHOTO CREDIT: BOUNTIFUL GARDENS STAFF

---
Other people call them "cover crops". In the Biointensive method, we call them "compost crops" because we grow them to put on the compost pile. The resulting compost will "feed" the soil, replenishing the organic matter and nutrients lost when we grow the things we eat. Compost crops have the added benefit that, simply by growing them, we are adding root organic matter to the soil, holding on to nutrients and protecting the bare soil from the elements. If there is enough time and space to allow the grains to grow to maturity, they can provide food for the gardener, so the compost crop is a calorie diet crop as well!

The winter compost crop that we have developed and used over the years is a combination of wheat, cereal rye, fava beans and vetch. This compost crop mix will shield the ground from rain and wind erosion, capture nutrients from the soil that might leach away, sequester carbon from the atmosphere, add nitrogen to the soil, and produce lots of organic matter.

Bountiful Gardens sells a two-packet mix that will cover 100 square feet, in the best proportions for carbon to nitrogen in the compost pile. The first packet contains wheat, vetch, and cereal rye that are cold-hardy in most sections of the country. Broadcast evenly onto clean loose soil in early to mid-fall. Chop in lightly with a rake to keep birds from eating the seed. The fava beans in the second packet are hand-planted separately. The seeds will sprout with the fall rains or when watered. Keep the soil moist until the seeds are established. If spring-sown, the wheat and rye will make compost material but not grain. To cultivate the most soil nitrogen, remove the fava and vetch plants (and compost them) when they have begun to flower, before the beans start to mature.

Related topics:

The Overwintering Compost Crop Mix is available through Bountiful Gardens. In areas where the ground freezes, you will need to plant at least a month before frost and the favas may not survive the winter. Get yours now!

Check out John Jeavons' new blog post about compost crops, cover crops and overwintering on Gardening Know How! Time to get your winter crops in!
Wondering what to do with those fava beans? Try our recipe for Fava Bean Hummus!
---
top | Newsletter Home | Article Index | Archive