Rice Experiment Update
By Jes Pearce, The Jeavons Center Mini-Farm Manager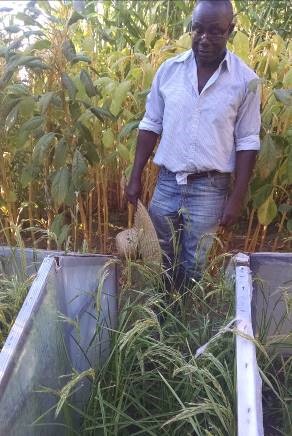 Jean observes rice growth.
PHOTO CREDITS: Jes Pearce

---
This year we planted rice in the garden, despite the fact that Willits is considered a non-optimal climate for rice growing! The type was an upland variety called Duborskian that comes from Russia. We chose this variety with the expectation that its genetics would help it grow well in cooler weather. The seed is available through Bountiful Gardens.
We soaked the rice seed in warm water for 72 hours. Then we seeded it in 6-inch-deep flats on 1- inch centers on April 17. We kept it in our seedling greenhouse until May 13, at which point the rice was approximately 6 inches tall. We transplanted the seedlings into the bed on 10-inch centers and covered them with mini-greenhouses. The rice growth seemed slow at first, and my current hypothesis is that this was due to it being an unseasonably cold May in Willits. That being said, it did eventually begin to grow, reaching an average height of about three feet tall, with an average of five tillers. The plant's general appearance was thin and wispy with very small seed heads. We harvested the rice on October 16th, meaning it was in the bed for five months after about a month in the flat. It appears it takes an overall six-month commitment to grow rice. In the end the rice yielded 16.6 lb per 100 sq ft of biomass at the harvest weight and 7.1 lb per 100 sq ft of air-dry biomass. The seed yield was 0.8 lb per 100 sq ft. This is 1362 calories per 100 sq ft of rice at this yield.

Because of the initial slow growth we did a second experiment with a smaller planting of rice. We seeded the flat on June 12 and transplanted into a mini-greenhouse on July 1. This rice was shorter overall than the earlier planting, but had an equivalent tiller and seed production. However, most of the rice in this later planting did not fully mature before the cold weather arrived in Willits.
With these yields, rice is not meeting the minimum requirements to be considered a Carbon/Calorie Crop in the GROW BIOINTENSIVE system. However, I know that the plant has the potential! We plan to trial it again next year.
Based on our experiment, next year I plan to soak the seed in warm water for 72 hours, or until I see it germinate. I will then seed 6-inch-deep flats on half-inch centers on April 25. I will repeat this process flatting on May 2, May 9, and May 16. I want to experiment more with how long it can stay in the flat and push the limit, but I am expecting all the flats will stay in the big greenhouse for a minimum of 20 days. I do not want to transplant into the ground before the soil temperature has reached a minimum of 60 degrees F. No rice will be transplanted after the first week of June, as I do not think that gives the rice sufficient time to mature before the cold arrives in this climate. All of the rice will be covered with mini-greenhouses. While I received most of my experience about growing rice through our expert rice grower, intern Jean Apedoh, I also referenced the book, The Resilient Farm and Homestead by Ben Falk, where he shares his experience growing paddy rice in cooler weather. This could be a helpful resource for those interested in growing rice as well!
---
top | Newsletter Home |Table of Contents| Archive