The Garden Report:
Changes at Ecology Action
A Message from John Jeavons, Executive Director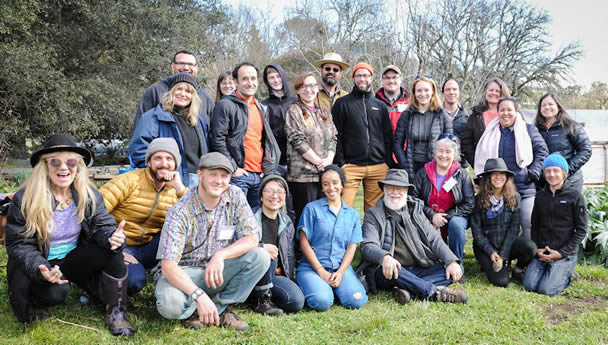 3-Day GROW BIOINTENSIVE Workshop Participants, 2017
PHOTO CREDIT: Cynthia Raiser Jeavons

---
2017 was a difficult year for the world, for our nation, and for programs that support people at the local level. We are grateful for the funding that comes to us—from those who under-stand the importance of empowering people to provide their own nutritious food at home or nearby, while also ensuring that our environment stays healthy. However, despite a great deal of effort on our part last year to identify and make connections with other such visionary donors, due to funding shortfalls, currently we are only able to maintain staff and programs at a reduced level.
Accepting this reality while continuing to seek additional financial support, we have consolidated our programs and are focusing our efforts in two areas: emphasizing the localization of the GROW BIOINTENSIVE system (i.e., supporting the creation and growth of GB training and demonstration programs on a local level in the US and around the world as we have since 1972) and building and improving our online teaching tools to spread GB as widely as possible.
During this transitional period, The Jeavons Center (TJC) in Willits, CA will remain Ecology Action's headquarters, a training hub for domestic and international projects and programs, as well as enhanced national outreach. TJC will oversee administration all of EA's programs, acting as fiscal sponsor for international partners as well as technical adviser for our partners and others who are carrying out GB projects, and facilitating the development of, and online access to, EA publications and other GB teaching tools. Unfortunately, due to the reduction in staff, TJC Mini-Farm will only maintain compost crops in a fallow year – while not as interesting as active gardening, it will build the soil and prepare it to go back into production in an even healthier state when we resume our programs there.
The Victory Gardens for Peace (VGfP) Mini-Farm at Stanford Inn by the Sea, on the Mendocino Coast, is managed by Matt Drewno, and grows stronger each year, with local and global impacts. The VGfP seed bank is supported by farmers and gardeners within a 15-mile radius and gave out over 500 packets of seeds from almost 200 varieties of vegetables, grains, herbs and flowers grown by local farmers in its third year. It has merged its efforts with the Mendocino Seed Exchange, which hosts Mendocino Coast seed exchanges twice a year. Matt taught seed-saving at this year's Seed Exchange and at the Not-So-Simple Living Fair in 2017 and made a presentation on soil restoration at a Transition Town event in December 2017. Over 100 people participated in the classes and workshops Matt gave during the year, including the 9-Saturdays Course. In 2018, the owner of the Stanford Inn, Jeff Stanford, is providing extra land so employees can learn to use GB in community plots. As part of our consolidation efforts, VGfP Mini-Farm will take on a greater role in our research and training programs in 2018. It will be part of a key soil sustainability research project being conducted by GB projects worldwide, and most of EA's classes, apprenticeships and internships will take place at VGfP instead of at The Jeavons Center Common Ground Mini-Farm or the Golden Rule Mini-Farm sites.
As a further budget-conscious consolidation effort, the Golden Rule Mini-Farm (GRMF) will maintain a 10-Bed Unit soil sustainability research project, instead of the approximately 100 beds previously under cultivation. Rachel Britten, Golden Rule Mini-Farm Manager, is also expected to be involved in coordinating the teaching of online internships.
One of the most difficult parts of consolidating our Mini-Farms and programs has been that a group of people who made long-term commitments to EA and had formed strong bonds with each other have found it necessary to find other sources of income, with a resulting dissolution of their work teams. The good news is that they will probably be staying in Mendocino County and working with agriculture-related projects. We have already mentioned Matt Drewno, and Rachel Britten, who are remaining with Ecology Action. Here is the status of the others:
• Jes Pearce (2017 Manager at TJC Mini-Farm) and her partner Keith plan to start their own farm in Mendocino County, hopefully at Ridgewood Ranch (The Golden Rule Community), in partnership with the School of Adaptive Agriculture.

• Rachel Laase (2017 Assistant Manager at TJC Mini-Farm) signed a one-year contract with For the Wild, a project to help plant redwood trees in the region NW of Willits. She is still volunteering some time at TJC and is also involved at VGfP.

• Justin Bartolini (2017 Assistant Manager at GRMF) is venturing to his original home state of Washington where he plans to teach GROW BIOINTENSIVE.

• Jake Blehm (former EA Assistant Director) has taken a full-time job working for a nonprofit organization closer to his home. He is no longer Assistant Director but helps EA with projects in Africa related to funding a few of times a year.

• Steve Moore (former Associate Director) has as a result of challenges caused by living a continent away from EA headquarters. He is continuing to assist EA with advice and GROW BIOINTENSIVE research and development activities. Steve prepared materials for the GB Latin America conference and workshop that took place in Nicaragua, January 2018. He is also writing a key how-to publication on GB, and is collaborating with John Jeavons on a protocol for GB testing and research.
2018 will include a search for a new Assistant Director, which we hope will be successful by 2019. If we find the right person, he or she may be in line to take on the position of Director as early as 2020. At that point I may retire, remaining active in an advisory capacity as Ecology Action's work continues to grow.
Reduced funding has also meant the closing of the successful Common Ground Garden in Palo Alto. 3,000 pre-school, grade school, middle- and high-school students accessed the learning resources at CGG, and a sixth grade online GB curriculum was created, which is available to the public here (web link). We're grateful that the Palo Alto Christian Reformed Church, which hosted Common Ground Garden for many years, will continue to use the site for gardening.
Bountiful Gardens mail-order service also closed in 2017. BG was started 32 years ago to provide open-pollinated seeds (which had become almost non-existent) to the public, and to create a pattern for similar small local seed companies to follow—hoping to eventually work itself out of a job. Now, with dozens of other quality seed companies available and local seed banks and seed libraries becoming common, we consider that we have been successful in achieving our goal. As a result of the overwhelming competition from other online and mail-order seed sellers, BG's income decreased significantly, and it shut down operations at the end of 2017.
This has been a challenging time of transition for all of us, and yet we have been uplifted and our work reaffirmed by the number of people who continue to want to learn from us, as well as input from people we regard highly. Alice Waters, owner of Chez Panisse in Berkeley, and Jeff Stanford, proprietor of the Inn where VGfP is located, both declared recently that with the world's current situation, GROW BIOINTENSIVE is needed now more than ever. And Mercedes Torres, director of the GB program in Ecuador since 2000, wrote, "The truth is, getting to know Biointensive has become a spiritual strength in my life that I didn't have before. . . I use every minute I can to motivate new people in order to stimulate their human values and to share the life philosophy you share . . . that has stayed in my spirit as a wonderful gift."
We teach people to grow abundant, healthy food, to build rich, fertile soil, and to create a happier, more sustainable life for themselves, their families, and their communities. The ripples of this happiness make the world safer, more sustainable, and more joyful for all of us, here on Earth. Now, more than ever, we need your support to continue our work.
A new crop of interns arrive this spring, our publications are going online for everyone to use, and all around the world, hopeful individuals are learning to take care of their part of the earth – their garden – because of the work we do. Please consider donating to help keep us growing strong. Anything helps. Thank you.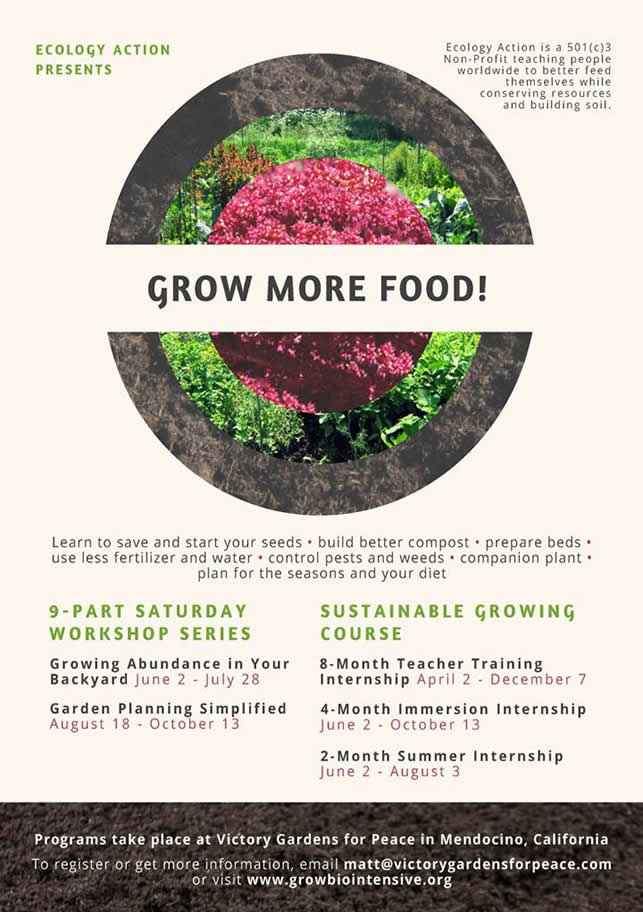 ---
top | Newsletter Home |Table of Contents| Archive