Ecology Action's 3-Day Workshop, Fall 2018
By Katharine Cantwell, Ecology Action Office Manager and Executive Assistant to the Director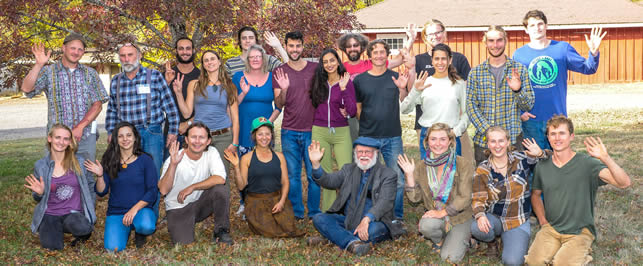 Participants at Ecology Action's Fall 3-Day Workshop
PHOTO CREDIT: Cynthia Raiser Jeavons


---
I had the awe-inspiring opportunity to participate in the 3-Day Workshop at the Ridgewood Ranch site along with my 21-year-old son, Cassidy. I've been working for Ecology Action since January 2018, and this workshop was a great way to round out the year. In the summer I shared the book How to Grow More Vegetables (HTGMV) with Cassidy, and he was excited about the great information and the encouraging news that shifts in gardening practices and climate change can be made with proper intent, and knowledge, backed by experience and science.
There were 24 participants, including the two interns from the Victory Gardens for Peace Mini-Farm. There were farmers and non-farmers—those who intend to farm, from as far away as Rhode Island and Toronto, Canada. It was a sweet mix of individuals and three couples. I appreciated the fact that about half of the participants were under the age of thirty. Cassidy shared with me that when he was talking to his peers in Santa Rosa about going to the workshop, many are interested in self-sustainability, which of course entails growing your own food.
We started with the true and heavy information of what's happening on our planet concerning climate change and the diminishing amounts of farmable land. It's hard to hear, but the truth can be that way. The GROW BIOINTENSIVE method is a remedy not only for our food shortage problems, but also for our soil issues. It's good to have a global understanding and make the appropriate changes right where you live, by starting small, growing just a couple of beds and getting to know the land that you're growing on. Gabby, one of the interns, was great for energizing us all with stretching and a run around the classroom in between lectures to keep us on point.
The weather was outstanding, and I really enjoyed the garden activities. My favorites were the composting portion and the grain threshing. I'm looking forward to creating my own compost pile and to growing grains. Everyone was glad to be outside learning and sharing. The presenters, John, Matt, Jes and Ellen, were not just knowledgeable, but genuinely excited to share. The best teachers are the ones who love what they are teaching.
We had two group activities, which were engaging and really made you think. The first was 'What would you have to do to grow all your own food in five years?' We were asked to come up with year-by-year plans and get it all down on poster-size paper. It was interesting to see the different plans the participants created. The second activity was quite practical, 'Planning your own one-bed unit.' We used the Master Charts from HTGMV, and there was some math involved. John critiqued each plan with positive feedback. Gardening involves planning if you want to grow your food and soil.
We had the great fortune to be fed by Cynthia, who used the 60/30/10 garden concept on our plates and bowls. Her soups were outstanding, and we had cornbread made by Ellen using grains from the Mini-Farm. The networking dinner was an incredible Indian meal with a divine raisin chutney. For dessert we had cashew lemon cheesecake made with all vegan ingredients. Good eats, along with good conversation, were had by all. I believe great connections were made and people were pleased with the information that was presented. The workshop manual is a nice learning tool and a great reference for future use. I'm glad I got to share a crucial part of what we do at Ecology Action with my son. It's always inspiring to be in a room full of like-minded individuals.
---
Interested in attending a 3-Day Workshop? We hold them twice a year, in March and November.
Sign up here!
---
top | Newsletter Home |Table of Contents| Archive