Tangy Lemon Cashew Cheesecake
This is the vegan cheesecake served at the Fall 3-Day Workshop.
Taken from I Am Grateful—Recipes and Lifestyle of Café Gratitude.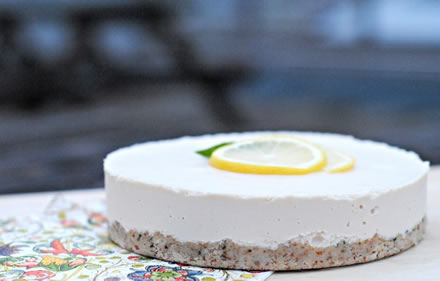 Creamy, tangy, delicious, vegan and gluten free!
PHOTO CREDIT: Pinterest


---
For the crust
2 cups almonds
1/4 tsp vanilla extract
1/8 tsp salt
3/4 cup chopped dates

For the filling
3 cups raw cashews, soaked
1 1/2 cups almond milk
1 cup lemon juice
3/4 cup agave nectar
1 tsp vanilla extract
1/4 tsp salt
3 Tbsps lecithin
1/4 cup raw, unscented coconut oil

Garnish
Top with lemon zest or slices, or fruit of your choice

To make the crust
In the bowl of a food processor fitted with the "S" blade, process almonds, vanilla, and salt until finely crumbled. Continue processing while adding small amounts of the dates until crust sticks together. Press crust to form a firm and even layer over the bottom of 9 1/2" spring-form pan that has been greased with the coconut oil. You can use your fingers and/or the bottom of a a measuring cup to form a smooth, even surface.
To make the filling
Blend all ingredients except lecithin and coconut oil until smooth. Add lecithin and coconut oil and blend until well incorporated. Pour into the spring form pan with prepared crust, cover to keep the top from drying out, and place in refrigerator or freezer about an hour, until firm. Carefully loosen the springform pan and release the cake (sometimes it is necessary to run a knife dipped in hot water along the edge of the cheesecake to loosen it from the sides of the pan. Re-dip the knife as necessary to prevent the knife from dragging at the cake. After loosening the cake, pop open the latch on the pan and lift away the sides). Slice and serve!

Makes one 9 1/2" cheesecake .
---
top | Newsletter Home |Table of Contents| Archive