Artists for Soup—Nicaragua
facebook.com/groups/830078337045658/about

---
Artists for Soup is a non-profit organization that works to support sustainable development work in La Paz Centro, Nicaragua. Over time, they hope to improve the possibilities for school retention, food security and creative enterprise for women in the city. They will be working with Nicaraguan organizations to achieve these goals. The organization is "…dedicated to reducing hunger, malnutrition and poverty by empowering women and secondary school students with community bio-intensive garden development, solar oven/nutrition classes, science and technology program support to secondary schools, human rights training for women, arts cooperative development and more." It was started several years ago by group of women artists who created and sold paintings, to enable the project to begin. It started by "growing veggies for soup" and continues to expand. They have taught 2,000 people in and around La Paz Centro, Leon, Nicaragua the GB method. (Read the article The Growing Edge: Biointensive Thriving in Nicaragua in this issue).
Huerto Eli is the Biointensive garden developed by Elioena Arauz, the Program Director of Artists for Soup. So far Elioena has 44 garden beds producing organic vegetables.
Environmental degradation and hunger are inextricably linked. What can be done about this? Artists for Soup supports groups teaching the Biointensive method. In 2014, they started cultivating a collaboration with "La Fortaleza," or "Strength," a women's Biointensive gardening group in La Paz Centro. This group works with the strategy of "pollination." They try to take their knowledge and spread it to receptive groups. Since 2014, the group has succeeded at initiating large Biointensive projects in schools, churches and family patio gardens. One of their recent successes is with a group called "Choir of Angels," a care/school program where young children of single parents receive a meal, snacks and care while their parent works. They hope their gardens will supplement the beans, rice and cereal provided by the government and make meals more nutritious.
In August of 2016, Artists for Soup and La Fortaleza gardeners started making a new community garden in a settlement called El Quilombo. This settlement currently houses 353 Nicaraguan families, most of them living in improvised wooden, plastic, and sheet metal homes. El Quilombo has been developing since 2012 when the land was granted by the government. With technical assistance and training, a new group of women has begun to form in the settlement. Artists for Soup invites you to learn more about their methods and the big impact this new work will have in the future on some of the poorest residents of La Paz Central. To read more and to support the work in La Paz Centro, visit artistsforsoup.org.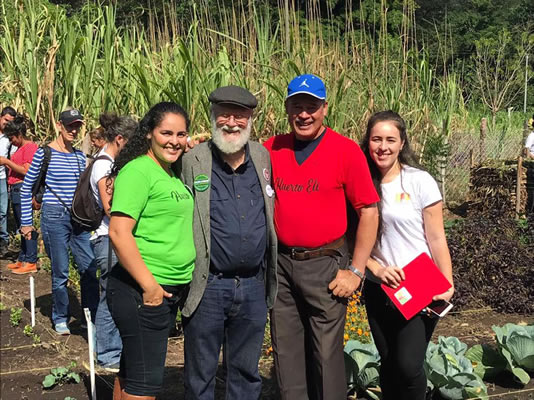 L to R: Elioena Arauz, John Jeavons, Don Sergio Arauz and Alyeriz Arauz Zeledo
during John's recent visit to Nicaragua (see the article in this issue)
PHOTO CREDIT: Artists for Soup staff
---
top | Newsletter Home | Table of Contents | Archive