The Jeavons Center Mini-Farm Report
by John Jeavons, Executive Director, Ecology Action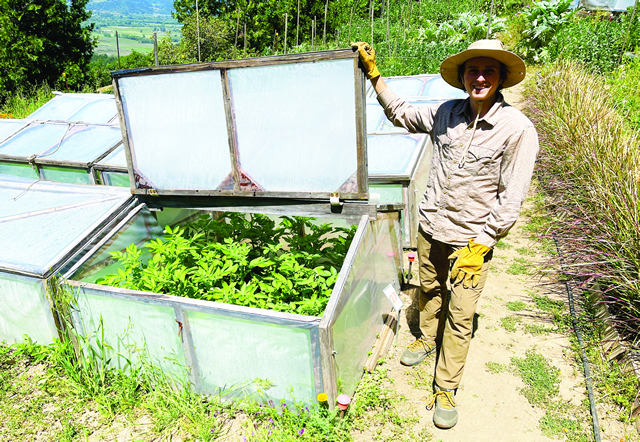 TJC FTT Sage Miller, with potatoes growing in a mini-greenhouse
IMAGE CREDITS: EA staff

---
"It is such a blessing to be part of such an elegant and friendly ecosystem!"
"You will either make things happen, watch things happen, or wonder why things happen."

– Sage Miller, TJC FTT, planting crops in May, 2021

As you can see from the quotes above, aptly named Farmer-Teacher Trainer Sage Miller continues to bring a joyful wisdom to his work at The Jeavons Center! And we are hungry for joy as 2021 continues to be an "interesting" year for Ecology Action (and the rest of the world), as we learn to cope with the ongoing challenges presented by COVID 19, and a continued water situation in a drought year. But as Sage says, being proactive in making things happen is preferable to watching or wondering why things happen, and so we take inspiration from the vital and resilient ecosystem we live in, and from the work of our global GROW BIOINTENSIVE® family, to continue to grow as a source of GB information, education, technical support, and inspiration, to pursue our goal of facilitate people everywhere to catalyze pro-activity in growing their own soil, food, and thriving ecosystems.
While some of our planned projects are on hold as we wait for a rainier year, other projects are moving ahead. TJC current conditions and activities in 2021 include: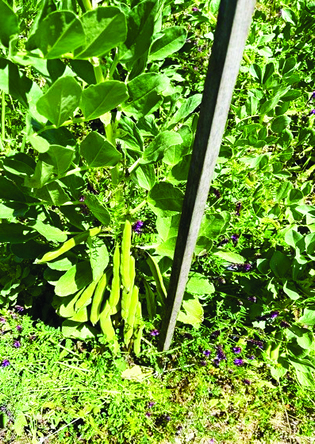 • Continued soil improvement, as can be determined by the lush growth of two varieties of cold weather fava beans, the even water holding capacity of the soil to a depth of 24 inches in many of the growing beds, and the soil's relative friability. All this thanks to the hard work and energetic application of the GROW BIOINTENSIVE method by the 2020 Fit Team.
• Climate challenges: Northern California is currently experiencing an historic spring drought and the rainfall level in Willits is at 20 inches. To put this in perspective, in our first year at TJC in 1972 we experienced 84 inches/7 feet of rain! A more normal level for this time of year might be around 45 inches. The entire state is struggling with water shortages, and even with GB's water-saving ability, we may need water brought in as the season progresses to properly water the 17 GB annual beds planned as well as numerous perennial beds.
• Workshops: We hosted our Spring 3-Saturdays Zoom Workshop in March, with participants from across the US and beyond: three from Virginia, two each from Bermuda and Texas, and one each from Alabama, California, Connecticut, Idaho, and Illinois. Some participants in the southern U.S. are involved in key projects to help low-income families and children become more food-secure, and their example is heartwarming. All the participants provided progress and inspiration for all of us! We plan to hold our Fall 3-Saturdays Workshop online as well, on November 6, 13 and 20, 2021—if you would like to attend, you can register here.
• Internships: Ecology Action's second 8-Month Online Internship began in April with an even larger crop of global participants than last year: sixteen from Kenya, four from California, two from Spain, and one each from Canada, Chile, Guatemala, Hawaii, Honduras, Malawi, Mexico, New York, Nicaragua, Puerto Rico, and Sudan. Having such a wide range of participants from across the globe in one class is a wonderful experience, and provides unexpected benefits to us all. For example, one participant has already offered to collect data for bananas to be included in the Master Charts for the next edition of How to Grow More Vegetables (bananas are an important fast-growing tree crop that provides calories and biomass for farms and gardens the tropics). Ecology Action has been wanting exactly this type of information for a long time. Another participant will translate the Farmers Mini-Handbook into Japanese!
Depending on COVID regulations, VGFP may offer a few onsite 6-month internships for U.S. participants, but TJC will not host onsite interns in 2021 or 2022. Instead, with a goal of developing an increased number of Farm-Leaders and Trainers on all continents, we will continue to host about 30 participants each year in our popular 8-Month Online Internship. Interested? Apply here.
• Establishing an experimental 10-Bed Unit (10BU) in our restrictive serpentine soil, potentially leading to the development of a complete one-person diet/soil-growing combination in as little as a 1,000 square-foot growing area. This work complements the ongoing 10BU research at our Victory Gardens for Peace site, as well as other locations globally. Even though there will be fewer annual growing beds than the traditional 40-bed unit, the 10-bed unit that will evolve over time from this and other experiments will include our normal demonstration, education and research aspects to learn from. Crops planted by Sage Miller in this 10BU to date include 65-day maturing Potatoes, as well as Dahlias, Sunn Hemp, and Flax.
An important aspect of the 10-bed unit is the choice of not only the basic plants that will make up the diet, but of the specific varieties used, which can make a difference in how successful a diet design will be. For example, the 65-day maturing potatoes Sage is using in this garden yield the same as 95- and 120-day maturing ones, and so they produce more calories and nutrition in much less time—using less water and labor. This attention to detail is important in a world with a rapidly decreasing amount of farmable soil, as approximately 12% of the calories, 8 % of the protein, and 18% of the calcium eaten globally comes from potatoes grown on 2.4% of the cropland. Some varieties of dahlias, the national flower of Mexico, have the unusual potential of being an all-round "60:30:10" crop, as they can produce a significant amount of biomass in their stems, edible calories in their tubers, and income from their beautiful flowers. Flax-seed is good for eating and provides a good source of vegan omega-3 fatty acids. It also provides fiber from which twine can be made—and some varieties are good for producing fine linen!

• Legume interplanting experiments continue to focus on growing crops and soil fertility in the smallest area at the same time, through well-chosen crop pairings.
Soil programs with involvement of EA headquarters at The Jeavons Center:
Sponsoring the GROW BIOINTENSIVE® Soil Test Analysis and Amendment Recommendation (STAAR) Training Program with EA Soil Fertility Advisor John Beeby as master teacher. I have great hope for the STAAR program, which focuses on educating GB farmers and farmer-leaders to understand and use soil test analysis and scientific soil amendment recommendation standards to build lasting and sustainable soil fertility now and into the future, and believe it will help to reverse the rapid depletion of the world's farming soils.

The first year of the STAAR program has been funded, and its 14 participants began the four-year program on March 28, 2021. Everyone is excited about the classes they are taking. Participants include several people in Latin America, Kumiko Tsutsui in Guatemala, Agustín Medina in Aguascalientes, Mexico, and Suzana Hernandes in Chile; plus Simon Nayaga in Kenya, Guillermo Rodriguez Barrio in Spain, and Shyam Payakurel in Nepal, Matt Drewno in Mendocino, CA, and James Christie-Fougere in British Columbia, Canada.

As a part of this program, by the end of 2022, John Beeby hopes to release a companion booklet to Test Your Soil with Plants, which may provide an easy guide for farmers everywhere to perform a complete soil test utilizing just three plant crops and a pH strip.


Another program, Soil Test Research Stations (STRS) is being implemented at 10 different sites around the world with different soils and ecosystems. The goal at these sites is to use local food crops to grow one person's complete annual calories and plus compost materials needed for the growing sustainable soil fertility, including sufficient carbon and nitrogen. A newly formed soil group that includes John Beeby, Agustín Medina, Steve Moore and Matt Drewno is working together to determine how to make these soil test research stations most effective.
International programs with involvement of EA headquarters at The Jeavons Center:
Our Latin America and European partner, ECOPOL-El Mesquite, led by Juan Manuel Martínez with Agustín Medina and Marisol Tenorio, is developing a new website to expand its teaching of CULTIVE BIOINTENSIVAMENTEMR. It is estimated that ECOPOL has directly and indirectly trained about 350,000 new farmers a year for a total of ~3.7 million people provided with access to GB education during the past 11 years.


Our Kenyan partner G-BIACK, led by husband and wife Co-Directors Samuel Nderitu and Peris Wanjiru, are working to establish satellite training stations in the 47 Kenyan provinces. As of April 2021, they have established 39 of these stations, and hope to make GB available to everyone in Kenya by 2030.
Now more than ever, it is vital for everyone to know how to grow food and soil, sustainably. As you read this issue, you will see the how Biointensive projects are growing around the world, helping to heal the Earth and its people, right where they are. We love our Global GROW BIOINTENSIVE Family and are proud of the work we and our partners do. We look forward to growing strong with you through 2021 and beyond!!
♥
---
top | Newsletter Home |Table of Contents| Archive