Afghan Training Center Reaches Women
Salik Naqibullah, an Ecology Action intern in 2004, is now the director of the Afghan Organic Training Center in Jabulsaraj, Afghanistan. He recently sent a report on the Center's activities in 2012
Afghan women learning and working together at the training center garden.
The greatest achievement this past year was that women who have access to land were encouraged to establish kitchen gardens at their homes. The gardens were at least 120 sq meters in size. At the Jabulsaraj Training Centre, 34 women who were already working in vegetable gardening received comprehensive technical training. In addition, the nutritional and health importance of vegetables was explained.
Other trainings and tours took place during the year:
The Ministry of Agriculture in Darulaman (The Silk Worm Farm) donated land to 80 widows, and all of them were trained in farming.

Almost 70 farmers received complete training in HTGMV. They also received postharvest training, since at least 30% to 35% of vegetables spoil because of lack of knowledge in sorting, grading, packing and proper transportation.
Farmers and other people have shown increasing interest in making compost. Fifty farmers participated in two workshops with four days of hands-on training in composting.
Men and women extension workers from eleven provinces received practical training during three workshops. All trainees actively studied organic techniques.
• Two groups of students from Alberoni University and an agriculture high school from Parwan visited the training center. There were 23 and 16 people in each group respectively.
In addition to the above training activities, How to Grow More Vegetables was translated into Persian. It is now being used by all women extension workers and government extension workers as a source of information about vegetables and how to grow them without chemicals, fertilizer and poisons, and how to protect our ecosystem and environment for the next generation. Two small pamphlets about garlic were also published.
Most of the crops from the garden were harvested disease-free and healthy, and the rest of the crops were much better than previous years, as the soil improves at the new site.
By March 2013, Salik hopes to establish a 20,000 sq ft Training Centre for women extension workers and women farmers in Badan Bagh. The size of land would be 2,000 sq meters.
Salik completed his report by saying: "Except for deteriorating security in Afghanistan, we have not had any significant problems."
Funds to enable this women's training program to run and expand to full strength are crucial.
To make a donation, click here and select "Afghan Garden Training Program" from the Program Designation list.
(A new window will open with our secure donations page hosted by Network For Good.)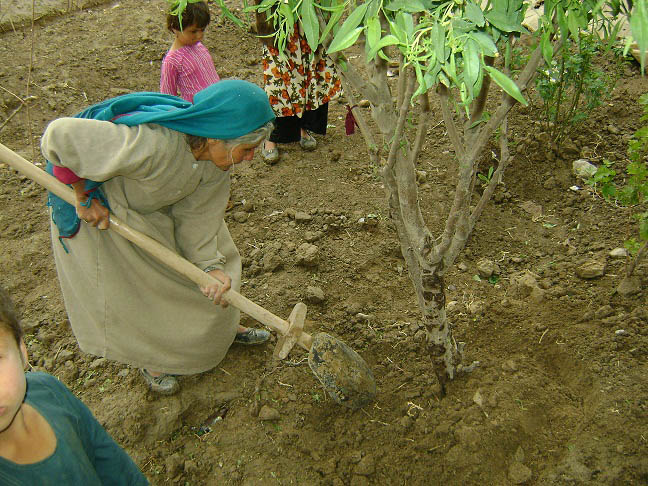 A woman tends a tree at the training center.
---
top | Newsletter Home | Article Index | Archive