كيف نزرع المزيد من الخضار
How to Grow More Vegetables by John Jeavons
Arabic translation of the 5th Edition 354 pages.
English version ©2012 Ecology Action. Electronic format ©2021
(~70 MB PDF Download)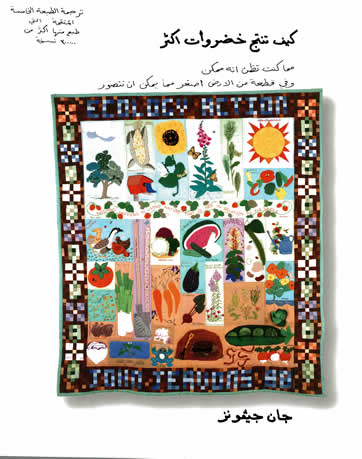 Ecology Action is a non-profit organization, but the work we do -- like creating this beautiful
Arabic translation of How to Grow More Vegetables -- costs money.

We are offering this book to you for free, but we ask you to make a donation
to help keep our work growing ($5.00 suggested).

Donations help us teach people around the world to grow healthy food and fertile soil,
and allow us to create beautiful and useful publications like this one for the whole world to use.
Click the button below to select a donation amount (enter 0.00 if you do not want to donate)
enter your name and email address in the space provided,
and get a link to download your copy of How to Grow More Vegetables in Arabic.
(Arabic translation of this page is in progress - update soon!)