Click a tab below to make a donation or become a member,
and find out more about our projects, partners
and what your donation can do.
Or click here to download a quick-start guide to our programs and proposals (~1.5 MB PDF)
Donate or
Become a Member
Bequests &
Contributions
Projects and
Partners
Our Wish
List

Mission
Statement
What We Do:
GROW BIO
How Your
Donation Helps
Becoming a Member of Ecology Action
By becoming a member of Ecology Action, you will help further our mission of teaching people worldwide to better feed themselves while building and preserving the soil and conserving resources. Memberships and contributions support programs in education training, and outreach, as well as our continuing research in GROW BIOINTENSIVE® Sustainable Mini-Farming.

Your donation to Ecology Action means you are part of a global network of people working to replace hunger, poverty and environmental challenges with sustainable and healthy abundance around the world.

All donations and contributions to Ecology Action are tax-deductible. A yearly membership begins at $40 and includes Ecology Action's tri-annual newsletter.
Contribution Levels:
$40 Member
$60 Farmer
$100 Family
$250 Neighborhood
$500 Village
$1000 Town
$5000 Region
$10,000+ World of Hope
Other_______

To donate or become a member, click the button above.
A new window will open with our secure form hosted by networkforgood.org.

Mail-in contributions and memberships can be sent to:

Ecology Action of the Mid-Peninsula,
5798 Ridgewood Rd.,
Willits, CA 95490.

Please contact us at (707) 459-0150 or email
contact@growbiointensive.org, if you have any questions.

Large or small, your contributions are essential to
Ecology Action's efforts to create a more sustainable future.
Bequests and Alternative Contributions
As farmers, we know that we are all part of the great cycle of life, and that the resources of today can grow a beautiful and sustainable tomorrow for generations to come. Bequests and donations are a way to support the continued growth of our sustainable agriculture education network into the future.
Ecology Action has bequest plans available, including charitable remainder trusts and annuities.
A bequest can be a beneficial way to support Ecology Action's work while reducing estate taxes, and can be in the form of a specific gift of cash or property. It may be structured to provide support to specific programs, or can be given without restriction to best meet future needs. A will is essential if you wish to make a bequest, and an attorney should be consulted;
we will be glad work with you and your attorney.
Another simple and effective way you can support Ecology Action is by offering charitable gifts through a one-time contribution or ongoing donations. Memorial and Tribute donations are a wonderful way to remember or honor a loved one by building a better world in their name. A donation to Ecology Action can qualify as a U.S. tax deduction; individuals outside the U.S. should consult their nation's tax code.
Contribution Options:
One-Time Cash Contributions and/or Regular Annual Cash Contributions
Online or Via Mail (See "Donate or Become a Member" tab, above)
U.S. Savings Bonds
Qualified Retirement Plans
IRA's
Annuities
Profit-Sharing Plans
Tangible Personal Property
Memorial and Tribute Gifts
Significant Professional Contribution Gifts and Matching Gifts
If you are interested in one of these options, please contact us:
5798 Ridgewood Road, Willits, CA 95490
contact@growbiointensive.org

Projects and Partners
Click a section below to get more information on
our programs, partners, proprosed projects and other ways to getting involved!
Or click here to download a quick-start guide to our programs and proposals (~1.5 MB PDF)
(to close a section click on the title bar again)
Contact Us and Get Involved
If you have questions about any of the projects described here,
want to arrange a special donation, bequest, tribute or other contribution,
or if you would like to connect Ecology Action with a major donor, please do not hesitate to contact us.
5798 Ridgewood Road, Willits, CA 95490
contact@growbiointensive.org
---
More Ways to Get Involved
Take a tour, a workshop or a class:
check out growbiointensive.org/events_main.html for education opportunities!
Bring a workshop to your town:
Start a petition and get at least 200 people to show interest in attending a class, and then send us a notice!
Plan a screening for a community gardening group:
our how-to videos and free self-teaching booklet can show you and your friends how to get started!
Read a book with a child, a senior, or someone who could use some company, and plant a garden together:
The Sustainable Vegetable Garden is great for beginners!
The following is a list of items we need and
a list of special ongoing projects we're hoping you'll support with your tax-deductible contributions.
Please know that we are happy to receive contributions for a portion of any of the amounts listed above.
If you want to donate an item, make a contribution for a portion of a project, or if you do not want to pay online,
email us at donations@growbiointensive.org
or call (707) 459-0150 between 10 AM and 3 PM PST.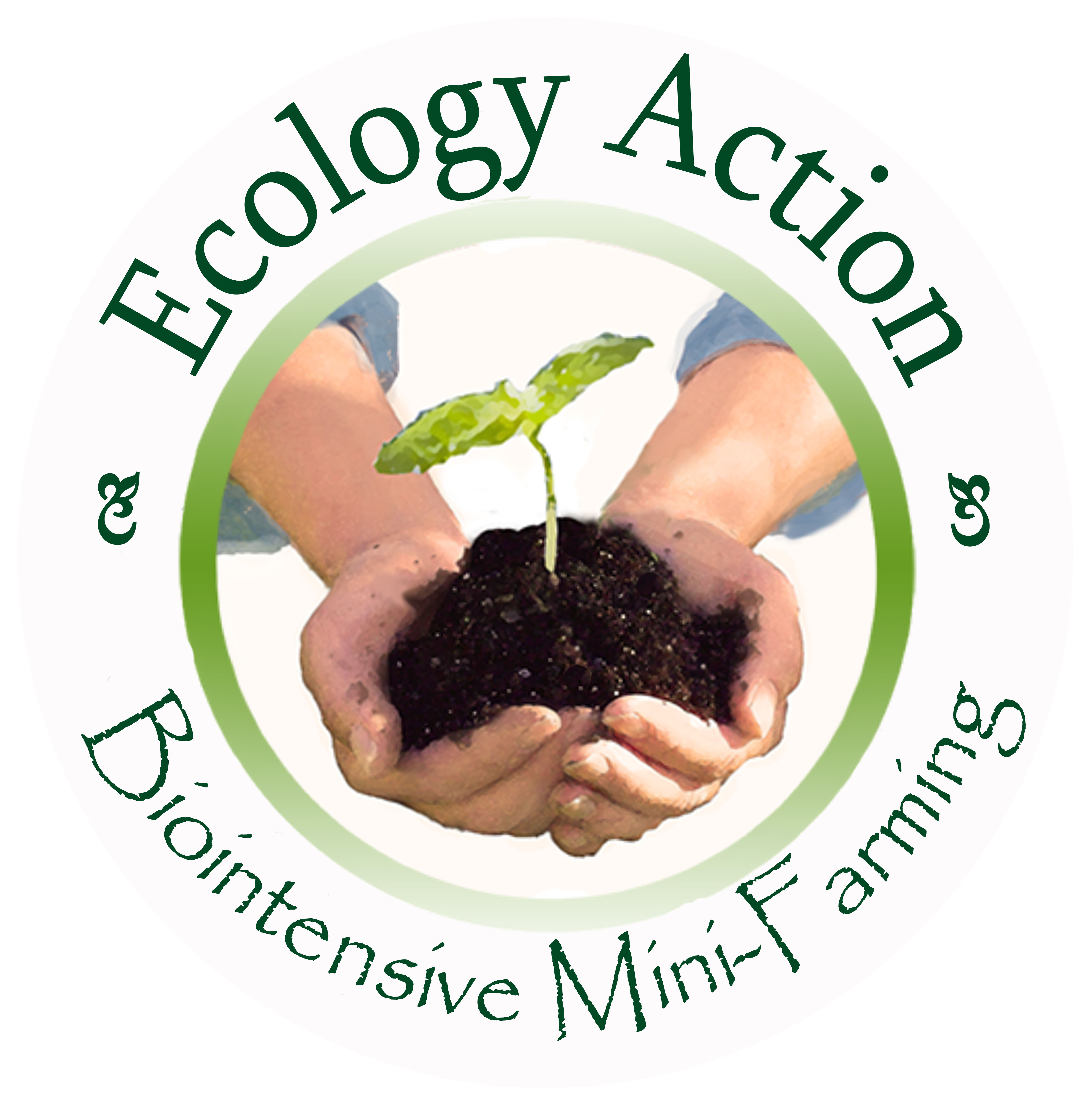 Aware of intensifying world challenges and the basic need of people to feed themselves, we have been working for 40 years to develop an elegant, small-scale agricultural system — GROW BIOINTENSIVE® Sustainable Mini-Farming — that when practiced correctly, nurtures healthy soil fertility, produces high yields, conserves resources, and can be used successfully by almost everyone, everywhere.

Our goal is to help this system be known and used locally...on a worldwide basis.

Our path to accomplishing this goal lies in our training programs and our publications, and the financial support of our members and donors.

Through the generous contributions of visionary people like you, Ecology Action has catalyzed many projects worldwide—projects which have put down strong roots and have been the means by which hundreds of thousands of people have learned how to successfully grow their own food and to grow a better, more sustainable life.

As our projects continue to grow and flourish, the world presents an increasing need for the expansion of existing projects, and the creation of new programs to attend to the challenges presented by climate change, food security, resource scarcity and population growth.

We're glad you're interested in our work, and hope that you will join us in growing a better world. In the following pages you will find short descriptions of some of the programs that need your help.

If you would like more information on any of these projects, or would like to donate a sum greater than that allowed on our secure donations page then please don't hesitate to contact us:

Ecology Action
5798 Ridgewood Road Willits, CA 95490
Email: contact@growbiointensive.org

...help widows and orphans in Malawi, on the brink of starvation and marginalized from
society, learn the skills they need not just to survive one more day alone,
but to build a thriving community together.
…bring hope to the people of South Sudan, where according to the World Food
Program 4 to 5 million people are on starvation track,
requiring $162 million in emergency food aid.
...transform barren land in the arid regions of Mexico as it comes to life under the care of
farmers who graduated from Ecology Action's Internship Program.
...catalyze positive change as grass roots farmer-to-farmer teaching programs
take root across Latin America, Africa and the Pacific Rim.
...grow the next generation of farmers as interns from US colleges gain skills to teach
sustainable agriculture in communities across the county.
...make it possible to provide community-enriching workshops and classes, empowering
online learning tools, informative newsletters, books, videos and other publications that
help millions of people across the world to take control of their own food security.
Your contribution means all this ...and much, much more.