A Internship 2020:
8 months to certification, onsite
Internship
Description

Internship
Expenses
Internship
Schedule

Reading
List
Program
Site
Internship
Application
GROW BIOINTENSIVE
8-Month Internship
2020 Season

Applications for the 2020 Internship are now being accepted.
The internship will start March 21, 2020 and end November 21, 2020
Application Deadline: September 15, 2019
US Participant Notification by Octrober 15, 2019

INTRODUCTION
Despite technological advances in agriculture there are still more than 1 billion malnourished people in the world.1 Rising food prices have led to political unrest in many countries.2 In addition to the social problems of our global food system, current farming practices are unsustainable. Conventional agricultural techniques depend heavily on non-renewable resources, outside inputs from other soils, and deplete farmable soil - our most important finite resource. The UN Food and Agriculture Organization has stated that the solution to these problems can be found in small scale, localized, low-input agriculture:

"Global food production is more than enough to feed the global population, the problem is getting it to the people who need it. In market-marginalized areas, organic farmers can increase food production by managing local resources without having to rely on external inputs or food distribution systems over which they have little control and/or access3."

Aware of the intensifying world challenges and the basic need of people to feed themselves, Ecology Action has been working since 1972 to develop an elegant, small-scale, truly sustainable agricultural system. This system, known as GROW BIOINTENSIVE, is a high-yielding agricultural method that emphasizes local food production (based historically on intensive food raising systems) while building and regenerating the soil that feeds us. Ecology Action has a network of affiliate organizations and former interns working around the world to enable people to promote good health and sustainable food security.
The GROW BIOINTENSIVE® method focuses on using small-scale, organic, non-mechanized food-raising techniques as a way of life. The work we do requires commitment, responsibility, patience, time, attention to detail, willingness to follow detailed instructions, self-motivation, and mental and physical stamina. While we do not wish to discourage those genuinely interested in the program, we also want to make sure that applicants are looking to enjoy a lifestyle of simple living with a focus on wholistic health and sustainability.

ABOUT THIS INTERNSHIP
Ecology Action offers an 8-month internship program where qualified participants who want to be key GROW BIOINTENSIVE resources for their region can get involved in hands-on demonstration, teaching and research in sustainable agriculture and closed-system food production. The internship focuses on the GROW BIOINTENSIVE Sustainable Mini-Farming technique and the low-technology lifestyle appropriate to development work, and results in certification as a GROW BIOINTENSIVE teacher. It begins April 1st of each year.
Participants will learn practical skills that address issues of food security through a combination of online classes, hands-on fieldwork, and onsite classroom teaching. They will learn to use a closed-loop, soil-building, resource-conserving, sustainble organic approach to food production. In addition, interns will learn about positive social solutions to food security issues.

These internships are intended for people who already have an established understanding of the GROW BIOINTENSIVE (GB) method and want to take their skills to the next level. Specifically, we have developed these internships for people who:

Have already taken a workshop or other course in the GROW BIOINTENSIVE method, or other course in the GB method, or are involved in established projects and programs that use the GB method already;
Are interested in an in-depth understanding and experience of why GROW BIOINTENSIVE works and experience of why GROW BIOINTENSIVE works and how to modify it for other climates, soils and cultures; and
Expect to be actively involved in public service in this kind of work in this kind of work (with selective preference given to those who have a strong interest in applied sustainable farming and/or demonstrate a significant ability to use the skills they gain through an internship to benefit their communities and the planet).
This on-site internship is open to US and International applicants who meet the prerequisites listed above, and requires that participants live full-time at the program site in Mendocino, CA for the duration of the program April-December of 2018. The program includes a combination activities: lecture and demonstrations, study, field work, teaching, and "living the method". This combination is designed is so that participants learn Ecology Action's processes both theoretically and practically, and can understand the processes that are involved in starting this type of work (GROW BIOINTENSIVE farming, low-tech living, teaching the method to others) as well as performing these activities over the long-term.
The 8-month Onsite Internship program will overlap Ecology Action's 2-, 4-, and 6-month Internships, the 9-Part Course Series, and 3-day workshop programs and will host farmers and food-growing activists from the U.S. and abroad, giving all the interns a chance to network with additional people interested in similar work.
Click here to download a full course description, including curriculum and program expenses. Please remember that the course description is an example, and that the curriculum, while it will cover these topics, may vary depending on the instructor and how the onsite activities are organized at the internship sites.
Our internship programs are an opportunity for you to assist Ecology Action in its mission to teach people to grow food and increase soil fertility while conserving resources, with both direct and indirect learning occurring in the process. During the internship, emphasis is placed on the ability of participants to learn to farm and develop GROW BIOINTENSIVE diet and sustainability designs and approaches, in the belief that the most creativity and strength come from people joining forces and working as a team after they have fully developed strength and independence. We have found that skill levels can be dramatically upgraded with this type of training.
Ecology Action's research, demonstration and education mini-farm garden sites, while beautiful and enjoyable to work in, are first and foremost research gardens where a multitude of experiments are run concurrently. The research focus is on using the GROW BIOINTENSIVE method to conduct scientific tests and collect data to provide practical solutions to the challenge of growing food, creating and maintaining sustainable soil fertility, and conserving resources on a closed-loop basis, while living a sustainable life.
While onsite at Ecology Action, interns have minimal administrative responsibilities, and are able to focus on learning through reading, classes, and work in the field. Time may be available for an independent study project, and there are periodic one-hour meetings with an Ecology Action staff member to ensure progress is being made. There are also weekly meetings with staff and other interns to discuss progress in the research garden. The Interns will take part in seasonal courses, tours, and workshops. Provided that the required work is completed, interns will be certified by Ecology Action as GROW BIOINTENSIVE teachers at a level appropriate to their skills.

An internship at Ecology Action is an opportunity to learn valuable techniques and information, to experience an alternative living style, to make lifelong ties with other interns from different states and countries, and to assist Ecology Action in accomplishing it's mission to help farmers, gardeners, and communities around the world to raise food, conserve resources and build fertile soil sustainably.

We hope you join us in 2020!
---
1 http://www.bbc.co.uk/news/science-environment-11503845
2 http://www.guardian.co.uk/environment/damian-carrington-blog/2011/aug/25/food-price-arab-middle-eastprotests,
http://www.voanews.com/english/news/middle-east/economy-and-business/2011-Food-Price-Spikes- Helped-Trigger-Arab-Spring-135576278.html
3 United Nations Food and Agriculture Organization, http://www.fao.org/organicag/oa-faq/oa-faq7/en
8-month
GROW BIOINTENSIVE Internships
Estimated Expenses

Since Ecology Action is a small, non-profit organization, financial aid is limited, and this is a fee-based internship, with cost estimates indicated in the tables below. Funding is normally provided by a program or programs sponsoring the participant, by the participant him/herself, and/or corporations, foundations, and/or individuals. Please be sure to explore funding through all avenues available to you before asking for a scholarship.

Scholarships: All interns are expected to contribute as much as possible toward the cost of this program. However, we are open to providing scholarship assistance to all qualified applicants. Special scholarships or stipends may be available depending on the situation of the applicant (demonstrated merit and financial need) and the ability of the applicant to use the skills they gain through the program to benefit their community, region, country and the planet. If you can demonstrate that you already have plans in place to take what you learn back to your home community and have ability (contacts within the community or organization in which you will be working) to effectively teach the methods you learn to a large number of people, projects or programs for at least 2 years following completion of your internship, you will be given preference in admission and scholarship opportunities.
Deposit/Pledges: In the case where financial hardship qualifies an applicant for a tuition scholarship, a minimum amount of money is nevertheless expected to be raised in pledge (pledges are promises by others to contribute towards your internship expense should you be selected) towards the internship expenses, payable, upon acceptance to the program, as a deposit to Ecology Action by February 7, 2020 ($2,150 USD for US applicants, $150-$2,150 USD for non-US applicants, depending on location and ability to pay). The organizations you work with and your local community leaders are the typical sources of financial support, and raising more than the minimum amount is strongly encouraged.
Cost for a 8-Month Internship at Ecology Action, 2020
Item

Interns from the U.S.A.

Interns from Other Countries

Tuition

US$4,000*

US$4,000*

Room

Included ($250 cleaning deposit required – refundable for interns who adequately clean their accommodations before leaving (as determined by site manager) and take all their belongings with them upon departure.)

Included ($250 cleaning deposit required – refundable for interns who adequately clean their accommodations before leaving (as determined by site manager) and take all their belongings with them upon departure.)

Food

Included

Included

Basic Utilities
(power, water, garbage)

Included

Included

Basic (limited) Internet

Included

Included

Telephone/
High-Speed Internet

provided by participant

provided by participant

Publications

$320

$320

Supplies

$400

$400

Incidentals

$1600

$1600

Medical Insurance

provided by participant

$720

Co-Sponsoring + visa

N/A

$3,100

Embassy Interview

N/A

$100

SEVIS Form

N/A

$180


Transportation

Varies. Provided by participant

Varies.
~US$2,000-$4,000

Administration

$2,000

$8,000

TOTAL

$8,570

US$20,670-$22,670 (depending on travel expenses)

Deposit due within 1 week of acceptance (see above)

$2,250 (Iincludes cleaning deposit)

$250-$2,250 depending on location/ability to contribute.( Includes cleaning deposit.)

Internship fees are non-refundable.


*Partial Scholarships available to those who qualify: costs covered by Ecology Action if scholarship is available.
Applicants should note that this is an unpaid, fee-based internship program.
**Medical Insurance for US interns must be provided for by each participant – proof of coverage is required with $2,250 deposit within one week of acceptance. US medical coverage is generally included in the internship costs for international interns, but you must make certain you arrange coverage with Ecology Action before arrival. Uninsured participants will not be permitted to stay in the program.
Click here to download a full course description, including curriculum and program expenses. Please remember that the course description is an example, and that the curriculum, while it will cover these topics, may vary depending on the instructor and how the onsite activities are organized at the internship sites.
Schedule and Routine
While onsite at Ecology Action internship mini-farm sites, interns will begin their day at 8:30-9am and end at 5:30 -6:30pm depending on the site. Most days will be spent learning in the mini-farm garden. A typical day could involve preparing beds for planting, seed propagation, harvesting, taking and recording samples, transplanting, seed saving, and other garden tasks. At least one day a week and some times more will be spent in the classroom.
Online and on-site classroom days will include lectures, discussions with teachers, and multimedia presentations covering a range of topics. Interns will have readings and homework to complete each week. At least one day a week will be spent inside the classroom. A multi-month GROW BIOINTENSIVE curriculum (sample below) includes reading foundational material, field training, practical and conceptual aspects of GROW BIOINTENSIVE, and understanding food security issues around the world. During the program, interns may also visit and learn in the gardens of other Ecology Action mini-farm sites. Due to the nature this hands-on farming program, participants should enjoy physical labor. The experience is demanding, but rewarding to those willing to engage themselves.
SAMPLE DAILY SCHEDULE
(The types of activities in the schedule may be adjusted
depending on the weather/season.)
8:00 - 9:00 Breakfast
9:00 - 12:30 Garden Work / Class / Reading
12:30 - 2:30 Spot Watering / Lunch (one hour)
2:30 - 5:30 Garden Work / Class / Reading / Cooking
5:30 - 6:30 Evening Watering / Break *
6:30 - 7:30 Dinner *
7:30 - 9:00 Dishes and Kitchen Clean-up / Evening Watering */Studies and relaxation
At least one and a half days and as much as two days a week - consecutive when possible - will be free for personal time. In addition to the scheduled "week-ends", each intern receives one three-day weekend, at times that do not interfere with scheduled classes or mini-farm activities. The internship program is intensive, and other than the designated days off, time is generally not available for extracurricular sight-seeing, travel or farm visits. If you are interested in traveling as a part of this experience, you should make sure that you schedule any longer trips to occur either before you begin the internship or after you finish it.
Please note that Ecology Action is a non-profit organization focused on teaching motivated people about the principles of small scale, sustainable food raising and community involvement. Our sites are not a market farms. If you are looking for experience in production and marketing on an organic farm, visit the WWOOF or ATTRA websites. Also, we appreciate that people who are interested in sustainable agriculture are interested in exploring other methods. Please note though, that this internship will focus exclusively on the GROW BIOINTENSIVE method. The internship program is not for people who are "shopping" for a method to use in their lives, but, rather, for ones who have decided biologically-intensive farming is their choice. For more information about this method click here.

Curriculum
Click here to download a full course description, including curriculum and program expenses. Please remember that the course description is an example, and that the curriculum, while it will cover these topics, may vary depending on the instructor and how the onsite activities are organized at the internship sites.

Follow-Up Activities
During the internship, participants will be able to work with a staff member to plan their future activities program. Ecology Action interns are expected to return to their home sites to continue and/or initiate GROW BIOINTENSIVE mini-farms, classes, and other related activities for the foreseeable future (at least two years, preferably more), and to work with others, using and teaching the method to grow a better community, region, country, and world.
We ask for a long-term commitment from our interns to become GROW BIOINTENSIVE teachers/practitioners because our goal is to grow a team/network to meet the Earth's food, soil, and resource challenges and grow a healthy thriving world.
Reading List
This course will be fast-paced, and will cover a lot of material. In order to facilitate a deeper understanding of the material, participants will be required to do additional readings and watch instructional videos before the first class, and between subsequent classes.
The readings will cover the scientific basis for and findings of GROW BIOINTENSIVE, the details of how to use various GB techniques, as well as the global and local need for transformation of our food-raising systems. Click here to download a full course description, including curriculum and program expenses. Please remember that the course description is an example, and that the curriculum, while it will cover these topics, may vary depending on the instructor and how the onsite activities are organized at the internship sites.
Readings will be drawn from the following:
MANUAL for 8-Month Course
ECOLOGY ACTION PUBLICATIONS:



How to Grow More Vegetables, 8th ed. [SP]
The Sustainable Vegetable Garden
The Backyard Homestead, Mini-Farm & Garden Log Book
One Circle
Future Fertility

Self-Teaching Mini-Series Booklets (available in electronic format here)



#0 —Biointensive Mini-Farming: A Rational Use of Natural Resources [SP]

#1— Cucumber Bonanza [SP]

#11 —Examining the Tropics [SP]

#12 —Growing and Gathering Your Own Fertilizer

#13 —Growing to Seed [SP]

#14 —The Complete 21-Bed Biointensive Mini-Farm [SP] /

#15 —One Basic Mexican Diet [SP]

#17 —Garden Research for Food and Flavor [SP]

#18 —Dried, Cut and Edible Flowers for Pleasure, Food and Income

#19 —Biointensive Micro-farming:  A Seventeen Year Perspective [SP]

#21 —Micro-Farming as a Key to the Revitalization of the World's Agriculture

#24 —Comprehensive Definition of Sustainability [SP]

#25 —One Basic Kenyan Diet

#26 —Learning How to Grow All Your Own Food A Supplement for Booklet 14

#27 —Growing Medicinal Herbs in as Little as Fifty Square Feet — Uses and Recipes

#28 —The Smallest Possible Area to Grow Food and Feed

#29 —Test Your Soil with Plants

#30 —GROW BIOINTENSIVESM Sustainable Mini-Farming Teacher-Training & Certification Prog.

#31 —Designing a GROW BIOINTENSIVE® Sustainable Mini-Farm

#32 —GROW BIOINTENSIVE® Composting and Growing Compost Materials

#33 —Grow Your Own Grains

#34 — Food for the Future, Now

#35 Low-Natural Rainfall Growing

#36 An Experimental Complete 33 Bed GROW BIOINTENSIVE® Mini-Farm: Fertility, Nutrition, & Income

# 37 Energy Use in GROW BIOINTENSIVE Food Production

PB #1 —Another Way to Wealth

GROW BIOINTENSIVE Apprenticeship Possibilities  (booklet)
Composting for the Tropics (booklet)
DVD- GROWBIOINTENSIVE A Beginner's Guide in 8 Easy Sessions



OTHER Publications:     

Seed to Seed, 2nd ed., Suzanne Ashworth, 2002.
Saving Seeds, Marc Rogers, 1990.

Biointensive Mini-Farming: The Challenge; Perspective, Principles, Techniques and History; System Performance—Initial Trials; System Performance—Continuing Trials in a More Difficult Environment and Soil; Future Potential; Some Representative World Applications; Future Challenges and Research Opportunities. Journal of Sustainable Agriculture (Vol. 19 (2)), 2001, p. 49-106, Jeavons, John


Possible references to consult after completing the internship:

World Vegetables , 2nd ed., by Vincent Rubatzky and Mas Yamaguchi. Chapman and Hall, 1997.
Cereal Crops by Warren H. Leonard and John H. Martin. Macmillan, 1963.
East African Crops by J. D. Acland. Longman, 1971.
Program Site
The program will take place at two different sites in Northern California. Each site is unique in climate, soil, living situation, and history. While you can indicate a site preference during the application process, we cannot guarantee that you will be placed at your preferred site.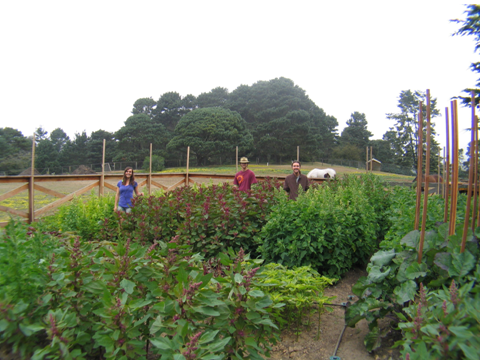 Victory Gardens for Peace (Mendocino, CA)
Ecology Action's Victory Garden for Peace (VGFP) site in Mendocino, California is situated on the grounds of the Stanford Inn, an eco-resort nestled on the cliffs overlooking the confluence of the Big River and the Pacific Ocean. Our program is focused on: developing the GROW BIOINTENSIVE model for our coastal, cool, foggy climate, improving the soil and teaching the GROW BIOINTENSIVE method. There are many challenges at the site that create opportunities to demonstrate practical and effective ways of maximizing resources and managing fertility. There is an inherently good soil here but it underwent years of compaction as a horse paddock. We are working to build soil structure and fertility to restore the soil health. We experiment with growing complete diets and different crop varieties to find which are best suited to this unique growing climate. Our internships are unique and offer a great experience in water conservation, soil fertility management and food raising through the GROW BIOINTENSIVE method.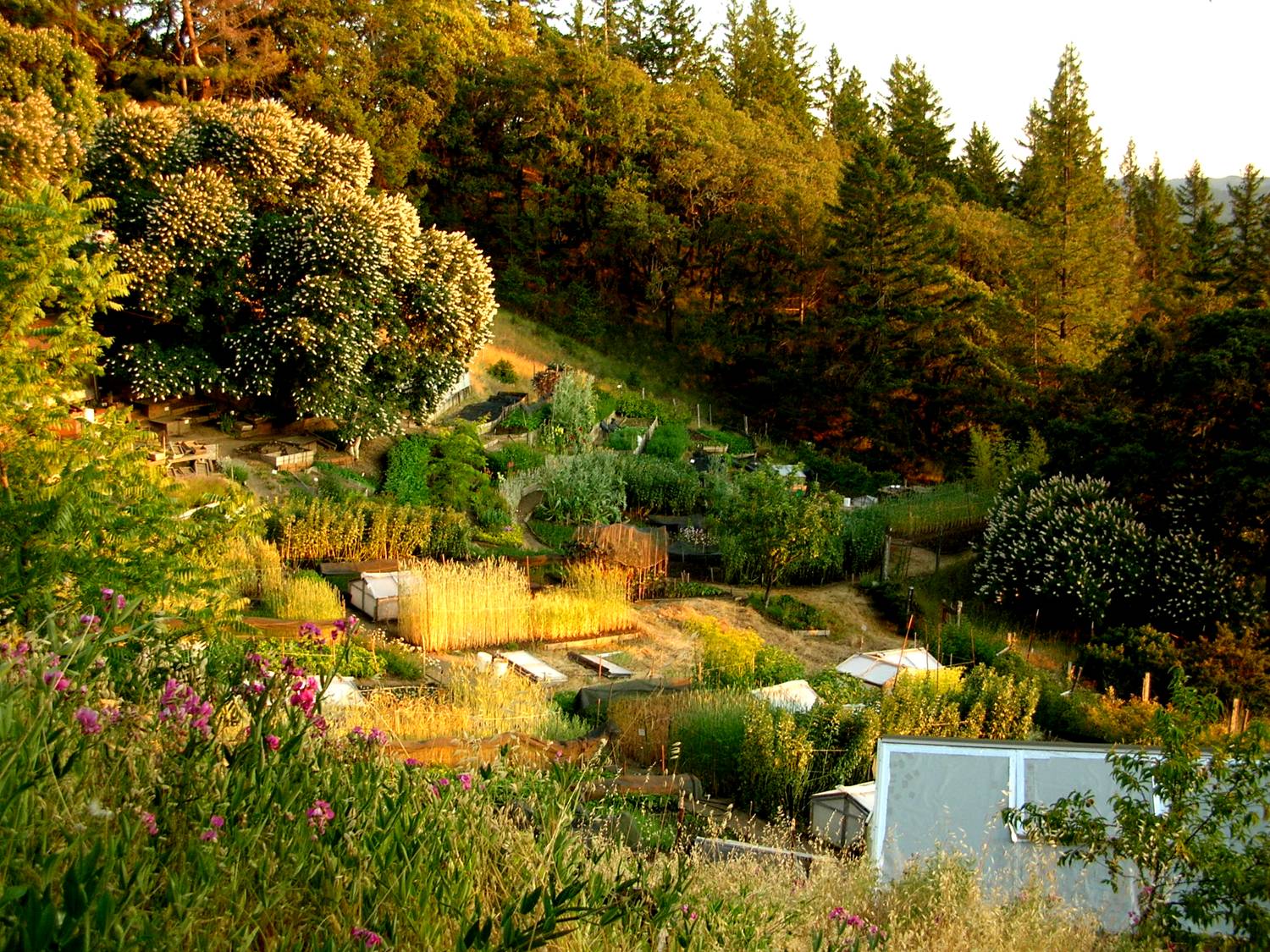 Ecology Action's Common Ground Research Garden (Willits, CA)
The setting at this site is rural and rustic. The Ecology Action mini-farm provides a demonstration of what is possible when conditions are less than optimal. The one-third-acre mini-farm/garden is located on a 20-acre site that offers a challenging soil situation on a mountainside slope. Basic fieldtesting compares different cultivars, nutrient and compost amounts, crop spacing, and other practices.

Also, there are usually a variety of crops grown out to seed for Bountiful Gardens, our international mail order company. The soil at this site is rated fair for grazing and has a level of magnesium, nickel, and other minerals that would normally prevent the growing of crops. In addition, it has cool nighttime temperatures and varied mini-climates within its growing area. GROW BIOINTENSIVE practices are buffering these limitations, and food is being grown (although lower-than-normal GROW BIOINTENSIVE yields were initially and are often still obtained). Ground was broken for the Biointensive research garden in 1982. It took 14 years of soil improvement (from 1982 to 1995) to develop a soil system that produces healthy plants and satisfactory yields at this location.
8-Month Internship Application
Applications for the 2020 Internship are now being accepted.
The internship will start March 21, 2020 and end November 21, 2020
Participants are encouraged to apply as early as possible.

Application Deadline: September 15, 2019
US Participant Notification by October 15, 2019

Space is limited. The Ecology Action staff will select applicants on the basis of the impact their work is likely to have in the future; priority will be given to those with a goal of using GROW BIOINTENSIVE Mini-Farming practices in outreach and public service projects.

Applicants should note that this is an unpaid, fee-based internship program, but that scholarships and financial assistance may be provided to promising students who cannot afford the fees. Program interns will be placed at Victory Gardens for Peace in Mendocino, California or at The Jeavons Center in Willits, CA. Housing /accommodations and basic meals will be provided at each site; however, other expenses will need to be provided by intern, as listed in the Internship Expenses section. All internship fees are non-refundable.

---

To Apply:

Read Ecology Action's 8-Month Internship Expectations (Terms & Conditions) to make sure you understand how the internship will work.


Click here to download a full course description, including curriculum and program expenses. Please remember that the course description is an example, and that the curriculum, while it will cover these topics, may vary depending on the instructor and how the onsite activities are organized at the internship sites.


Download and print out the Internship Medical Report Form and take it to your doctor to fill out. You must have this form completed and signed by a medical doctor before you apply for this internship. Applications without a completed Medical Report Form will not be considered.

When you have the competed form, you may upload it as a single document (PDF or JPEG) to your application.


Gather letters of reference (three professional, three personal) from people who can attest that you have what it takes to complete this internship successfully. Teachers, employers, and collegues are examples of good professional references. You will upload these documents to your application, so make sure you have them in a format that can be transmitted electronically.


Complete the Online 8-Month Internship Application Form (our secure online registration form, hosted by

DonorPro

will open in a new window

. Don't worry if it's slightly outdated- we're in the process of updating it, but your information will get to us just fine!)




Once you are accepted, pay for tuition and fees. You will be notified whether you have been accepted either as a primary or wait-list candidate by October 15, 2019. If you are accepted to the program, you will be provided with further information on how to proceed.


***Important Note***: Please remember that scholarships are sometimes available for promising interns. Do not let the price of the internship keep you from submitting your application!